On a warm afternoon in late September, it was time to begin our first unit in writing workshop. I was a little nervous that my first graders might not be up for the challenge of thinking at the level I was expecting this early in the year. I am always a little anxious this time of year. I don't fully know my kids and their capabilities as thinkers, but I remind myself that I have to start sometime, and they always surprise me with their thoughts.
I started this workshop minilesson with the question "What is study?" Their little eyes stared at me, and I knew they needed time to think. After a minute of their sharing ideas with each other, I asked the kids to share some thoughts aloud. Christian announced that study is looking at something. Tory added that it is thinking about what you are looking at, and Declan declared that it is what scientists do. I was excited and surprised by their ideas as we began our formal work studying pictures as writers.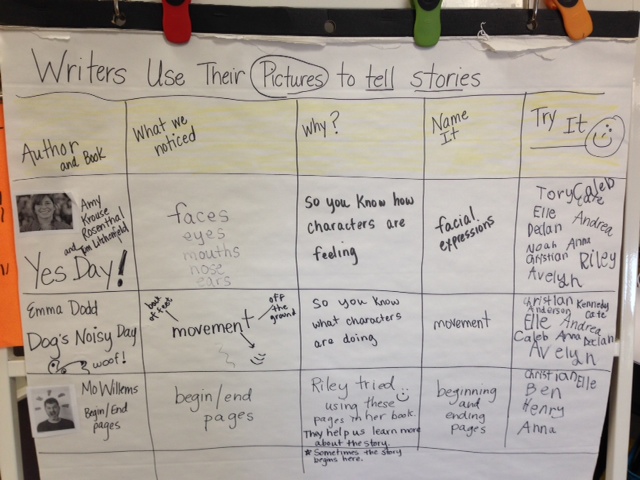 I introduced the chart labeled "Writers Use  Pictures to Tell Their Stories." Now I read the title each day we come back to the chart. This title helps children value storytelling through drawing.  There have been years when I was worried that my kids weren't writing words at all and that this unit wouldn't help them progress as writers quickly enough. Katie Wood Ray in Pictures and Words helped me slow down and understand the value of studying pictures. I have learned that taking time to study the details that illustrators use helps students become better observers. They begin to pay attention to details in texts that we study as writers and readers. They look closely at pictures to find out more about the story. I know that later, I can show them how writers reread and add details to their pictures as a revision strategy. All this work eventually leads to students illustrating more carefully and having more to write about because of the details they've used in their own pictures.
The chart is the first place we track what we are thinking about as a class. It has five specific components to help us stay organized. The first column is labeled "Author/Illustrator and Book" to show what we will be studying. I have learned that I will get much more thinking from students if I use a book that they have heard before. I begin with the book Yes Day! by Amy Krouse Rosenthal and Tom Lichtenfeld. The children have all heard this story. Some have read it with a partner, and some of them have written their own Yes Day! books. I want them to know a bit more about the authors, so I show them pictures of Amy and Tom from their website and place their photos next to their names on the chart. Connecting students with an author's identity helps them begin to make visual associations.
The second column is titled "What We Noticed." In this first study, I am naming what we are noticing. Later in the year, I will give children time to notice independently, but naming some possibilities now will help them be able to name ideas on their own in the future. In this column I have written "facial expressions." We take time to talk about what facial expressions are and why they might change over the course of a story. The boy in Yes Day! has many different facial expressions that provoke lively discussions.
The third column is labeled "Why?" This is the column where I ask students to reflect on why the illustrator would use facial expressions. Why are they important to the character or the story? After thinking through the many facial expressions the boy uses, Gabriella shares that they help us know what he feels. I add this thinking to the third column.
The fourth column is labeled "Name It." It allows us to give a name to what we are noticing or discovering. This column is often helpful when kids are working independently. In this first study, we just repeat what we are observing. Though the column feels repetitive, I am often surprised at how it helps kids hear and see again what we are focusing on. In this first observation, I ask the kids what we are looking for again, and I then add facial expressions to this column.
The last column is labeled "Try It." Kids who are trying the same illustrative strategies write their names in this column. This column also helps me keep track of who I might check in with or ask to share.
As our study continues, my students try techniques I haven't predicted. When Riley shares her story about going to the swimming pool, another student asks about the pages she has decorated at the beginning and ending of her book. Riley explains that she wanted to try these illustrations based on what she saw in the Elephant and Piggie books. Her experience leads us to study how and why Mo Willems uses these pages and how they enhance his story. We add beginning and ending pages to our chart, and kids begin to think more purposefully about how pictures on these pages can enliven their stories.
I am always surprised at how young students benefit from thinking about study. From the conversation around what study means, to digging in deeper, to observation skills, to the risks they take trying new strategies, I am in awe of their thoughtfulness. This routine builds our conversation, writing, and storytelling skills as a community.