I don't remember ever having a writer's notebook in elementary school. Sometimes, I look at our students and my daughters with their writer's notebooks and I wish I had a collection from my elementary days like the collections they are creating. I wrote many stories. We even had an annual writing contest, and I loved the stars and ribbons on poems and short stories . . . but the first time I ever remember having a notebook was when I was 25 and stumbled on a weeklong workshop at Amherst College run by Katie Wood Ray and Jacqui Getz. They talked about the purpose and importance of notebooks in the lives of writers, and Jacqui gave us a tour of her notebook. I still remember her showing us her sections for lists, her index, the pages she wrote upside down, and the pages she wrote in squares. I loved the element of play that she had in her writing that showed up aesthetically in her notebook.
Amherst is an artsy town, so it was pretty easy to find an extensive collection of notebooks that I could use. I still have the notebook I selected. To this day, it remains my favorite notebook that I have ever kept. Why? Maybe partially because it was my first, but mostly because I had Katie and Jacqui's voices in my head as I selected it. How did I want the paper to feel? Lines or no lines? What kind of binding? What sort of picture on the front would inspire me? My first notebook had no lines, and I discovered that I love writing diagonally. It sounds crazy, but I love the challenge of getting to the widest part of the diagonal. Somehow, I feel like there is extra space and my thoughts and ideas grow more freely.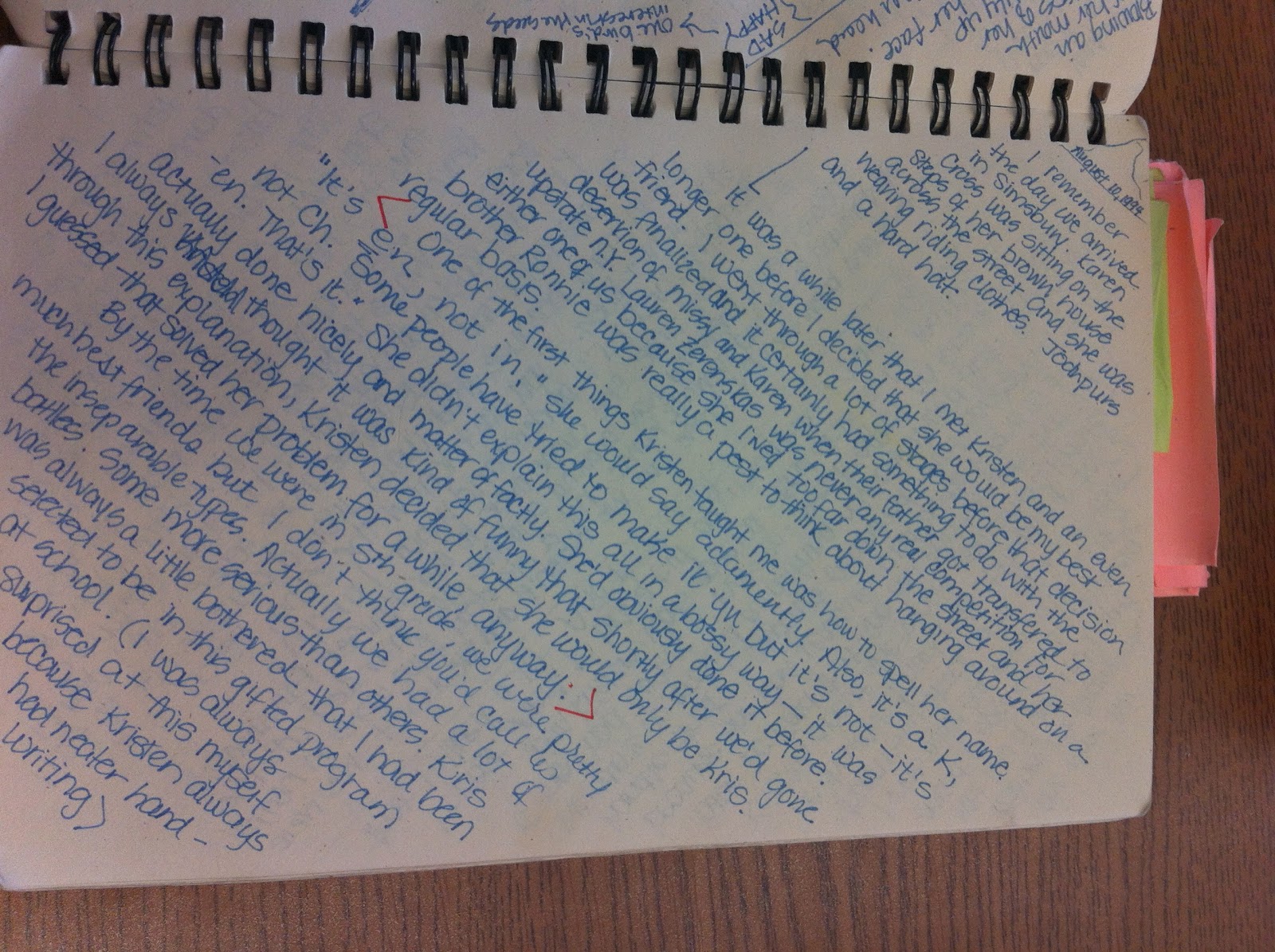 I also love the linelessness because I can create my own spaces. When I am developing ideas, I want to be able to set them apart, almost like artwork. Sometimes, I use different-colored pens intentionally, aware and inspired by the aesthetic look of the words on the page.
I have tried to use notebooks with lines, but I find them restricting and stifling. People sometimes give me notebooks and they almost all have lines, so I've tried to adapt. I can't help it though. I like blank pages, preferably thick blank pages so my pens don't bleed through, and always with a spiral binding so that the pages lie flat.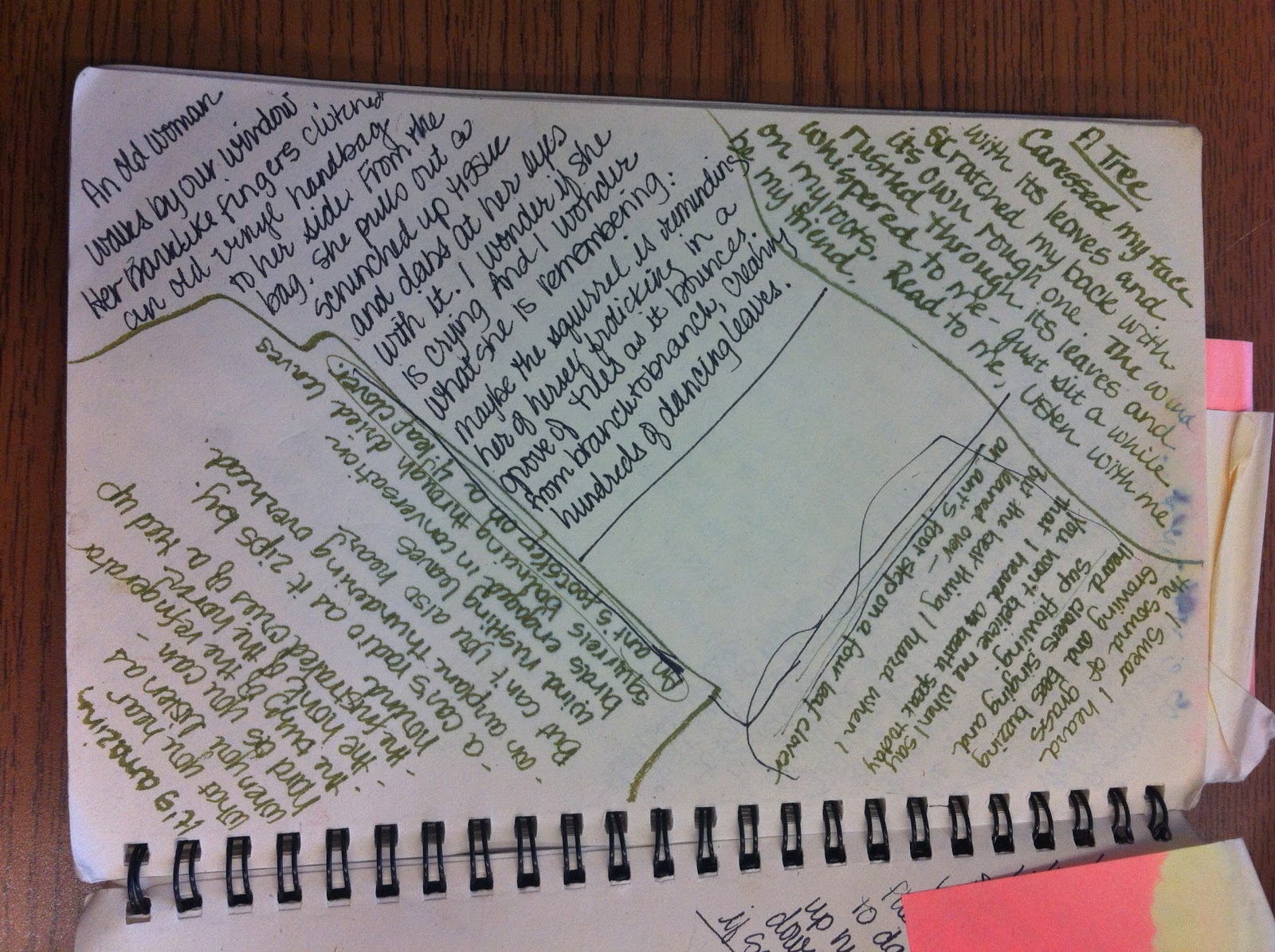 Students are always fascinated when I give tours of my notebooks. Sometimes, I go into classrooms at the beginning of the year with a few different notebooks to share. I share various ways I have organized entries, artifacts like recipes that I kept in my notebooks that supported pieces I was tinkering with, drawings I've done, and pictures I've saved. Always, students begin to envision how they could keep a notebook. I talk to them as a writer to writers, and the importance of a notebook is not lost on them.
Questions and considerations about notebooks that I suggest to students:
Do you prefer lines or blank pages?

How thick do you want the paper? This is closely related to the kind of writing utensil you tend to use.

What kind of binding do you like? This is important if you like to write on both sides of the paper.

How big should your notebook be? Some people like the satisfaction of filling up pages, whereas others like to be able to fit a lot on a page.

How important is the artwork on the cover?

Do you want to be able to remove pages? I discourage this, but I know that some people really feel strongly about being able to remove pages or move them around.
I share my notebook tour now because I think that it is so important for students to contemplate their notebook selections. Most of the teachers I know have decorated composition books for their students. For some students, these might be exactly what they would want for a notebook. I can appreciate the idea of filling up a "book." I also appreciate that some people want lines. But if we are going to develop individual writers and cultivate individual voices and styles, then I recommend starting with the sanctuary in which they generate and develop ideas. Yes, these notebooks cost more than marbled composition books, and no, they aren't sold in grocery stores or pharmacies. At the beginning of the year, sometimes parent-teacher organizations are willing to fund small projects, and I would think that notebooks could fall in that category. Donorschoose.org is another great resource for funding projects such as writer's notebooks, and in some towns, parents expect that they will need to purchase school supplies at the beginning of the year. Maybe the writer's notebook is something that is purchased after the first few days of school and a tour of a few different notebooks.
Every opportunity that we have for talking to our students as writers, we should take. Notebooks are important to every authentic writer. If possible, seize this opportunity, and inspire your students with notebooks that are as individualized as their writing voices.