It was late October, and I was feeling great about my one-on-one reading conferences. I was listening more than I was talking, taking succinct but valuable notes, and feeling like each conference was nudging the student to think more deeply about their independent reading book. As I silently congratulated myself for being a top-notch reading teacher, I looked down at my class list to place a check mark next to another student's name. Another conference done. Who should I confer with next?
My eyes scanned the column of check marks. Wait. I've conferred with only half my students? It's mid-October! At this rate, I wouldn't get through the whole class until winter break! Efficiency, or lack thereof, is the singular downfall of one-on-one reading conferences. Conferences are powerful, targeted instruction. But conferences are not efficient. On the other hand, small-group instruction is incredibly efficient and can be powerful if done right.
Forming small groups can get tricky in the upper grades as kids need less guided reading and more strategy groups. Whereas guided reading groups are formed by grouping kids who read at a similar level, strategy groups are formed by grouping kids who have similar needs. It can feel daunting, though, to keep track of a whole class's worth of needs, can't it? To simplify this process, I use a no-frills small-group planner.
When I was introduced to this planner by a literacy consultant working with our district, she called it a "battle plan." That language felt harsh to me since we're a community of readers, not a war zone, but I did appreciate the "plan of attack" mind-set the name invoked. Instead I call this template my small-group planner:

In the small boxes, I write a need I've noticed, and in the large boxes, I add student names.
For example, at the start of the school year, I administered the Fountas and Pinnell reading assessment to my students. I had my small-group planner open on my Chromebook, and as I noticed a need, I made a note of it. I started a "Using Punctuation to Guide Reading" group when I heard Joe read like a freight train, a "Decoding Multisyllabic Words" group when I noticed Angie struggle with several words, and a "Literal Comprehension—Story Elements" group when Andy's retelling of the story lacked basic elements. I just typed these needs into the small boxes as I noticed them. As the day of assessment continued, I plugged student names into the large boxes, and before I knew it, I had created four or five strategy groups.
Additionally, I frequently look at readers' notebooks and other student work throughout our units of study. I always have my small-group planner open when I'm looking at work. I might name a "Supporting Theme with Evidence" group or an "Understanding Figurative Language" group, depending on our studies at the time. As I notice additional students with that same need, I input their names. Here is a sample planner with my annotations: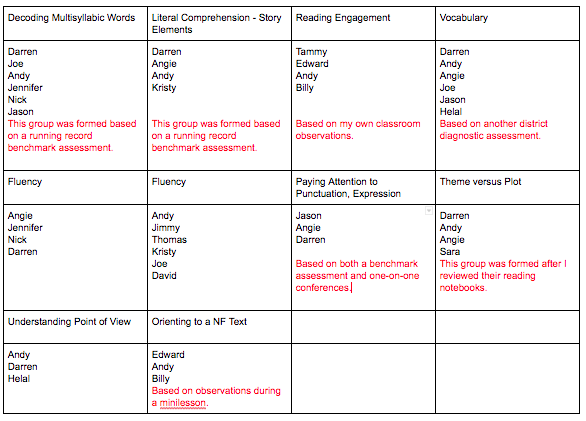 Sometimes when I am finished looking at a pile of work, I'll notice a lone student's name in a box. It might turn out he was the only student who demonstrated a need in that particular area. I'll simply jot myself a note to reteach that strategy one-on-one in a conference and delete that box from my planner. And sometimes, I will have only two students who demonstrated a need. In that case, I will still teach the group, but it will become an invitational group. I'll announce to the class, "I'm going to be teaching about figurative language in two minutes to Jose and Amir. I have three empty seats in our group. If you feel you need some support, come join us at the back table." Inevitably, three students will come join us. Perhaps these students don't necessarily need a reteach of that skill, but a little extra reinforcement certainly isn't going to harm them.
My small-group planner is a living document. It is constantly changing and growing with each new minilesson, each new assessment. Everyone's needs are met when I form groups with the small-group planner.