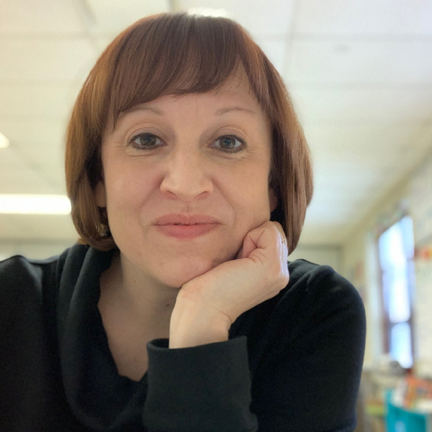 Christy Rush-Levine
View Recent Content View All Content
"Anyone can slay a dragon, he told me, but trying waking up every morning and loving the world all over again. That takes a real hero."—Brian Andreas
Loving the world over and over again does not sound particularly heroic, but it does sound like meaningful work. Christy Rush-Levine has been a middle school language arts teacher since 2000, a Choice Literacy contributor since 2014, a college instructor since 2017. And she has been working on loving the world all over again each day since 1978.
Christy lives and works in a suburb of Chicago with her husband, Mark Levine, who is also a middle school teacher. They have a joyful pup named Santiago, after the fisherman in Hemingway's The Old Man and the Sea, but he prefers to go by Yago.
Christy blogs at  interstice: not the lines; the spaces between. She can be found on Twitter (@CRushLevine) and Instagram (@rushreads and @rushcl).
Choice Literacy Membership
---
Articles
Get full access to all Choice Literacy article content
Videos
Get full access to all Choice Literacy video content
Courses
Access Choice Literacy course curriculum and training
---