The goal is not to be perfect by the end. The goal is to be better today.
—Simon Sinek
Becoming
I've been becoming a runner. Again. For most of my adult life I've either been a runner or thought about being a runner. I rarely fall into the category of "runner." One of my intentions for 2022 is to be a runner for the entire year. Not someone who is becoming a runner or someone who wants to be a runner, but a runner. Period.
I'm working my way up to 10–15-mile weeks. I'm well over this mileage as a walker, but it feels daunting as a runner. I want to be the kind of runner who isn't anxious about running a few miles each day. I want to be the kind of runner who looks forward to a daily run.
​​​​​​​Instead, I'm still recovering from being sick last month. I'm exhausted, and even when I squeak through a short, two-mile run, I don't experience the surge of energy that I'm accustomed to after a run. My expectations and my reality are not aligned.
This leads to frustration, disappointment, and feelings of failure. It's not just something that happens to people who are becoming runners. It can happen to teachers, too. One of those times is when we are teaching students to write with persuasive strategies.
Persuasion is something that we are surrounded by in the world, yet often students have limited understanding of the nuances of persuasive writing. This makes it a rich and challenging topic for many writers (and teachers).
I'm learning to adjust my expectations for my reality as a runner. I cannot just follow the lockstep training program, because my body has other needs. A yoga practice and lifting weights are just as important to my being a happy runner as logging more miles. Adjusting my speed for snowy roads is essential to being a runner who is healthy. Not adding mileage and rest are necessary to recover from being sick.
Based on my needs, I can make adjustments that will lead to the ultimate goal of being a runner for the long haul. The same is true for teaching writers. There are many flashy programs and promising packets that guarantee kids will become persuasive writers. In the end, they create expectations that are not aligned with the reality of many classrooms.
Just like becoming a runner, teaching writers is about the long-term goals. It takes gentle nudges, grace, and responding to the needs of students. This week we look at persuasive writing—plus more, as always.
Shine on!
Ruth Ayres
Editor in Chief
Ruth Ayres is the editor in chief of the Choice Literacy site and the director of professional learning for The Lead Learners Consortium in northern Indiana. Ruth previously worked as a middle and high school language arts and science teacher and a K-12 instructional coach. She is the author of Enticing Hard-to-Reach Writers (Stenhouse, 2017) and other books for teachers of writers. When not writing professionally, Ruth collects stories of adoption, faith, and whimsy. You can follow her at Ruth Ayres Writes or @ruth_ayres on Twitter or Instagram.
---
Featured Contributor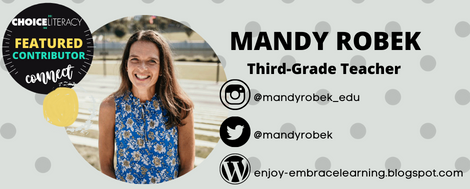 Mandy Robek has been teaching for over 20 years. She has taught kindergarten, first, and second grade, and currently teaches third grade, where she finds guiding readers and writers fascinating. Mandy has degrees from the State University of New York College at Buffalo and The Ohio State University. You can follow Mandy at her blog Enjoy and Embrace Learning, on Twitter @mandyrobek, and on Instagram @mandyrobek_edu.


Join the Choice Literacy Book Club! This month we are reading Unbound: The Life + Art of Judith Scott by Joyce Scott with Brie Spangler and Melissa Sweet. Sign up now so you are in the know about #ChoiceLiteracyBookClub.
Listen in on the podcast as Ruth Ayres and Brian Sepe discuss this week's theme.
Matt Renwick is offering a free e-book in anticipation of the release of his new book, Leading Like a C.O.A.C.H. You can get the free e-book and subscribe to Matt's newsletter.
Chris Sperry and Cyndy Scheibe share how to teach your students to be "truth seekers" with this curriculum-driven, inquiry-based media analysis activity.
Ruth Ayres suggests four notebook pages to help students balance facts and emotions when writing persuasively. (This article was first published in 2021.)
Mandy Robek is a little nervous about setting her students loose to organize informational texts, but she couldn't be more pleased by what they learn in the process. (This article was first published in 2020.)
NOW AVAILABLE! Don't miss The Limits of Levels: Expanding Boundaries of How We Assess Young Readers with Cathy Mere. This course is free to Literacy Leader members and available to purchase.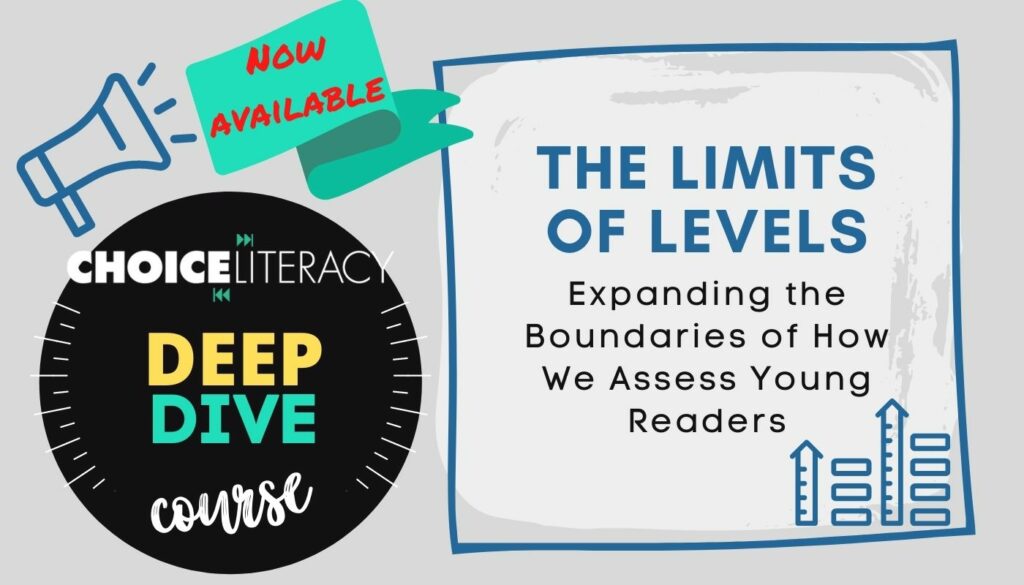 Knowing a child's reading level is an invaluable tool. A level can be a first step in assessing readers and planning instruction. But a level can also quickly become an anchor that limits thinking about where children are as readers and what might be next. Rely on levels too much, and you might miss gaps in reading skills and strategies necessary for continued growth. Cathy Mere shows how levels can help and hinder teachers, as well as alternatives for assessing needs and grouping students.

New members-only content is added each week to the Choice Literacy website. If you're not yet a member, click here to explore membership options.
Leigh Anne Eck shares a tool to help students develop their persuasive voices, build community, and expand their perspectives. Included is a download to put opinion journals to work in your classroom.
Melanie Meehan makes a case for the power of pictures to provide a foothold and access point for students to enter the writing pathway. She shares an example of using images to engage in persuasive writing strategies.
In this encore video, Christy Rush-Levine helps her students create an "opinion proof chart" in their notebooks. This exercise helps them build their skills in backing up opinions with evidence.

New members-only content is added each week to the Choice Literacy website. If you're not yet a member, click here to explore membership options.
David Pittman guides literacy leaders to consider the kinds of feedback they offer and what it reveals about their professional relationships.
In a Coaching Minute, instructional coach Mary Brower reminds us of the importance of patience, especially with ourselves.
Matt Renwick offers advice to school leaders to pay attention to the feelings present during a classroom observation.
In this encore article, Brian Sepe offers a quick but powerful checklist for instructional coaches to consider ways to form a solid foundation for working with new teachers.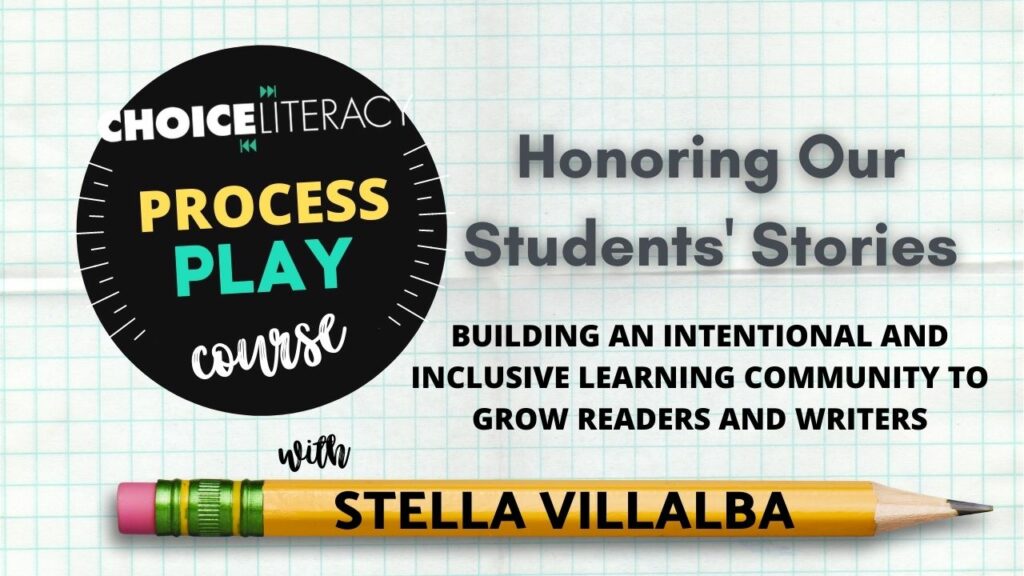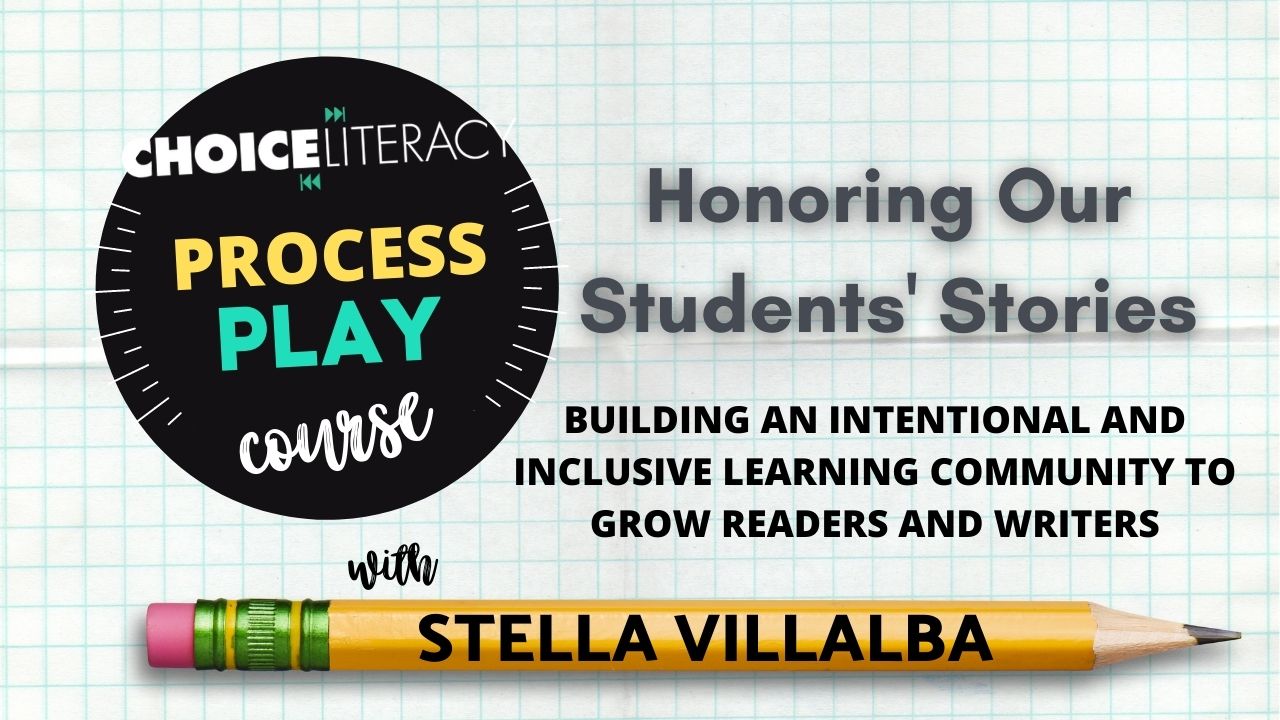 Stella Villalba teaches us how to discover, honor, and share student stories throughout the school year. With special attention to English learners, Stella walks educators through a process to intentionally honor the past and present of all students.
Quote It:
May your choices reflect your hopes, not your fears.
—Nelson Mandela
That's all for this week!