I'm scared. It sounds chaotic. I envision books strewn all over the place and students moving around the room like ping-pong balls. I've read about how to do this, but I've taught a long time and have never tried to let students help organize a classroom library. Yet I realize that if I want the informational books to leave the shelves, students must see and know what is on those shelves.
Deciding to Start
As I was driving to school one morning, knowing I wanted to start a unit of study on informational text, I made a decision to say yes, yes to my pondering thoughts. I was going to share our informational bookshelves again and share my observations. I rehearsed my thoughts ahead of time: "I don't see you using this side of the classroom library very much, and I want to help you discover a genre of books I love to read myself." I would share some of my questions with my students: Did they like how the books were organized in tubs? What kinds of informational books would they like to read? Rehearsing my thoughts ahead of time increased my confidence in carrying through with a project I was uncertain about.
We started reading workshop with the thoughts I had rehearsed and why I read informational text, and reviewed the current book tub organization.  Then I asked them what they were interested in and what kinds of things they liked. What did they want books about? We dove right into taking tubs off the shelves and discovering our informational library in more  depth.
Diving into Potential Chaos
Students offered to take tubs they were interested in with a partner and start browsing. My observation question was "How will they rearrange groupings?" Books were slightly strewn everywhere. There was a lot of discussion around books happening, and the level of productivity and high engagement diminished my chaotic feelings.
I spent time stepping back and watching. I wasn't needed for quite some time. It was hard sometimes to watch partners navigate sharing ideas. I didn't want to jump in and change the course of their thinking. I had one box for geology and was approached with a need for two more boxes because they wanted boxes for land, water, and dirt. I wasn't sure we needed three geology-related book tubs, so we took a class vote. The class liked the idea of three boxes, so we made it happen. That's when I started to think smaller groupings and fewer books in a box might make using the library easier for students.
As we worked together as a class, we discovered there were books we didn't want in the classroom library, and we set them aside.
Ocean animals were another larger collection of books; I believe I had it sorted by animal types. When I conferred with this pair of organizers, they told me they had taken all the books and created three tubs: shallow, deep, and above water.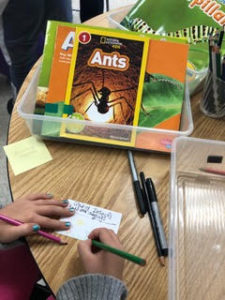 They organized this collection by the depth of water the animals live in. I found this fascinating! There were also moments of navigating how books fit in with groupings they were creating. They had made a tub for zoo animals, and I thought a giraffe book would go in there. It didn't. The giraffe book went in the tub labeled tree animals, animals that eat leaves, and bears. I tried to negotiate this placement and realized it didn't matter where I wanted this book. It mattered where the students wanted to place it. And giraffes do eat leaves.
Student Reflection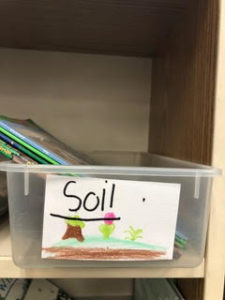 As we wrapped up our work and students finalized collections by drawing and writing on labels for the new book tubs, I found myself wanting to know more. They seemed to be enjoying themselves, and I was pleased with their level of engagement, but I wanted to confirm that taking half a day to organize our nonfiction library had been worthwhile. Did they find value in this project?
I asked the students to complete a reflection by answering these three guiding questions:
 Who did you work with, and what did you work on?
 What was easy and/or fun about your work together?
 What was hard about your work together?
I learned who they each worked with and what they worked on, but mostly, students confirmed the importance of knowing and finding books in a library. One reflection told me, "We like to read and this is going to make finding books easier."
Another student wrote, "This was fun because one of my favorite things to do is sorting." I feel the same way, which may have been why it was so difficult for me to let go of organizing the classroom library. Reading through their reflections, I learned that having students invest the time and thought in organizing an informational library stirred up an awareness for possible reading interest to grow and foster active readers.