Reading is not optional.
—Walter Dean Myers
The Magic of Whole-Class Reading Experiences
My son Jordan is a varsity wrestler. If someone you love is a varsity wrestler, then you know that winter Saturdays are dedicated to tournaments where multiple matches are wrestled. We spend a lot of time in the bleachers watching Jordan and his teammates work to win. I'm always struck by the constant tension that comes from a delicate balancing act. Wrestlers need to come in under weight, but they don't want to be "too far under." During a match, they are constantly shifting to defend or shoot; balancing their hips so they are not too high, but high enough to get the needed leverage; and changing the tie to make their opponents unstable. Each wrestler needs to make their own choices. Yet, in practice they are given specific moves to practice and perform.
Of course this has me thinking about literacy instruction, because for me everything is always one heartbeat away from literacy instruction. We engage in a delicate balancing act when it comes to student choice. For many of us, there is tension between offering students choice as readers and finding magic in whole-class reading experiences.
Our contributors know this tension because they walk it every day in their own classrooms and schools. I'm excited to share several articles that have pressed my thinking and help me stay current with this balancing act of empowering student choice while at the same time engaging in whole-class texts. You won't be disappointed to find tips for selecting inclusive texts from new contributors Hannah Tills and Josie Stewart; direction for criteria when selecting whole-class texts from Christy Rush-Levine, and a myriad of ways to empower choice when reading a teacher-selected text by Tara Barnett. We round out the topic with a nod to an encore video and a course that will continue to uplift choice for students as readers. Our Free for All section offers a glimpse into this timeless topic. 
This week may we lean into the magic of whole-class texts and offering students choice as readers—plus more, as always.
Shine on!
Ruth Ayres
Editor in Chief, Choice Literacy
---
Ruth Ayres is the editor in chief of the Choice Literacy site and the director of professional learning for The Lead Learners Consortium in northern Indiana. Ruth previously worked as a middle and high school language arts and science teacher and a K-12 instructional coach. She is the author of Enticing Hard-to-Reach Writers (Stenhouse, 2017) and other books for teachers of writers. When not writing professionally, Ruth collects stories of adoption, faith, and whimsy. You can follow her at Ruth Ayres Writes or @ruth_ayres on Twitter or Instagram.
Featured Contributor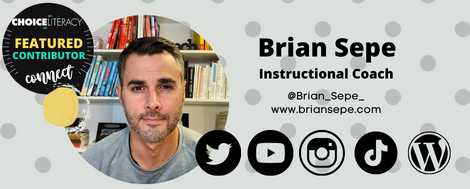 Brian Sepe is an instructional literacy coach in Buffalo, New York.  He is also a consultant and instructional coach with the Western New York Teaching Residency Program. Brian's experience is steeped in the Teachers College Reading and Writing Project and in K-8 classrooms. He is also trained through the Instructional Coaching Group with Jim Knight. You can find Brian at briansepe.com  and through social media @Brian_Sepe_ .

Join the Choice Literacy Book Club! This month we are reading Outside, Inside by LeUyen Pham. Sign up now so you are in the know about #ChoiceLiteracyBookClub.
Cathy Mere and Ruth Ayres discuss this week's theme on the podcast.
Tammy Mulligan enhances the quality of the class read aloud and student discussions with the use of a whole-class response notebook. (This article was first published in 2019.)
Featured contributor Brian Sepe discusses the importance of professional connections on the podcast. (This podcast was released in May 2021.)
Melanie Swider discovers that conversations after read alouds are a wonderful way for students to remember and retain the learning from shared texts. (This article was first published in 2015.)
NEW COURSE! Don't miss Stella Villalba's new course Honoring Our Students' Stories: Building an Intentional and Inclusive Learning Community to Grow Readers and Writers. This course is free to Literacy Leader members and available to purchase.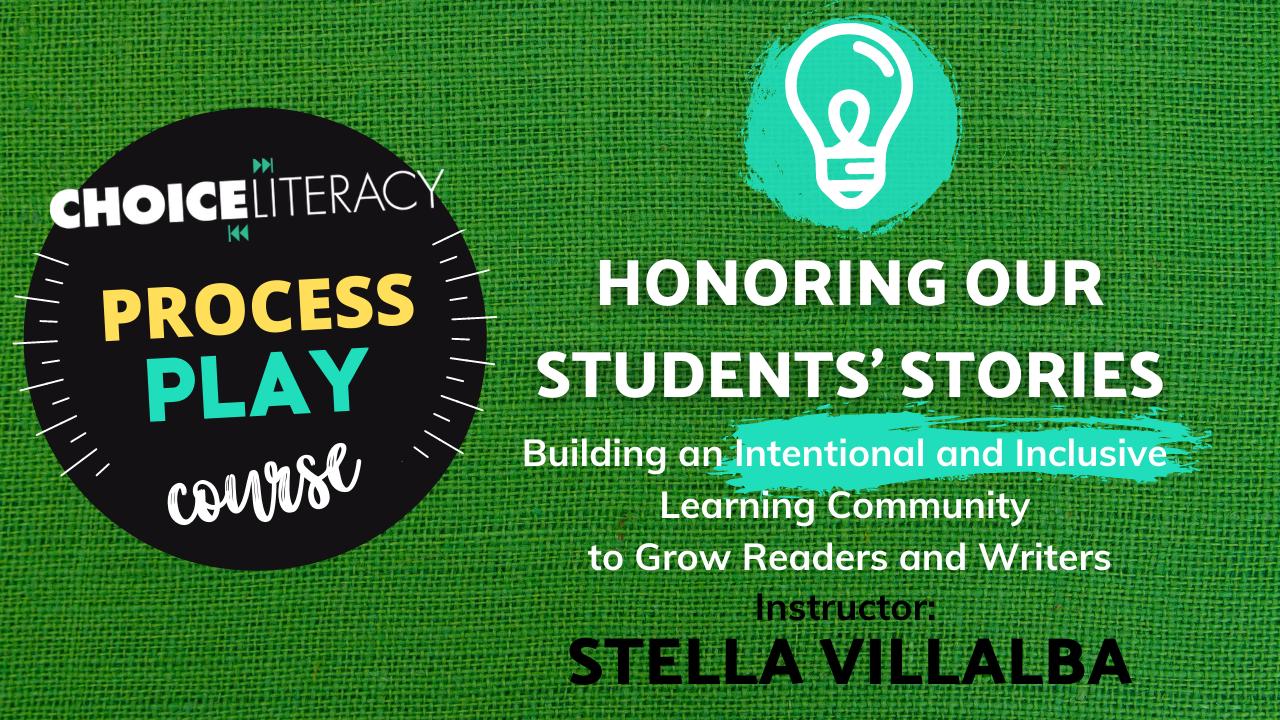 Stella Villalba teaches us how to discover, honor, and share student stories to create an inclusive learning community. With special attention to English learners, Stella walks educators through a process to intentionally honor the past and present of students to position all students to grow as readers and writers.

New members-only content is added each week to the Choice Literacy website. If you're not yet a member, click here to explore membership options.
Tara Barnett offers practical and engaging choices to students when reading a teacher-selected, whole-class text. Download the reading choices survey and a sample pacing calendar to offer your students more choice during a whole-class read.
Christy Rush-Levine reminds us that text selection impacts students. By shaping a unit of study to contain texts of varying formats and representing a wide variety of characters, students are empowered to develop their own ideas even while reading a whole-class text. Download a diverse text list to deepen a discussion of how family shapes identity.
Hannah Tills and Josie Stewart challenge themselves to select more inclusive texts so all students feel as though they belong. They offer six suggestions to help us examine our bookshelves, thinking, and curriculum.
The value of picture books with secondary students is often questioned. The Picture Books and Older Students course allows insight into the depth and power of picture books for adolescents.
The choice between whole-class novels and independent reading can be a false one in many middle school classrooms. In this encore video, Katie Doherty's sixth graders discuss their reading together of a novel in verse called Spinning Through the Universe. Katie explains how some shared whole-class texts can support independent reading.

New members-only content is added each week to the Choice Literacy website. If you're not yet a member, click here to explore membership options.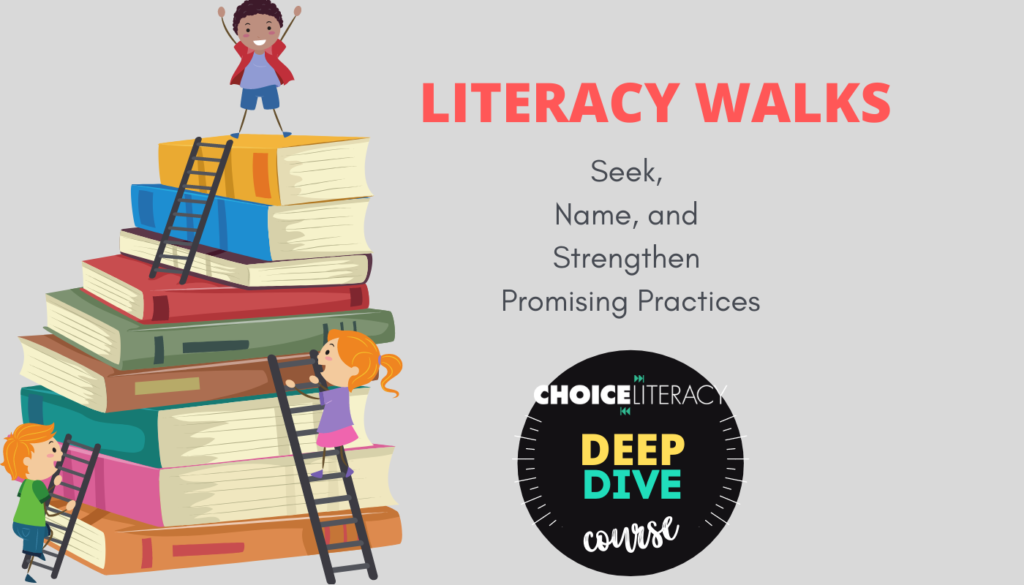 In a course, Matt Renwick guides instructional leaders to implement and strengthen instructional literacy walks. Through literacy walks, leaders seek out promising practices, note and name them during formative visits, and lead coaching conversations with teachers. The outcome is not only school improvement, especially in literacy, but also a community of learners who engage in continuous improvement as a natural stance. Free to Literacy Leader members.
In a Coaching Minute, instructional coach Mary Brower encourages us to notice leaders and teachers who are taking risks. Couple a quick note with an inspirational story, and you will build strong professional connections needed for meaningful leadership. Download a copy of the inspirational story.
Are the teachers you work with too overbooked for more professional development time? In this encore article, literacy coach Brian Sepe finds that voluntary 15-minute sessions before school are wildly successful. He shares tips for implementing these lightning-fast workshops.
Quote It:
Not all readers are leaders, but all leaders are readers.
—Harry S. Truman
That's all for this week!