Five years ago, I began using the workshop method in my reading and writing classes. Since that time, my nightly reading homework has been the same: read a book of your choosing for 20 minutes. My reasoning has been simple: by reading a high volume throughout the year, my students grow as readers. I'm not sure why it took me so long to realize that the same could be true in writing. Starting with last year's class, I began to ask my students to write each night as well—10 minutes of writing. What they wrote was entirely up to them, but they needed to write. The results surprised even me.
Introducing the Assignment
At the start of the school year, I explained what our nightly homework would be: 20 minutes of reading, 10 minutes of writing. I shared with my students why I feel that this homework is critical. We discussed other passions they had—baseball, dance, piano—and how the only way they improved was by actually practicing that activity. They all nodded. Then I brought in the topic of choice.
The students in my district are very familiar with choice as it relates to reading. Our elementary classrooms do an amazing job encouraging children to read any book of their choosing, no matter what the level is. My students were a bit more surprised by the open assignment in writing. I handed out writing notebooks and explained that these are their notebooks. They could personalize them if they wished, but they did not have to. What they did need to do was write in them. Daily. When I made this announcement, I was met with some skeptical looks.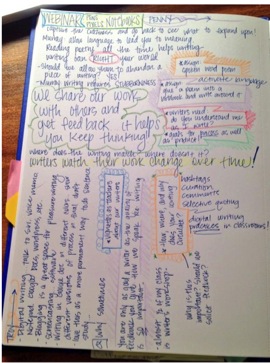 To try to give students a sense of what could go in their notebooks, I shared some examples. I hauled out my notebooks (yes, plural). I showed them sketches, lists, poems, narratives, and so on. I showed them how some parts of my notebooks have items taped into them: articles I found online, poems I love, quotes, ticket stubs, candy wrappers, photos, and more. The reason for each varied, but every item was a spark for a piece of writing.
I moved on to show examples of other notebooks, like this photo from Penny Kittle. She is more artistic than I am, and I feel that by sharing a photo from her notebook, I gave my students another mentor text to see the possibilities that lie between the covers of their notebooks. And with that, I turned them loose to write.
Checking In
Although asking kids to write 10 minutes a night is easy, the actual accountability eluded me last year. I naively thought at first that they would simply write. What happened was that my students who loved writing did write, pages and pages and pages. My students who struggled with writing seemed to "forget." And since I wasn't checking in with them to ensure they were completing it, I didn't see the growth I wanted in every student. That was something I was determined to change this year.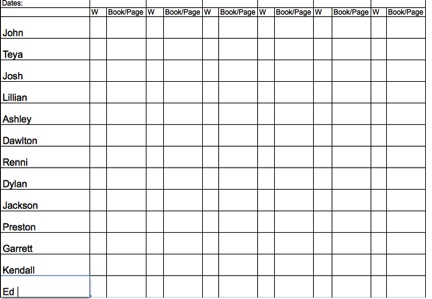 I always begin reading class with "status of the class." I first read about this from Nancie Atwell years ago, and have used it ever since. Typically my students enter the classroom, fill out assignment books, quietly chat about what they are reading, and come check in with me. When they check in, they share the book they are reading and the page they are on. This year I added nightly writing check-in at the same time. They bring over their writing notebook and show me their writing from the previous night. I added a column for each day next to their reading check-in where I put a check mark when I see their writing. The students know that they will be held accountable for getting their writing done, and I get to check in with them each day and see the amazing work they are doing.
Results
Twenty-seven days of school have flown by for my fifth graders. Many are already halfway through their composition notebooks. This nightly writing is going to have the unintended consequence of needing to purchase additional notebooks, but I will do that happily. Other results have included these:
Students becoming "experts"—poetry experts, comics experts, paragraphing experts, proofreading experts. With so much writing, we have had a lot to share with our classmates. In sharing, we have learned that we each have strengths, and they are beginning to rely on their classmates for writing advice.
There are fewer students who say, "I have nothing to write about." Typically, when I finish a minilesson and it is time to write, I have to help some kids get started. Since they are used to writing each night, I have only one child out of the 76 I teach who struggles to get started on a regular basis.
When we are working on a unit, like the narrative unit we just wrapped up, they have many possibilities in their notebook to take to the publishing stage. The hardest part is picking which one.
They can see what their writing territories are. We skim back over our entries and are able to see the subjects we turn to again and again.
We do quick-writes on a regular basis in our classroom as well. The amount of writing they produce in the two minutes has increased dramatically in the past five weeks.
The best benefit is that the students are starting to live and think like writers. The other day I overheard two children returning from recess. One was telling the other the story of a heated kickball game. The other child replied, "Wow. What a game!" The first replied, "Yes, I already know I will write about it tonight." These students are living like writers, and this is more than I ever hoped for with the nightly writing homework assignment.