Over the last month, I have been working with a third-grade teacher to help her students understand the concept of paragraphing. They have been working within an opinion unit, so I didn't think it would be that tough of a task: when you are finished talking about one of the reasons for your argument, change paragraphs. I met with a small group of five students, a group we identified specifically because of their lack of focus and organization in a previous writing unit. I talked to them about dresser drawers as an analogy for organization. They definitely seemed to understand the idea that if your socks, shirts, and pants were all mixed together, it would be tough to figure out what to wear.
"Same thing in writing," I said to the group. "If you put all the information in one big paragraph without any organization, your readers won't be able to understand your point at all. You want to sort it and keep what goes together in separate paragraphs."
That explanation worked for only one of the five students I was working with. Clearly, I needed to do some more work on the topic. If their writing really was like their dresser drawers, then they needed to spend some time sorting and folding.
Conventions Without Rigidity
Years ago, I co-taught in a fifth-grade classroom where the teacher gave students folders to collect facts, details, stories, and quotes for the reasons that supported their claim. I didn't want to set up such a rigid system with these third graders, because I remember that the system became more important than the writing. Instead, I set up a series of structures along a continuum of need.
The teacher and I met, and we decided to address the whole class on the issue of paragraphs, beginning with an inquiry lesson of why we need paragraphs in our writing and what helps writers remember to use them.
Some of the students shared that they "just remember." And some really do. Others shared that drawing in the paragraphs helped them; if they just give themselves the visual cues, then they maintain an organizational structure. One girl went so far as to say that sometimes she doesn't leave enough room, so she has a special page for the overflow and uses a star to code if she has to use it. Great—works for me . . .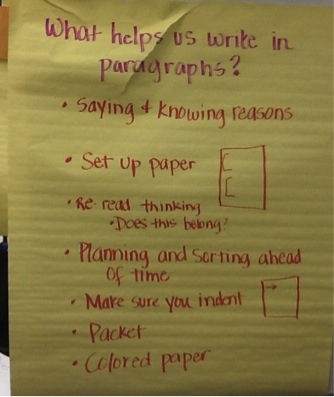 Based on what the students said, we began to develop a chart together. I began with the questions, and the students quickly contributed to the chart with "saying and knowing our reasons" and "setting up the paper."
As I taught them some other ways to remember to write in paragraphs, we added to our chart. I shared a slightly more rigid system that they could use if they thought it would help them remember. I created paper that specifically had room for an introduction, paragraphs, and a conclusion. What I did not do was indicate how many paragraphs their piece should have. Instead, I said emphatically that they could choose to add more or cross off some of the space available. The structure was there only to help them remember to write with a sense of organization.
As a final choice, I gave them smaller papers that they could pick up and put together. An important point that I wanted the students to realize was that they could choose the amount of scaffolding they needed to organize their writing, and then set goals to move away from the scaffolding. "The goal," I said, "is for you to learn to write in paragraphs. The method for doing that is your choice."
One student initially didn't think he needed any reminders, but then decided to try the set-up paper, "just since it's there," he said. As he worked on his essay, he held it up for me to see. "This actually really helps," he said.
Throughout the unit, my hope is that the students write a few pieces. Having the choice of paper communicated my expectation to them that they should write several opinion pieces. "Try one with a lot of support, then move to the next level," I suggested to the class. "Before the end of the unit, challenge yourself to know without any visual reminders to use paragraphs for organizing your thoughts and your writing."
I always like to think of an analogy for students. By third grade, almost everyone has learned to ride a bike, but remembers the secure feeling of training wheels during the learning process. "Think of the paper I make up for you as training wheels," I said on the last day that I worked with them. "I want to come back in here and see that you are all able to organize your writing just as beautifully as you ride your bikes."
I am looking forward to seeing how they do on their on-demand writing assessment, and you can bet that I'll be looking at their scores for organization and structure! More importantly, I have watched their opinion pieces develop over the last few weeks, and they are demonstrating an awareness of focus and organization in their written work. They are making conscious decisions about paragraphing with independence and purpose. As we move into another unit, our work will continue to help these students transfer their developing skills of structure and organization into other genres of writing.