Frank Lloyd Wright built houses that grew out of the land where they were located. His homes were of the hill, not on it. He once wrote the following:
I knew well that no house should ever be on a hill or on anything. It should be of the hill. Belonging to it. Hill and house should live together each the happier for the other.
I've been thinking a lot, lately, about belonging. How that word suggests something different from equity and inclusion, something complementary, but also beyond and absolutely essential to the classroom communities I plan with my colleagues, with my students, and with their families and caregivers. It is not a new concept, but it seems particularly relevant to include in our thinking about teaching.
I can credit Lasana Hotep for nudging me to think more intentionally about belonging. Hotep was a panelist on a webinar series I watched about the teaching and policing of Black children. He was introduced as the "first-ever director for diversity, equity, inclusion, and belonging" at UC Berkeley. The word belonging, added to the more familiar trio of diversity, equity, and inclusion, caught my attention. I dialed in to hear what Hotep had to say. He explained that in addition to building a diverse workforce, developing equitable policies and practices, and ensuring inclusive opportunities for everyone, communities need to take one more step: They need to pay attention to people's sense of belonging in that community.  
To me, as I consider the school communities where I work, belonging happens when people have ownership of what happens in a space. Belonging means a person knows their voice is heard, they have agency, they believe that if they are not there in that space, people will sense that something is missing.    
Think about yourself as a teacher in your classroom. You likely have a strong sense of belonging because you have agency around what happens there, and you have a voice, a belief that you make a difference in the room, that if you are not in school on a particular day, people will notice and feel a void. You can point to evidence that you belong where you teach and learn—your name on a mail slot, last year's class picture next to your desk, inspirational quotes posted around the room, a favorite book queued up for read-aloud. 
Now think about the students in your classroom. Do they feel like they belong? How would you know?
In a recent professional development session I hosted with new teachers, belonging was on the agenda. We started by talking about what belonging means and how we, as individuals, know when we're in a place where we feel like we belong. Then, because we all agreed that belonging was a characteristic we wanted to be evident in our classroom communities, we discussed some "look-fors"—what we see, hear, and feel when a learning space invites students' sense of belonging.
We added our favorite "you belong" moves to a Jamboard—a new tech tool for our group. Some were ideas that teachers regularly used themselves, and some were ones they'd seen in other people's practice. Here's what we came up with: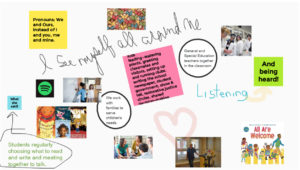 We tried a "list-group-label" process to identify patterns in our Jamboard contributions. Using everything on the board (our list), we grouped similar ideas and then gave those groups names. One pattern that bubbled up when we reviewed our finished Jamboard was that ownership is a defining characteristic of true belonging. Students can own what they read and write, they can own the caretaking of the classroom space, they can own the music and visuals people listen to and see, they can own where and on what to sit, they can own how and with whom to spend free time. Ownership encourages feelings of belonging.  
Wright's philosophy of architecture is a useful way to think about how to build belonging in a school community. Who's the hill? Who's the house?  Who cares?
When everyone is of the school, rather than simply in it, when our ways of being, our strengths, our cultures, our interests, our needs, our loved ones, and our inspirations surround us, then we own our learning, happily together. We belong.