We can only be said to be alive in those moments when our hearts are conscious of our treasures.
—Thornton Wilder

[Now you can listen to the Big Fresh as a podcast!]
Leaning Into Play
My family visits an indoor water park in the Wisconsin Dells every year for a short early-spring vacation. It's a popular destination, and although we try to beat the spring break rush, we inevitably face some long lines. I actually love waiting in water park lines, because the majority of people don't have a phone with them, so family conversations and laughter take priority over scrolling and screens. The slides at this particular water park aren't for the faint of heart, so it's a long climb to get to the top so that you can enjoy the trip down. Climb a few stairs, wait. Talk and laugh, climb a few more stairs. Wait.
It was in such a line two years ago that I noticed a ledge against the wall, fairly high up toward the ceiling of the water park. I don't know what the ledge's original purpose was, but it had become a target for ponytail holders. I chuckled to myself and told my daughters, "Look, over there. People must be trying to fling their ponytail holders from this line onto the ledge." There must have been hundreds of elastic holders scattered on the ledge. I had so many questions. Who was the first person to fling their holder onto the ledge? How long did it take before someone else tried? How long had the hair ties been there? Was anyone from the water park going to clean them up? My daughter Maddie wanted to try the stunt herself but wasn't quite willing to forgo her ponytail for the rest of the day. The line eventually moved, and we climbed a few more steps.
Imagine my surprise the following year when we returned to the water park. Same line, same slow crawl up the wooden stairs. I had actually forgotten about the ledge when something red caught my peripheral vision. I turned to look and let out a joyful "ha!" when I saw what the water-park staff had done. Apparently they had noticed the ledge full of abandoned elastic hair ties and had decided, rather than expending their energy on cleaning it up, to make it a game. There sat a large red-and-white target with a black peg sticking out of the bull's-eye. It was a challenge, an invitation to play. Could you slingshot your ponytail holder onto the bull's-eye? It looked like only a handful of people had done it, though many had tried and failed. People entered the line with a ponytail and left with their hair hanging down their back, unable to resist the challenge.
I think of that target often in my classroom. How often do I fight against the current? How often am I trying to figure out how to "clean up the hair ties" rather than just making it a game?
This year while I'm teaching 100 percent remote, I'm trying to lean into the unexpected and find moments to play. I had some days when the turned-off cameras and muted mikes began to take a toll. Rather than admonish the kids for not participating, I downloaded a crickets' sound effect on my phone and played it during the silence. When a student insisted on having her dog, Rocco, on her lap and on camera for every single lesson, I added his name to our class roster.
What about you? What is something that could take a toll on you this year, but you're claiming it as an opportunity to play?
This week we discover the hidden treasures within a year of pandemic teaching and more as always—shine on!
Dana Murphy
Featured Contributor, Choice Literacy
---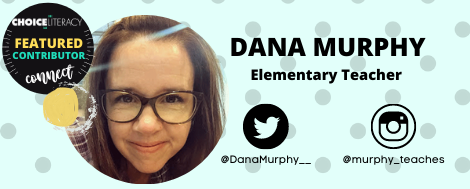 This month's Featured Contributor is Dana Murphy. Dana has been an educator for over two decades in Illinois. She has served as an elementary teacher and instructional coach. Dana wrote for the Two Writing Teachers blog for several years and is now teaching elementary school in the suburbs of Chicago. Follow Dana on Twitter @DanaMurphy__ or Instagram @murphy_teaches. This month you'll find her on the Big Fresh podcast and offering Choice Literacy courses. Find all of Dana's articles and videos on the site by clicking here.

On the podcast, Dana Murphy candidly discusses keeping a positive mindset and approaching her students with an abundance of grace.
Jen Schwanke explores the insecurities and fear that can set in when teachers tackle distance learning, as well as how to overcome them. (Article first published in 2020.)
Sometimes "winging it" because we don't have plans can lead to the most profound learning. Dana Murphy dreams up a quick circle share, and what follows is magic. Don't miss the companion video below! (Article first published in 2019.)
After a yearlong crash course in digital tools and remote teaching, Samantha Pack reflects on what will stick in her brick-and-mortar classroom.
Join the Choice Literacy Book Club! Matt Renwick selected the picture book Neville by Norton Juster and illustrated by G. Brian Karas for our April read. Click on the link to hear a book talk by Matt and to download the printable bookmarks. Join the conversation using the hashtag #ChoiceLiteracyBookClub. 

New members-only content is added each week to the Choice Literacy website. If you're not yet a member, click here to explore membership options.
Dana Murphy outlines the teaching practices that she learned from remote teaching and plans to carry with her upon returning to a physical classroom.
Mandy Robek adjusts her mindset of preparing her classroom according to COVID guidelines and discovers an open heart and mind as she prepares a "minimalist classroom."
In a video (recorded pre-COVID), Julianne Houser meets with a small group of fifth graders to help them build skills for tracking thinking.
In an encore video, view some excerpts from a writing share circle in Dana Murphy's fifth-grade classroom. Each student shares a one- to two-sentence excerpt from the writing they completed during the day's workshop.
Check out our Field Experience courses! Classroom observations are some of the most valuable learning experiences. The Field Experience collection is organized by topics and grade levels, including more than 15 unique field experiences. Each field experience includes 6–10 video observations and several companion articles to deepen your understanding of pedagogy and inspire reflective practice. Free to members.

Gwen Blumberg outlines the way sharing an asynchronous minilesson with teachers allowed her to share instructional insights in a relevant and useful way.
Principal Lee Snider talks about the change process with teachers.
The American Federation of Teachers collected a roundup of reflections from educators responding to the things they've learned from pandemic teaching.
In a new course, Matt Renwick guides instructional leaders to implement and strengthen instructional literacy walks. Through literacy walks, leaders seek out promising practices, note and name them during formative visits, and lead coaching conversations with teachers. The outcome is not only school improvement, especially in literacy, but also a community of learners who engage in continuous improvement as a natural stance. Free to Literacy Leader members.
Quote It:
The world needs dreamers and the world needs doers. But above all, the world needs dreamers who do.
—Sarah Ban Breathnach
That's all for this week!