Struggling readers need precisely what good readers receive—lots of high-success reading experiences.
—Richard Allington
[Now you can listen to the Big Fresh as a podcast!]
Empowering Readers
Dear Friend,
We know your work bustles this time of year, which is why we are glad to save you time with these practical ideas. This week much of the content focuses on empowering students to be confident readers. Melissa Quimby's beautiful personal essay will inspire you to reflect on your own life as a reader as well as offer practical ways to nurture the readers in your classroom. When you pair it with Cathy Mere's new article, "Build Reader Identity," you will find you are breathing new life into your reading conferences and minilessons. The videos feature a middle school reading conference with Christy Rush-Levine as well as a kindergarten conference with Mandy Robek so you can see the principles of empowering readers in action.
Don't miss our new courses! This week we are highlighting The Gradual Release of the Classroom Library with Bitsy Parks and Literacy Walks: Seek, Name, and Strengthen Promising Practices with Matt Renwick.
Matt is our Featured Contributor this month and offers a new article about the shifts he has made to the teacher hiring process to find candidates who are adaptable to change. We've also included a link to post-COVID questions for interviewing teachers.
Finally, Sara Kajder shares an article about reader-sins that will make you chuckle and give you practical moves to maintain a focus on building reader identity in students. Sara also joins the podcast this week.  
We know you are an educator who wants to make students' lives better through literacy and are glad to share practical ideas you can access and actually use.
Shine on,
Ruth Ayres
Editor, Choice Literacy
---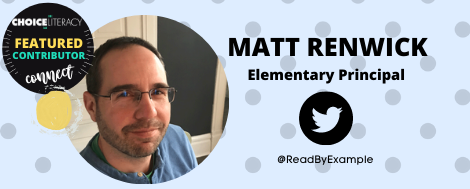 This month's Featured Contributor is Matt Renwick. Matt is an elementary principal who writes at Read by Example and tweets @ReadByExample. He is a veteran public educator, working first as a classroom teacher and now serving as the school leader at Mineral Point Elementary School (Mineral Point, Wisconsin). Matt's educational writing and consultant work focus primarily on literacy instruction, school leadership, and technology integration. This month you'll find him on the Big Fresh podcast and offering Choice Literacy courses. Find all of Matt's articles and videos on the site by clicking here.

On the podcast, Sara Kajder discusses the importance of empowering reader identity and holding true to the reality of our own reading lives.
Stephanie Affinito encounters an unexpected by-product of testing for her son—the uninterrupted reading time waiting for others to finish builds a good habit. She questions whether a high-stakes assessment can create readers. This article was first published in 2020.
Franki Sibberson explores the varied needs of young readers and writers. First published in 2015, this article is a must-read for us today.
It's not too late to join in with March Book Madness hosted by Tony Keefer and Scott Jones. Grab a bracket, pull the books into a basket, and you're ready for your class to join in this global event.
Join the Choice Literacy Book Club! Bitsy Parks selected the picture book Little Brown by Marla Frazee for our March read. Click on the link to hear a book talk by Bitsy and to download the printable bookmarks. Join the conversation using the hashtag #ChoiceLiteracyBookClub. 

New members-only content is added each week to the Choice Literacy website. If you're not yet a member, click here to explore membership options.
In this beautiful personal essay, Melissa Quimby reminds us to nurture readers through passion conferences, classroom libraries, read aloud, and independent reading time.
Cathy Mere knows that growing skills and strategies readers need is essential, yet helping readers find and grow their identity as readers makes the biggest difference of all. 
In a video (recorded pre-COVID), Christy Rush-Levine confers with Tim about his reading.
In an encore video, Mandy Robek finds that kindergartner Mikey is lost in knowing how to use his time well during reading workshop. Her conference moves him from deflated to inspired. This video was first published in 2016 and includes an article that delves more deeply into building confidence in students as readers.
In a course, Bitsy Parks takes you into her primary classroom for a close-up look at how she organizes and then gradually releases the library to students over days, weeks, and months. She provides lesson tips, strategies, and templates to help you plan and make choices about when to introduce bins and browsing skills. You end the course with the information and resources needed to integrate instruction on how to use the library into your daily minilesson and conferring routines. Free to members.

When Sara Kajder commits a reader-sin during a curriculum meeting, it opens the floodgate to confessions of other reader-sins among members of the English department, as well as refocuses their attention on practices that invite students to build intentional reading lives.
Matt Renwick explains how his leadership team's thinking has changed when it comes to hiring teachers, with a much stronger emphasis on figuring out how candidates might handle change in the future.
Brandie Freeman shares common teacher interview questions in a post-COVID world.
In a new course, Matt Renwick guides instructional leaders to implement and strengthen instructional literacy walks. Through literacy walks, leaders seek out promising practices, note and name them during formative visits, and lead coaching conversations with teachers. The outcome is not only school improvement, especially in literacy, but also a community of learners who engage in continuous improvement as a natural stance. Free to Literacy Leader members.
Quote It:
I'll go anywhere as long as it is forward.
—David Livingstone
That's all for this week!