Empathy is the highest form of intelligence
—Anthony Gucciardi
[Now you can listen to the Big Fresh as a podcast!]
Learn to Care
"Children must learn to care," the presenter said, and I cut my eyes to Andy, my husband. We were sitting in a mandatory training session to complete our foster-care license.
I lifted my eyebrows, and Andy shrugged, silently communicating for me to accept the statement rather than stopping the presentation with a question.
At the time I was in the early years of my career. I was enamored with child and adolescent development, as well as brain research. The idea of learning to care, though, was new to me.
Must humans learn to care? Don't we innately feel a sense of caring and compassion for one another? Don't we seek connection through understanding?
It's been many years since the idea of learning to care first pricked my mind. I no longer question the statement or push against the sentiment.
Yes, humans must learn to care.
There's a phrase I've used so often when talking with my own kids that they roll their eyes and mimic the end of it once the first words leave my mouth. I say it when they are upset about the way someone has treated them.
"You know," I begin.
Sam will roll his 15-year-old eyes, or Jordan will say in his deep 16-year-old voice, "Don't remind us."
I let the next words roll off my tongue. "People who need the most love…"
"Show it in the most unloving of ways," they will finish the statement.
They are learning to care. For many families, learning to care is an ingrained part of their family life. It's part of our school cultures, too. We help children build empathy for others. It is not easy work, which is why I am excited to share this week's content with you. We offer many practical ways to build informed empathy in reading workshops. Plus more as always—shine on!
Ruth Ayres
Editor, Choice Literacy
---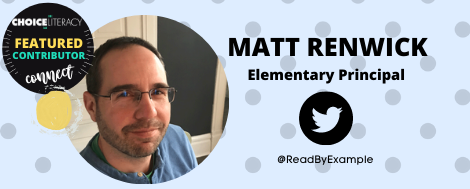 This month's Featured Contributor is Matt Renwick. Matt is an elementary principal who writes at Read by Example and tweets @ReadByExample. He is a veteran public educator, working first as a classroom teacher and now serving as the school leader at Mineral Point Elementary School (Mineral Point, Wisconsin). Matt's educational writing and consultant work focus primarily on literacy instruction, school leadership, and technology integration. This month you'll find him on the Big Fresh podcast and offering Choice Literacy courses. Find all of Matt's articles and videos on the site by clicking here.

On the podcast, Matt Renwick talks about his mantra to "read by example," as well as his new course Literacy Walks: Seek, Name, and Strengthen Promising Practices.
Do they care? That's the question Karen Terlecky asks herself as she sets up book clubs in her fifth-grade classroom with a focus on empathy. This article was first published in 2012.
Nancy Zuckerbord shares ways to develop social-emotional skills and empathy using fiction, nonfiction, and poetry.
Stephanie Affinito explains how literacy leaders can spice up a winter professional development session with a read-aloud book tasting and competition modeled after the March Book Madness initiative. This was first published in the Leaders Lounge in 2019.
It's not too late to join in with March Book Madness hosted by Tony Keefer and Scott Jones. Grab a bracket, pull the books into a basket, and you're ready for your class to join in this global event.
Join the Choice Literacy Book Club! Bitsy Parks selected the picture book Little Brown by Marla Frazee for our March read. Click on the link to hear a book talk by Bitsy and to download the printable bookmarks. Join the conversation using the hashtag #ChoiceLiteracyBookClub. 

New members-only content is added each week to the Choice Literacy website. If you're not yet a member, click here to explore membership options.
Nawal Qarooni Casiano shares three gorgeously varied picture books and guiding questions designed to cultivate an inquisitive stance and informed empathy in students.
Leigh Anne Eck personifies her classroom library by sharing the lessons it whispers when we take the time to listen. This is a practical guide to keeping your classroom library timely and relevant.
Mark Levine explores ways to cultivate empathy by sharing texts with multiple perspectives on the same event in his middle school social studies class.
In a course, Choice Literacy elementary contributors share ways to empower choice even in uncertain times like the 2020-2021 school year. We know choice is the heart of teaching readers and writers. Sessions are as follows:
Celebrate and Affirm Student Identities with Picture Books by Stella Villalba
Citizenship Choices with Bitsy Parks
Choice in Interactive Read Aloud with Tammy Mulligan
Co-Organizing the Classroom Library with Matt Renwick

Tara Barnett and Kate Mills share soft starts to professional learning meetings designed to build empathy by providing opportunities for teachers to do the work of readers and writers, as well as connect with one another.
Matt Renwick cracks open his process for trusting teachers and encouraging growth through coaching conversations.
Thinking Collaborative offers ideas for coaching skills to maximize capacity in individuals and organizations.
In a new course, Matt Renwick guides instructional leaders to implement and strengthen instructional literacy walks. Through literacy walks, leaders seek out promising practices, note and name them during formative visits, and lead coaching conversations with teachers. The outcome is not only school improvement, especially in literacy, but also a community of learners who engage in continuous improvement as a natural stance. Free to Literacy Leader members.
Quote It:
Leadership is about empathy. It is about having the ability to relate to and connect with people for the purpose of inspiring and empowering their lives.
—Oprah Winfrey
That's all for this week!