It's amazing how a little tomorrow can make up for a whole lot of yesterday.
—John Guare
What Happens Next?
As the world emerges from the grip of this long pandemic and restrictions shift and change, I find myself filled with both a sense of hope and a sense of guilt. Did I enjoy the time at home with my kids as much as I should have? Did I do enough to help my teachers and students teach and learn at home? Will we ever recover from the missed instructional time and in-person connections?
And the list continues.
After one particularly long guilt session, I couldn't help but flash back to a long car ride home with my son, who had had a difficult game in a high-stakes travel baseball tournament. As he berated himself, I gently reminded him of our family sports mantra: What happens next is what defines you. Not the strikeout, not the missed pop-up to center field, and certainly not the wild pitches. What we do next to pick ourselves up is what defines who we are.
Those words—what happens next is what defines you—are exactly what I need right now. Has the world changed? Yes. Is it still changing? Yes. Did I do my best during those uncertain times? Yes. Are there unexpected consequences for teaching and learning? There sure are. But rather than wallow in the challenge, obsess over what might have been, or lament the new instructional gaps, what happens next is what defines us.
The missed opportunities, the possible learning gaps, and the countless challenges do not define who we are. The ways we continue to connect with students, build strong learning communities, and instruct from the heart do. This week we look at reading invitations—plus more, as always.
Shine on!
Stephanie Affinito
Featured Contributor
---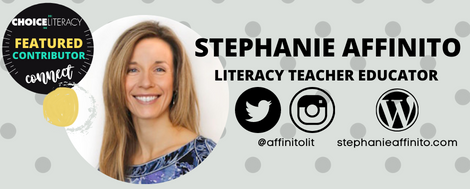 Stephanie Affinito, a former classroom teacher and literacy specialist, is a literacy teacher educator at the University at Albany. She has a deep love for literacy coaching and supporting teachers' learning through technology, and she presents nationally on this topic. You can find her online at stephanieaffinito.com and on Twitter. Her book, Literacy Coaching, is available from Heinemann.

The Choice Literacy Book Club is reading Apple and Magnolia by Laura Gehl.
Tammy Mulligan explains how the use of the popular "reading mats" can help build reader confidence. (This article was first published in 2019.)
Christy Rush-Levine offers a close look into the needs of readers by considering engagement, enrichment, and nourishment. 
Jennie Croteau shares a big list of virtual author activities. 


New members-only content is added each week to the Choice Literacy website. If you're not yet a member, click here to explore membership options.
Tammy Mulligan organizes her second graders to teach reading seminars to their peers. She outlines the steps to make this engaging practice a reality in any classroom.
Leigh Anne Eck encourages students to create their own reading challenges to stretch their reading identities. Download the challenge to share with your students.
Katherine Sokolowski shares the genre invitations she issues to students to help them grow as readers.
In this encore video (2017), Bitsy Parks helps her first-grade students complete "thumb reflections" on making connections in reading early in the year by modeling connections from three conferences in a whole-class share session.
Check out this new Field Experience course: Writing Poetry with Elementary Writers. Help elementary writers develop the mindset and tools to dip into poetry in their notebooks. (This course is free to members.)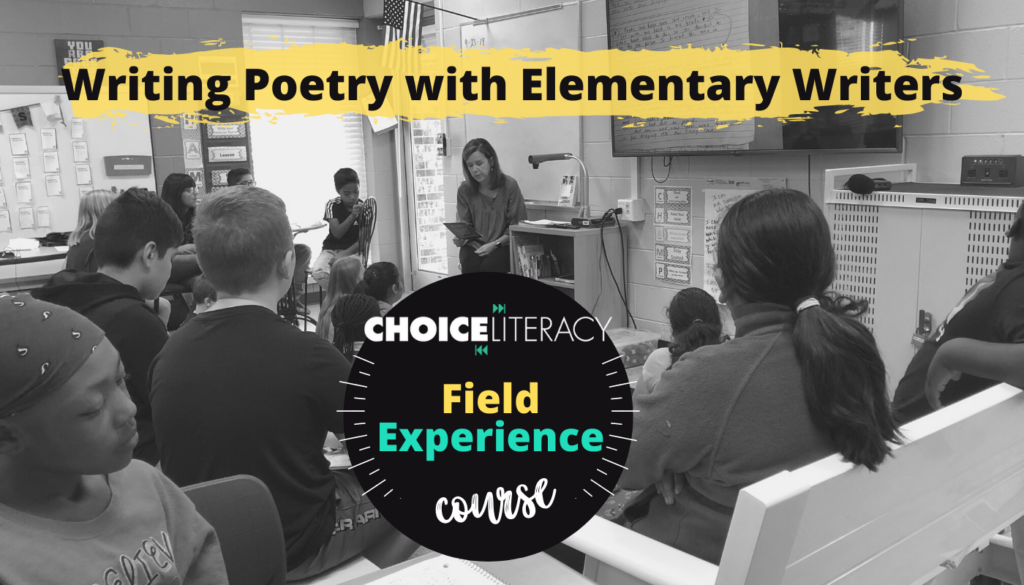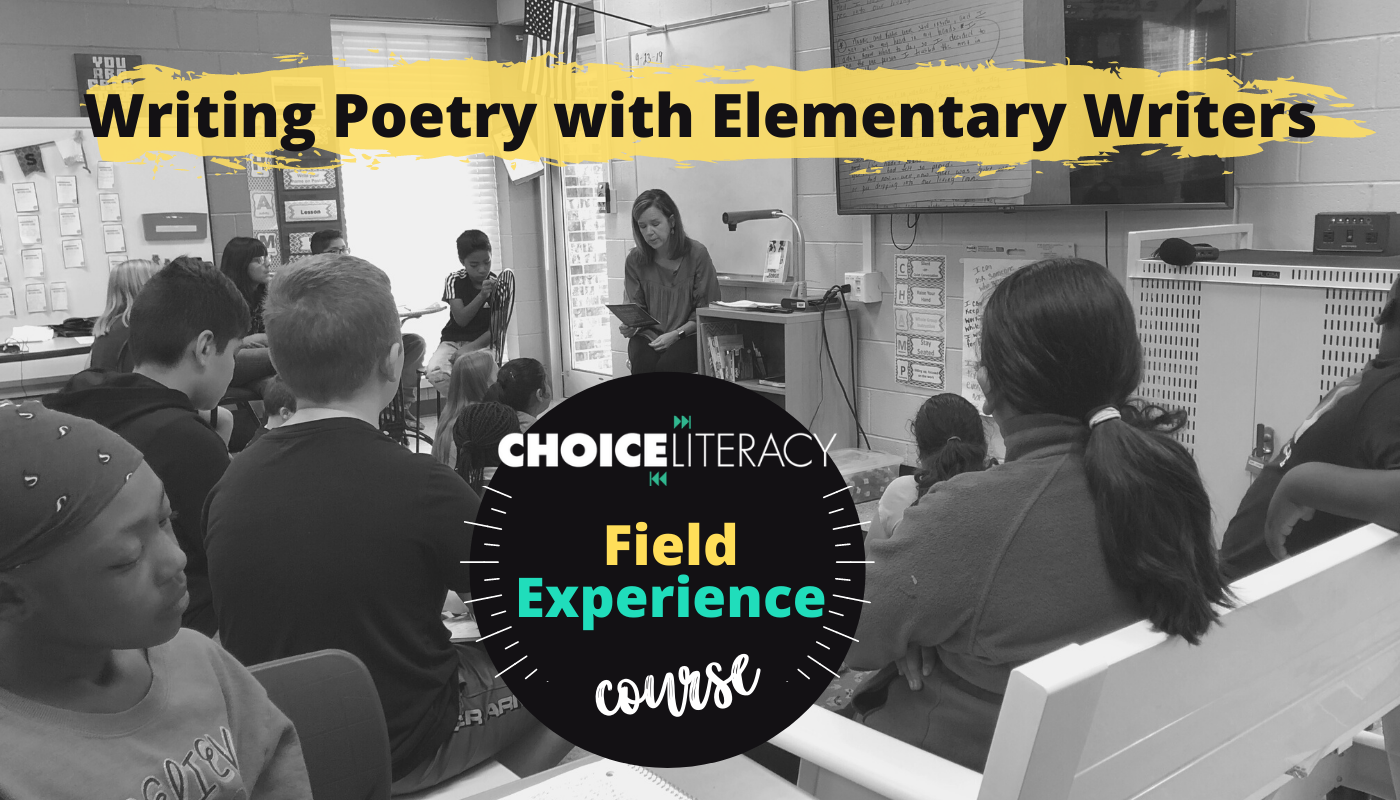 New members-only content is added each week to the Choice Literacy website. If you're not yet a member, click here to explore membership options.
In this first installment of a three-part series, Gigi McAllister explores ways instructional coaches can make strong connections through drop-in visits. Download the Drop-In Visit note sheet, and add drop-in visits to your schedule today.
Don't forget our downloads. We're firm believers that literacy coaches should go where they are welcome in classrooms and be patient. But what happens when you've been a literacy coach for years, and you're still waiting for those invitations from some teachers? Amanda Adrian explains how a simple professional development closure activity garnered many new invitations to classrooms. Download an exit slip to use for your next closure activity.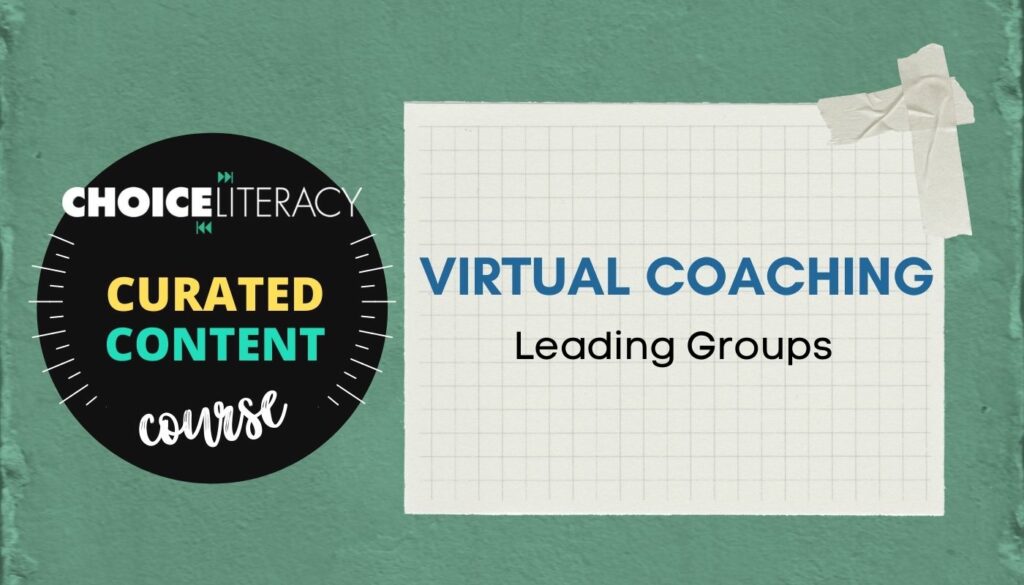 Are you planning virtual professional learning experiences for the summer? Our course Virtual Coaching: Leading Groups offers timely ideas and guidance for delivering virtual professional learning sessions.
Quote It:
Education is the mother of leadership.
—Wendell Willkie
That's all for this week!