There are things you do because they feel right and they make no sense and they make no money and it may be the real reason why we are here: to love each other.
—Brian Andreas
Poetry and Magic
My childhood was filled with poetry and magic. (Sometimes I wonder if poetry and magic go hand in hand.) In middle school I stopped finding poetry magical. In high school I started disliking it. By college, as an English minor, I found it ridiculous. By the time I found myself in a secondary language arts classroom, I was adept at sidestepping the genre as much as possible.
As my understanding of how writers worked increased, I realized it was wrong for me to pass on my bad attitude about poetry to students. When I read Ralph Fletcher's Poetry Matters, I realized poems are small canisters to hold big meaning. The more I read Ralph's words, the more convinced I was that poetry could unlock doors for writers. As I opened my notebook and played with poetry, in a way that can be attributed only to magic, I found myself enjoying the process of writing a poem.
It is because of students that I fell back in love with poetry. Student writers are amazing at capturing emotions, forming images, and creating rhythm by stacking words. It is magical when teachers write alongside them.
There are lots of resources for teaching poetry. The content on Choice Literacy is special because it comes from contributors who carry contracts with schools. They spend their days alongside kids, and rather than offering prepackaged content, they share their learning with us. We trust it will allow you to empower student choice and voice in your corner of the world, too.
Be sure to check out the new Field Experience course, Writing Poetry with Elementary Writers. This is included with membership and available to purchase for everyone else. If you've wondered how to conjure the magic of poetry in your classroom, this is a great place to begin. This week we offer the second installment of poetry content—plus more, as always. 
Shine on!
Ruth Ayres
Editor in Chief
---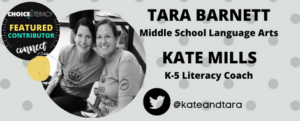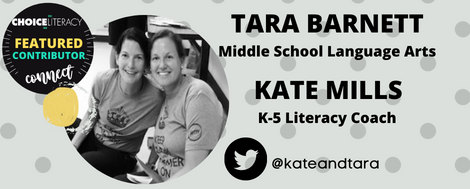 Tara Barnett and Kate Mills are longtime contributors to Choice Literacy. They met while co-teaching a fourth-grade class, and experienced the powerful effects of professional collaboration on both themselves and the students in the classroom. Tara is now a middle school literacy teacher, and Kate is a K-5 literacy coach. Though they're no longer in the classroom together, they still depend on each other for professional reflection and growth, and meet up for weekly runs. You can find them on Twitter, @taraandkate.

The Choice Literacy Book Club discusses The Proudest Blue by Ibtihaj Muhammad, S.K. Ali, and Hatem Aly. Listen in on the podcast.
Tara Barnett and Kate Mills introduce their middle school students to pastiche, a technique of mimicking the craft of favorite poems and poets. (This article was first published in 2020.)
Mandy Robek finds quick poetry read-alouds are a great way to transition between activities in her second-grade classroom and build a love of poems. (This article was first published in 2017.)
Being a teacher who writes is one of the best ways to grow as a teacher of writers. Check out the Sharing Our Stories: Magic in a Blog community. Each week there is an invitation to write and a small community of writers who toss stories into the world and encourage one another. It isn't a competition or a challenge; it is simply an invitation.
Course Highlight
Don't miss Gretchen Schroeder's session, "Weekly Poetry Response Choices" in the Secondary Contributor Course: Empower Choice for Readers and Writers. Gretchen shares three ways to respond to poetry—text focused, reader focused, and creative focused.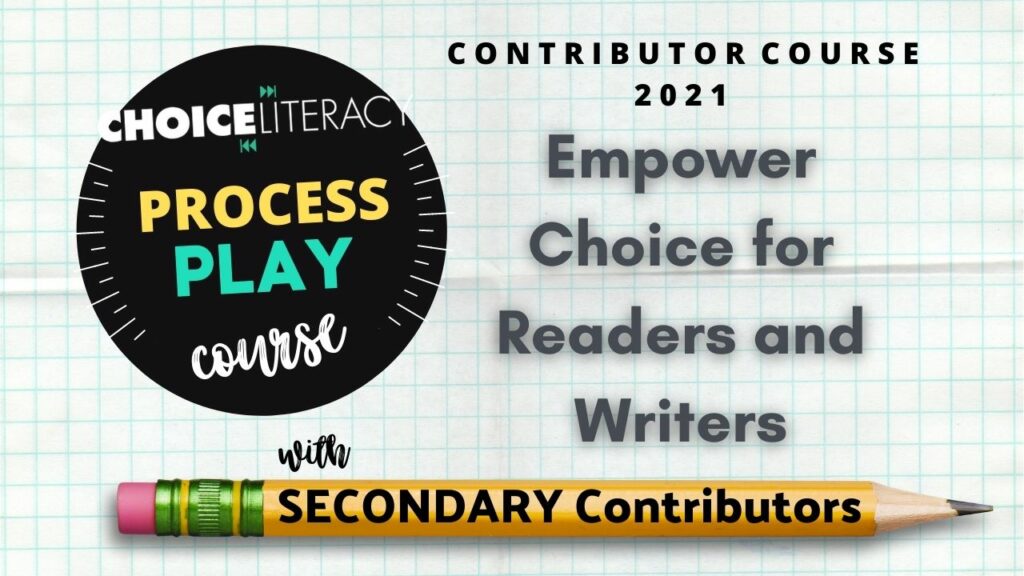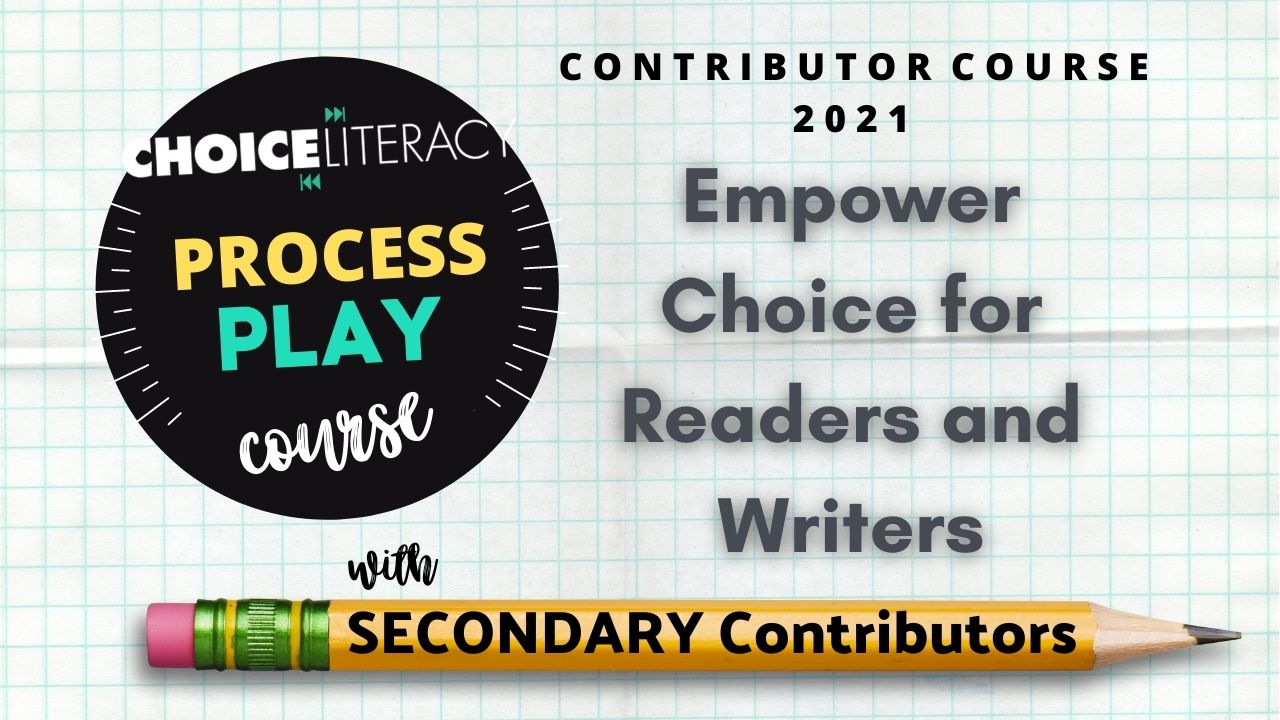 New members-only content is added each week to the Choice Literacy website. If you're not yet a member, click here to explore membership options.
Gretchen Schroeder outlines a way to involve the entire school community in writing poetry.
Mandy Robek shares the power of publishing poetry with her young writers.
In this encore video (2016), Christy Rush-Levine leads her eighth graders in a choral reading and analysis of the E. E. Cummings poem "Old Age Sticks." This is the first video in a two-part series.
Check out this new Field Experience course: Writing Poetry with Elementary Writers. Help elementary writers develop the mindset and tools to dip into poetry in their notebooks. (This course is free to members.)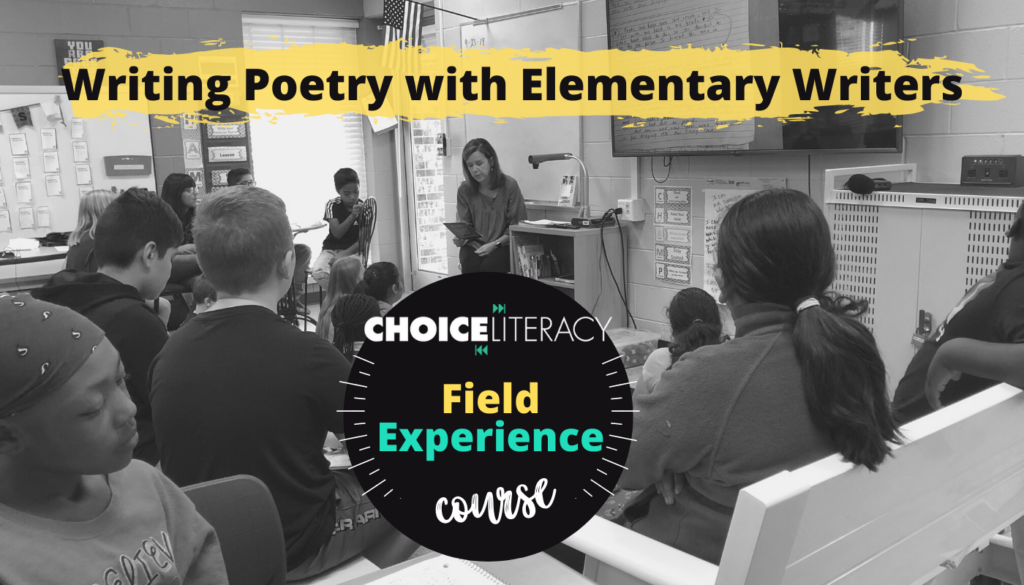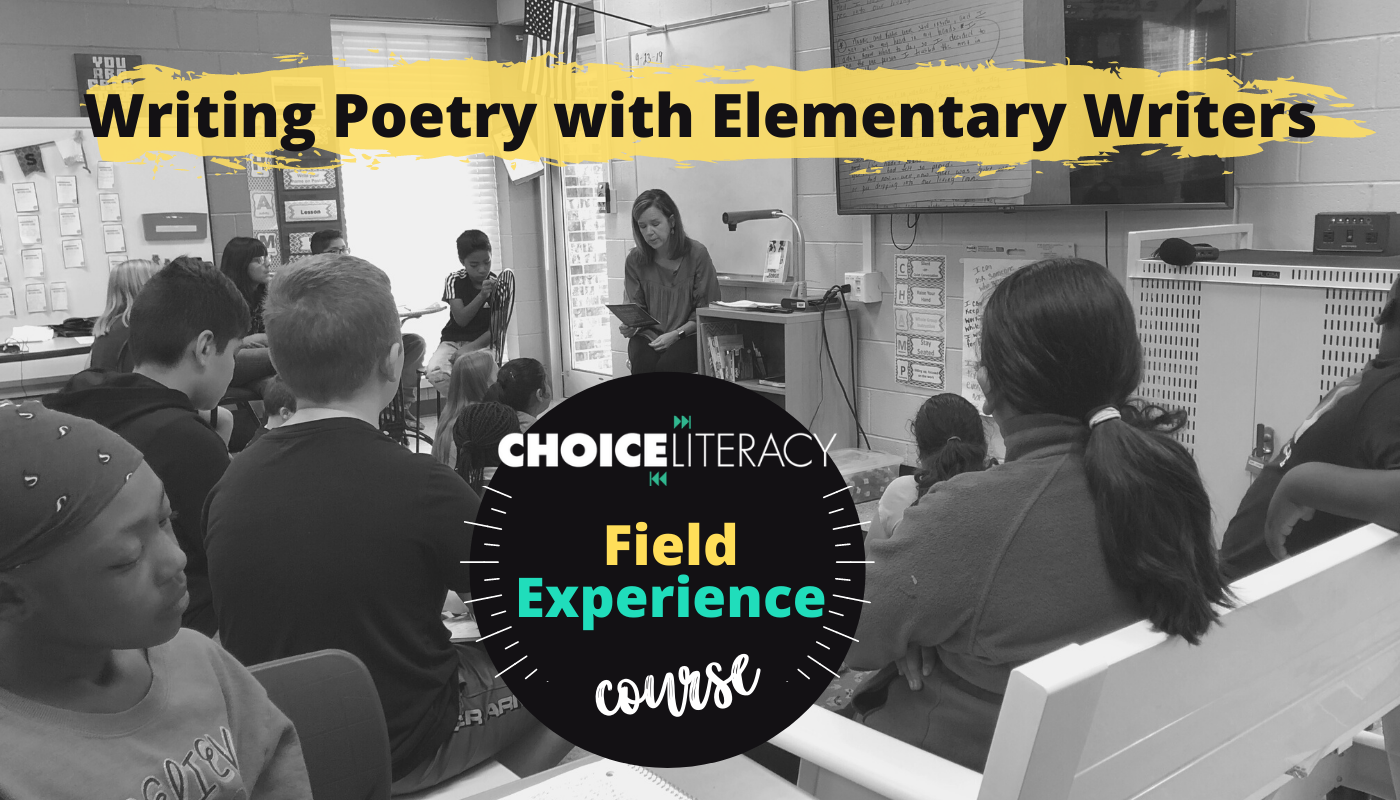 New members-only content is added each week to the Choice Literacy website. If you're not yet a member, click here to explore membership options.
In this Coaching Minute video, Inga Omondi encourages instructional coaches to consider the many hats they wear and to remove the ones that are not serving the greater good.
Matt Renwick masterfully outlines a complexity of public education: We are constantly making decisions on behalf of our students, and they rarely fully meet every kid's needs. Knowing these limits and keeping students at the center of decision making (as opposed to the loudest calls to action from parents) ensures a more equitable educational experience for all.
In this encore article, Melanie Meehan shares some of her favorite templates for flexible lesson planning with teachers. This may be especially helpful for working with teachers on a poetry unit.
Leaders Lounge Course Highlight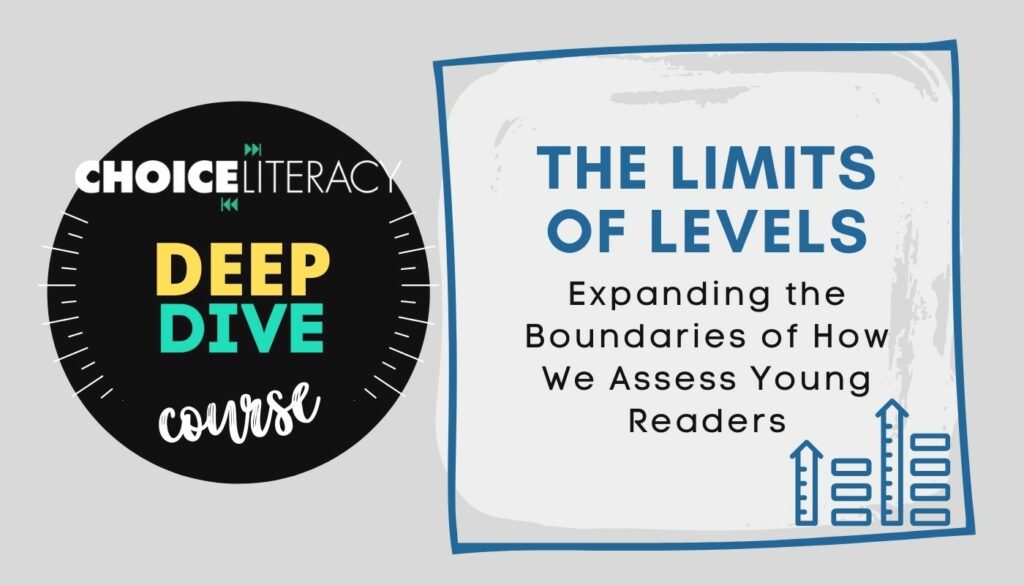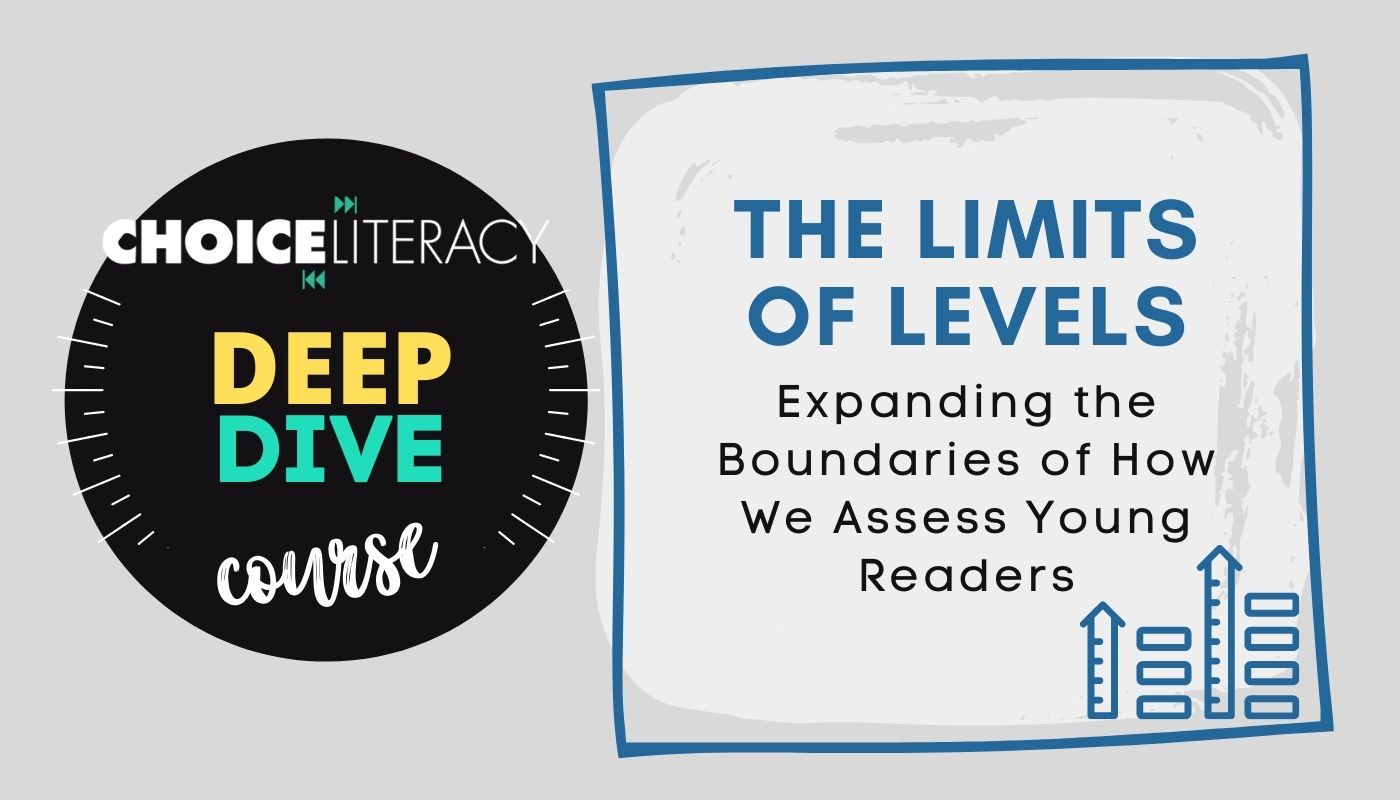 The Limits of Levels: Expanding the Boundaries of How We Assess Young Readers is a course with Cathy Mere that is free to Literacy Leader members. Knowing a child's reading level is an invaluable tool. A level can be a first step in assessing readers and planning instruction. But a level can also quickly become an anchor that limits thinking about where children are as readers and what might be next. Rely on levels too much, and you might miss gaps in reading skills and strategies necessary for continued growth. Cathy Mere shows how levels can help and hinder teachers, as well as alternatives for assessing needs and grouping students.
Quote It:
A good decision is based on knowledge and not on numbers.
—Plato
That's all for this week!