2022 May: When Stars are Scattered
Gwen Blumberg selected When Stars Are Scattered by Victoria Jamieson and Omar Mohamed as the Choice Literacy Book Club selection.
The Simplest Book Club You've Ever Joined!
Read the book.
Share your thoughts below on the Choice Literacy Book Club Padlet. We love using this tool in classrooms with students, as well as for professional learning with teachers. Don't be shy!
Be creative and share inspiration on your social media channels. Recipes, songs, quotes, and memes are all ways to connect with one another and deepen our thinking about the book. Tag your posts with #ChoiceLiteracyBookClub. You'll find us on Twitter, Instagram, and Facebook.
At the end of the month, Choice Literacy contributors gather for a book club discussion. You can listen in on the podcast as we take inspiration from the Padlet and the hashtag #ChoiceLiteracyBookClub.
Share Your Thoughts
Meet Gwen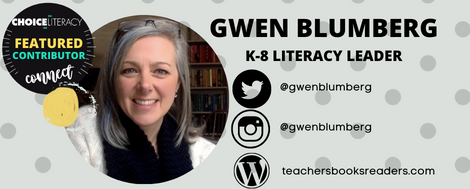 Gwen Blumberg is a literacy leader for a K-8 district in Greater Boston. She's a lifelong, avid reader who loves to share books with kids and listen to the stories they write and tell. She believes book and topic choice are essential ingredients for students to develop authentic reading and writing lives. Gwen shares her passion for children's literature by writing for the collaborative Teachers|Books|Readers blog. You can also find her sharing about all things literacy on Twitterand Instagram @gwenblumberg.
---
Articles