2022 January: Outside, Inside by LeUyen Pham
Brian Sepe selected a Caldecott Honor winner, Outside, Inside by LeUyen Pham, as the Choice Literacy Book Club selection.
Don't miss Brian's articles and podcast interview linked below!
Get Involved
Read the book.
Share your thoughts below on the Choice Literacy Book Club Padlet. We love using this tool in classrooms with students, as well as for professional learning with teachers. Don't be shy!
Be creative and share inspiration on your social media channels. Recipes, songs, quotes, and memes are all ways to connect with one another and deepen our thinking about the book. Tag your posts with #ChoiceLiteracyBookClub. You'll find us on Twitter, Instagram, and Facebook.
At the end of the month, Choice Literacy contributors gather for a book club discussion. You can listen in on the podcast as we take inspiration from the Padlet and the hashtag #ChoiceLiteracyBookClub.
Share Your Thoughts
Meet Brian
Brian Sepe is the January 2022 Featured Contributor. You can read two of his articles and listen to our conversation about connections and mantras on podcast. All are linked below.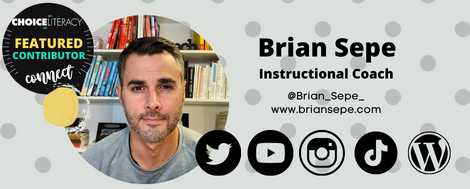 Brian Sepe is an Instructional Literacy Coach in Buffalo, NY.  He is also a consultant and instructional coach with the Western New York Teaching Residency Program. Brian's experience is steeped in his experiences with TCRWP and in K-8 classrooms. He is also trained through the Instructional Coaching Group (ICG) with Jim Knight. You can find Brian at briansepe.com  and @Brian_Sepe_  through social media.
---
Articles