Teacher: "I was thinking for today's reading time, we could write a book together, and then I'll make a copy of the book for each of us and we can keep it in our baggies. How does that sound?"
Students: "Yay—we write books all the time in writing workshop!"
Teacher: "Great, let's get started . . . How do these pictures go together?"
Students: "They're all animals!"
At this point, the students are leaning over the table with enthusiasm and talking about what they notice from the pictures.
Teachers of early literacy are always looking for this moment, the strategies and forms of small-group instruction to support their developing readers and writers. There is an incredible amount of work to be done at these early stages of reading and writing.
Finding ways to bridge the connections between the skills and needs of developing readers and writers is the journey and arguably some of our most critical work as educators. As a result, we are often on the lookout for high-leverage, highly engaging strategies.
One high-leverage, low-prep, and engaging small-group option is using bookmaking as a means to make meaningful connections between reading and writing.
Why Bookmaking?
Bookmaking is scalable in many ways and reflects the developmental stages in your classroom. Bookmaking is the act of creating a book with pictures alongside your students.
Unlike the books your students will create in writing, the bookmaking process in reading is reinforcing the reciprocal skills of reading and writing while simultaneously working on skills such as phonological awareness, one-to-one matching, phonics knowledge, sight-word recognition, pattern recognition, return sweep, and general attention to print.
Additionally, bookmaking in reading allows you to tactfully prepare students for the rigors and nuances between various levels (such as moving from Level B books into Level C) in a nonthreatening manner: The group is dictating parts of the text while you frame the writing in a way that matches some of the text difficulty ahead for your developing readers.
We know that our youngest readers should have the opportunity to hold and love books.
This starts early in many classrooms where students are reading emergent storybooks in kindergarten, then move to books they can read with picture support, all the way to reading more conventionally by the end of kindergarten.
In most cases, students are holding upward of 20 books per week. Therefore, the challenge is having enough books on hand to sustain this volume of work. Bookmaking is a great alternative way to meet this challenge.
Bookmaking bridges the reciprocal skills of reading and writing. It helps students make connections between phonemes and letters, and connections between letters and words.
Bookmaking is engaging. Students want to create, and students can write the book with you.
Bookmaking allows for repeated practice. As we write the book, we read the book. Once it's written, each student gets a copy for use during independent reading.
Bookmaking is personalized. Students see their ideas make it onto the pages: Say it, write it, read it. Students sign their name to the front or back cover, as authors.
Bookmaking mirrors balanced-literacy components such as shared writing and interactive writing. Students are already familiar, in most cases, with writing across the day. They understand that they have to contribute so that we can accomplish the task.
Bookmaking reinforces early literacy skills. Tracking print, picture-written correspondence, sight words, taking unfamiliar words apart, and punctuation with some pausing and phrasing are just a few elements of the early literacy skills in reading.
Entry Points for Bookmaking
Bookmaking forces you to know your data and developmental needs of your readers and writers and use that data to lead your bookmaking small group.
For instance, if you are moving readers up a level from Level A to Level B, it is possible you are still working through or checking in on the behaviors of one-to-one match, using pictures, and sight words.
So, you might start your bookmaking with this group by holding the pen and leading the work more like shared writing, and coaching students on the initial sounds or writing/saying the sight words you will use to construct the piece.
You may also construct the book with a simple pattern like, I see _____. He/she is _____.
Getting Started
There are a few things to consider before we move to how to lead this type of group. (Coaches, this next part is what you will want to use if you are supporting this work in the classroom.)
Guiding Questions:
Who are you pulling for the group?
What does their running records suggest they might need work on?
What reading/writing behaviors need to be supported?
How will you follow up with this group?
Here is a document created with our colleagues at the Teachers College Reading and Writing Project that can support your work: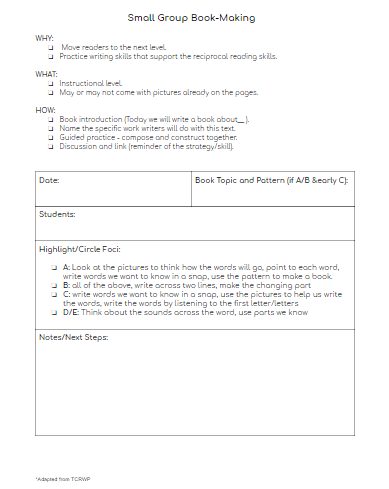 Quick Start Guide
After you've sifted through the data and established your purpose with the reading and writing skills in mind, follow these steps:
Select two to four images, print one image per page, and select two to four students.
Ask the students a question like "How do these images/pictures go together?"
Ask them if they want to write a book together.
Use what the students say about how the images go together, and begin by naming the pattern out loud. (For example, Here is the _____.  I see _____.)
Begin writing.
Share the pen when appropriate.
Read the page.
Repeat steps 1–7 on subsequent pages.
Write the title and cover page with students.
Copy and give it back to students for their independent reading baggies/boxes.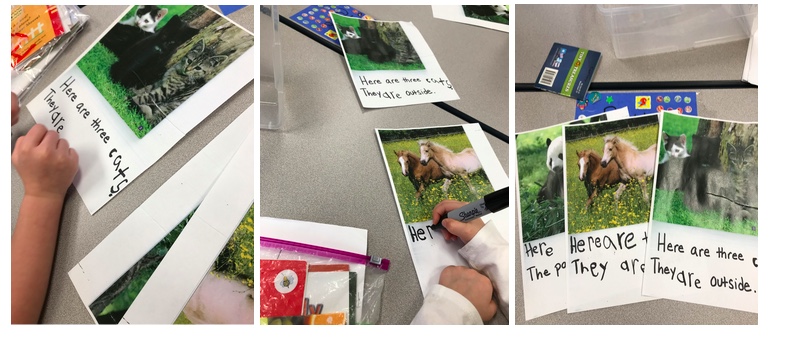 Tips for Bookmaking
Get clear on the level of the book you want to create, and match it to the work of their books.
Vary the instruction: Sometimes you write the entire piece and the students offer the content, and other times, everyone gets a chance to write.
If you are using bookmaking to "move" students through a level, get clear on the work of the level above their current work.
If students need more work with initial, medial, or ending sounds, push yourself to have them write the initial, medial, or ending parts only after you've started the word.
Always reread after you've written the entire book.
Use the "new" book as shared reading with other students.
Have the students "sign" the book. They made it, and now it should be personalized.
Share the pen only when you need to share the pen. Hint: You do not need to share it at all if the group isn't quite ready for that type of work.
Give yourself permission to play and "experiment" with this type of small group.
Put the new book in your classroom library.
Pull pictures of highly engaging figures relevant to your age group (e.g., superheroes, vehicles, animals, and so on).
Do not reinvent the wheel. Take the pictures from your classroom library. Three pictures of farm animals from the library can help expedite the process.
Just start! Do not overthink this small group or put it off for some other time in the spring. Try it today!
Give up control! Let the students take the content. You frame the language.