Our power resides in our collective strength. We are what we are seeking.
—Nawal Qarooni Casiano
[Now you can listen to the Big Fresh as a podcast!]
Change Your Perspective
Every morning I have the best cup of coffee, except on the mornings when I have the world's greatest cup of tea. Other mornings I begin with a glass of the crispest iced water that exists. No matter what fills my cup, I have decided that it is going to be good.
I used to believe I could get the best cup of coffee only on the corner of Market and Second Streets. One day, while standing in line at the local coffee shop, I wondered why I didn't decide to love the coffee I found at the corner cabinet in my own kitchen. Why couldn't I pour the best cup of coffee in my own home?
When I met a friend at a coffee shop in another town that makes the perfect cup of English Breakfast tea with honey, I wondered why I couldn't make the best cup of tea in my own kitchen. I selected the shop because of the tea and the attention to crafting a delightful cup. Certainly I could decide to brew a delectable cup of tea while the moon hung low in the dark morning sky.
Each morning, before I raise the mug to my lips, I decide it is going to be one of the best morning sips I've ever had. I take a sip and recite in my mind, If this isn't nice, then I don't know what is.
Shifting my perspective on my morning beverage reminds me of the power I have to view a situation in a variety of ways. The late Irish novelist Elizabeth Bowen wrote, "If you look at life one way, there is always cause for alarm." It's true for coffee—my morning cup can be subpar or it can be the best I've ever tasted—and it is true for more important things, too.
There is no better way to learn to look at the world in a new way than through reading and writing. In a world that is clamoring for attention, one of the best things we can do is learn to broaden our perspectives. This issue focuses on perspectives. I hope you will grab your favorite beverage, open the articles, and read. Take a sip, broaden your perspective, and remember the power you have to view the world in new ways.
This week we look at perspectives—plus more, as always.
Shine on!
Ruth Ayres
Editor in Chief, Choice Literacy
Ruth Ayres is the editor in chief of the Choice Literacy site and the director of professional learning for The Lead Learners Consortium in northern Indiana. Ruth previously worked as a middle and high school language arts and science teacher and a K–12 instructional coach, and has written books, articles, and lots of blog posts. She is the author of Enticing Hard-to-Reach Writers (Stenhouse, 2017) and other books for teachers of writers. When not writing professionally, Ruth collects stories of adoption, faith, and whimsy. You can follow her at Ruth Ayres Writes or @ruth_ayres on Twitter or Instagram.
---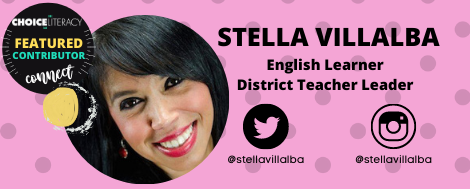 This month's Featured Contributor is Stella Villalba. Stella teaches English language learners and coaches teachers across the Dublin, Ohio, school district. She works to bridge understandings regarding teaching English language learners. Stella is a Lead Ambassador for NCTE. She is passionate about languages, literacy, and culture. You can keep up with Stella on Twitter @stellavillalba, Instagram @stellavillalba, or her blog, Listening and Learning: A Teaching and Coaching Life. This month you'll find her on the Big Fresh podcast and offering Choice Literacy courses. Find all of Stella's articles and videos on the site by clicking here.

On the podcast, Stella Villalba discusses the importance of perspectives.
#31DaysIBPOC: Celebrating the Teacher Voices of Indigenous, Black, and People of Color Voices in May is a beautiful collection that allows all of us to appreciate the power and endurance of Indigenous, Black, and people of color in education who strive for excellence and equity in education. Take time to read these stories. They are a gift.
When it comes to including and understanding other people, it may be hardest to empathize with those who disrupt or bully others. Tammy Mulligan shares her four favorite mentor texts for understanding students who are angry and lash out. (This article was first published in 2019.)
Mark Levine explores ways to cultivate empathy by sharing texts with multiple perspectives on the same event in his middle school social studies class. (This article was first published in 2021.)
Join the Choice Literacy Book Club! Dana Murphy selected the May pick. It is My Hero Academia, Volume 1 by Kohei Horikoshi. This new manga book is popular in classrooms and a new reading experience for our book club. Grab a copy, and join the conversation using the hashtag #ChoiceLiteracyBookClub.

New members-only content is added each week to the Choice Literacy website. If you're not yet a member, click here to explore membership options.
Bitsy Parks shares special events that help students widen their scope of acceptance and appreciation for the differences among us.
Cathy Mere nudges us to consider perspective as a craft move and provides a stack of mentor texts in this book list.
Gretchen Schroeder shares her failures in preparing for antiracist literature instruction, and the principles she uses to empower meaningful conversations about race.
In an encore article (2021), Nawal Qarooni Casiano shares three gorgeously varied picture books and guiding questions designed to cultivate an inquisitive stance and informed empathy in students.
Process Play Course: Secondary Contributor Course: In our 2020-2021 Contributor course, we delve into offering choice even in the middle of pandemic teaching. Make sure to note Christy Rush-Levine's session about participation choices in order to consider a wider perspective of student needs in your classroom.

David Pittman uses welcome slides to set a purpose and orient participants to the professional learning session.
Gwen Blumberg is inspired by a stereo equalizer in adjusting instructional practices to find the just-right mix as she works alongside teachers and students.
Nawal Qarooni Casiano shares her story and determination for leaders of learning to instill a supportive stance of amplifying strengths of each child's "cultural capital and unique history." This is a moving post of the #31DaysIBPOC project.
Deep Dive: It's a Cycle, Not a Hamster Wheel: Getting the Most Out of Coaching Cycles: Dana Murphy takes you into the nitty-gritty of coaching cycles with examples and advice from experienced literacy coaches from across the country. You'll view videos of an initial meeting of a coach and teacher to plan a cycle and sample demonstration lessons within a cycle, and get quick video tips for getting organized and taking good notes throughout the cycle. (This course was created in 2019.)
Quote It:
I like to turn things upside down, to watch pictures and situations from another perspective.
—Ursus Wehrli
That's all for this week!