There is an art to enticing writers: we're looking to challenge and cheer students to keep writing.
—Ruth Ayres, Enticing Hard-to-Reach Writers
[Now you can listen to the Big Fresh as a podcast!]
Celebration Is Not Fluff
When Dana Murphy and David Pittman suggested I start a Choice Literacy podcast, I laughed.
"We're serious," David said.
"Very serious," Dana agreed.
"What would I say?" I asked.
I wasn't worried about figuring out the production details; I was concerned about what to say. To put this in writing-teacher terms would be to say that I lacked genre sense. Even though I've been a podcast listener for years, I never considered the characteristics of the genre.
David and Dana's nudge took root, and I began envisioning and collecting ideas about a Big Fresh Choice Literacy podcast. Then I began planning. Next, I drafted. I slid into my writing process and developed an understanding of the podcast genre as I moved through the process.
A few years ago I wrote a book called Celebrating Writers: From Possibilities Through Publication with Christi Overman. While writing the book, I fought with the idea that celebration is fluff and made a case for writers needing celebration throughout the writing process. Celebration is not fluff for writers; celebration is fuel for writers.
That's why what I realized next should not have been a surprise to me, but it was. As we near 5000 listens to our brand-new Big Fresh Choice Literacy podcast, I realize that I'm not just producing a podcast, but am also celebrating. I was surprised to realize that celebration sustained me. As I embarked on creating a new-to-me genre, I found one challenge after another. It would have been easy to give up, just like it's easy for young writers to give up. Instead of giving up, I celebrated. I sent David and Dana silly gifs when I overcame a challenge, and they sent me encouraging emojis to keep going. I kept making podcasts because I was having fun. In the midst of a hard school year, I am elated to recognize that celebration continues to be the fuel.
Each week we celebrate the new published features of our contributors. We also celebrate the process of their work, with an interview, getting to know them behind the scenes of their articles and peeking into their daily lives. They are in-the-field educators navigating the same issues and pressures as you, and they are figuring out how to continue to uplift student choice and voice every day in their corners of the world with traditional, virtual, and hybrid instruction.
Writing (and teaching) does not have to be agonizing. It can be full of joy, even during the dark parts of the journey. This week we celebrate writers, and I hope you will find the fuel you need to keep doing the good work of valuing student choice and voice. For an extra dose of inspiration and connection, check out our podcast.
Ruth Ayres
Editor, Choice Literacy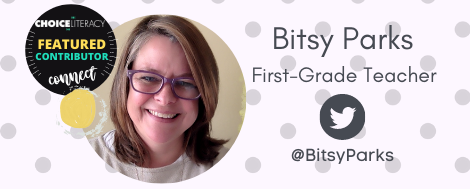 This month's Featured Contributor is Bitsy Parks. Bitsy has been an elementary school teacher for over 20 years. She is a first-grade teacher in Beaverton, Oregon, where she finds joy in nurturing young students to discover their reading and writing identities and build a foundation for a love of learning. Bitsy has degrees from Colorado College and Lewis and Clark College. She is an adjunct instructor at Lewis and Clark College in Portland, Oregon. You can find Bitsy on Twitter (@BitsyParks). This month you'll find her on the Big Fresh Podcast, taking over our Instagram feed, and offering Choice Literacy courses. Find all of Bitsy's articles and videos on the site by clicking here.

On the podcast, Bitsy Parks talks about celebrating the process of her first-grade writers as well as her course The Gradual Release of the Primary Classroom Library.
We hope you enjoyed getting to know Bitsy as our Featured Contributor. As a thank-you to Bitsy for all she shares with us at Choice Literacy, we made a donation in her name to the Cedar Mill Public Library in Portland, Oregon.
Do celebrations matter? If you know Ruth Ayres, you know her answer is always a resounding YES. Here are her best tips for sharing writing in a class celebration.
Katrina Edwards moves her first-grade class out of a rut with writing shares by introducing several new options.
Matt Glover talks with Lester Laminack about the importance of a relationship that allows writers to be vulnerable in the revision process. This is part of the Author to Author website tended by Matt Glover.
Join the Choice Literacy Book Club! Christy Rush-Levine selected an Own Voices middle-grade fantasy novel, The Barren Grounds by David A. Robertson, for the February read. Join the conversation using the hashtag #ChoiceLiteracyBookClub. 

New members-only content is added each week to the Choice Literacy website. If you're not yet a member, click here to explore membership options.
Bitsy Parks shares the celebration within the publishing process. Learn to find the joy in uplifting young writers' approximations by sharing their works with a larger audience.
Melissa Quimby leans in and asks her students to define their celebrations as writers. Rather than always naming the celebration for students, Melissa helps students gain ownership of the writing process by learning to celebrate every stage.
Melanie Meehan shares how a short dip into fan fiction can be a wonderful way to inject some play and raise engagement in writing.
In an encore video, Katrina Edwards begins her conference with first grader Allen by celebrating all he is doing well in his writing. She highlights his language and details in writing before moving on to new strategies to try. This video was first published in 2018.
In a course, Bitsy Parks takes you into her primary classroom for a close-up look at how she organizes and then gradually releases the library to students over days, weeks, and months. She provides lesson tips, strategies, and templates to help you plan and make choices about when to introduce bins and browsing skills. You end the course with the information and resources needed to integrate instruction on how to use the library into your daily minilesson and conferring routines. Free to members.

Jen Schwanke believes in the importance of leaders seeking a coach in order to remain sharp as a professional. She offers three identifiers that help you know it's time to find a coach.
In this first installment of "Virtual Icebreakers," Heather Fisher shares creative ideas for opening meetings in order to maintain strong staff relationships while meeting virtually.
In a new course, Matt Renwick guides instructional leaders to implement and strengthen instructional literacy walks. Through literacy walks, leaders seek out promising practices, note and name them during formative visits, and lead coaching conversations with teachers. The outcome is not only school improvement, especially in literacy, but also a community of learners who engage in continuous improvement as a natural stance. Free to Literacy Leader members.
Quote It:
In a world of algorithms, hashtags and followers, know the importance of human connection.
—Mama Tribe Marketplace
That's all for this week!