If I'm gonna tell a real story, I'm gonna start with my name.
—Kendrick Lamar
How Did You Get Your Name?
When I was born, my parents told the nurse my name was Jessica. Twelve hours later, my mother called my father from her hospital room, the phone wedged between her ear and shoulder, me in the crook of her upper elbow. She looked down, and I gazed back at her, our eyes locked. My father was at home, eating cornflakes. My sisters, just 1 and 2, were asleep in the cradle next to the woodstove. It was December, late at night, and cold. Icicles glittered outside the farmhouse window.
When my father answered the phone, my mother announced, "She's not a Jessica."
He put down his spoon. "But we liked the name Jessica."
"She's not a Jessica," my mother repeated. "She's a Jennifer."
My father was quiet. She waited. Then, "Okay," he said, chuckling. "Jennifer, then." And so it was done.
I've always treasured that teeny-tiny story, the details of it so clear: my father sitting at the kitchen table, shaking the cereal from the box and then topping it with sugar and cold milk; the phone ringing, my father leaping to get it before it woke the two girls, the surety and certainty of my mother's voice as she announced my real name, my new name, the name that would be mine every other next day. 
My mother, in that moment strong and demanding—so uncharacteristic!—and my father's amused, easy acceptance—so uncharacteristic!—and their mutual agreement, in that moment both happy, proud of this thing they'd created, their third daughter in three years, each of them calm, joyful, not yet knowing that things would soon get really hard and they would fall to pieces, from each other and because of each other.
But that moment happened, and it was about me and my name, and it comforted me many times, both when I loved them together and later, too, when I had to learn to love them apart.
This is the story that came to me when I read Alma and How She Got Her Name.
Mine is a very different story from the one told in Alma. Hers is rich and unique and completely hers. Because, you see, there is a story behind every name. Even the ones that wouldn't seem to have a story. Even mine, even Jennifer, the most common name for white American girls in the 1970s. Alma has her story too, as does Alma's author, Juana Martinez-Neal, and all the students in our classrooms, the simple names and the long names and the names spelled differently than we'd expect. There is a wonderful story behind the name of the kindergartner we enrolled last week at our school, a little boy with six separate names making up his one name, all honoring a parent or grandparent from Pakistan. There is a story behind all the students in his class, too, Faris and Aadya and Jack and Zuleht and Lorelei and Ivy and Subhasini.
I chose Alma and How She Got Her Name for the Choice Literacy Book Club because a fifth grader told me I should. Fifth graders are rarely wrong about books. Alma is a beautiful tool to launch stories from your students about their names. It is also about all the things that come with the stories, like respect and honor, memory and reflection, and most of all about understanding who we are.
This week we look at creative ways to reach readers—plus more, as always.
Shine on!
Jen Schwanke
Featured Contributor, Choice Literacy
In honor of Jen, we donated to Welcome Warehouse, an organization that helps connect Dublin families with the resources they need to thrive.
---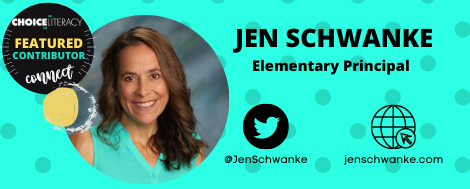 This month's Featured Contributor is Jen Schwanke. Jen has been an educator for more than 20 years, teaching or leading at all levels. She is the author of two books: You're the Principal! Now What? Strategies and Solutions for New School Leaders, and The Principal Reboot: 8 Ways to Revitalize Your School Leadership. She is an instructor in educational administration at Miami University and a doctoral student at The Ohio State University. She is a principal for the Dublin City School District in Dublin, Ohio. Follow Jen on Twitter @Jenschwanke or her website jenschwanke.com. Find all of Jen's articles and videos on the site by clicking here.

Check out our Field Experience Courses! Book Talks to Empower Independent Reading is a guide to helping students find books they want to read. Choice is at the heart of students becoming powerful, independent readers. This field experience chronicles the way book talks put books into adolescents' hands that have them begging for more independent reading time.
On the podcast, the Choice Literacy Book Club discusses Hear My Voice/Escucha Mi Voz compiled by Warren Binford.
Join the Choice Literacy Book Club! Jen Schwanke selected Alma and How She Got Her Name by Juana Martinez-Neal as our July read. #ChoiceLiteracyBookClub. 
Founder Brenda Power suggests formats for literacy events that build stronger home-school connections. (This article was first published in 2012.)
Dana Murphy tries sketchnoting during professional development, and soon finds herself sharing the fun technique with students. They hone their skills during read-alouds and while annotating texts. (This article was first published in 2017.)
"I read 35 pages!" An elated student deflates Bitsy Parks in her first-grade classroom. By mid-fall she is alarmed at the responses of students to their reading in the whole-group share—they are all about quantity, with no thinking or reflection. Bitsy uses modeling and careful questioning to foster more thoughtful reader response. (This article was first published in 2018.)

New members-only content is added each week to the Choice Literacy website. If you're not yet a member, click here to explore membership options.
Tammy Mulligan shares her quick thinking when students are bored with book clubs and reminds us all of the importance of offering playful choice for students to show their learning.
Heather Fisher considers the possibilities for extending vocabulary development through a daily word routine.
Leigh Anne Eck outlines sensible reasons for students to keep reading records.
In an encore video, Dana Murphy leads a reading minilesson on theme in fifth grade, explaining how students might think more deeply about themes through characters' problems. (This video was published in 2020.)

Jen Schwanke encourages educators to reflect on the positive ways the school year has unfolded.
Instructional coach David Pittman is inspired by the pop culture ninja and considers three types of "ninja feedback" to empower teachers to reflect on their instruction and assessment data.
Jessica Cabeen shares ideas for delivering PD that's on the mark for unique needs after a year of pandemic teaching.
Quote It:
In spite of everything, I still believe that people are really good at heart.
—Anne Frank
That's all for this week!