When I first began to see sketchnotes on my Twitter feed, I was intrigued. Sketchnotes are a method of note taking that combines images and words. Some educators sketchnote at professional conferences as a way of taking notes. They use little drawings, icons, arrows, and stick figures alongside words to capture important information. (To see examples, search the hashtag #readwritethink or #sketchnotes on Twitter.) The sketchnotes on Twitter looked cool, but I knew I could never do it. My artistic ability is . . . limited.
I was so intrigued, however, that on a whim I signed up for an online introduction to sketchnoting. The facilitators taught us the basic elements of sketchnoting:
Fonts and arrows? Well, maybe I could do that.
I decided to give it a go and started sketchnoting at professional development sessions. I was so embarrassed at my drawings that at first I kept my hand over my notebook, shielding it from view. Eventually I started having so much fun with my sketchnotes, I forgot to cover them. I started getting compliments from other educators. It turns out I can do it. Sketchnoting keeps me engaged in the learning, helps me process the information, and, most importantly, helps me remember. Even now, I can visualize my page of sketchnotes for every learning opportunity I had last year. Plus it's fun. So I decided to take sketchnoting into the classroom to see if kids liked it as much as I did.
I kept the teaching of sketchnoting short and sweet. I simply showed the students my own sketchnotes and some of the brilliant ones I have seen on Twitter. We talked about what they noticed, and I shared the four basic elements of sketchnoting (see above). I assured them there was no wrong way to sketchnote, and I encouraged them to try to think in pictures. I anticipated that students would have concerns about not being able to draw, but not one student voiced that concern. I wonder if that is a grown-up insecurity.
Sketchnoting During a Read-Aloud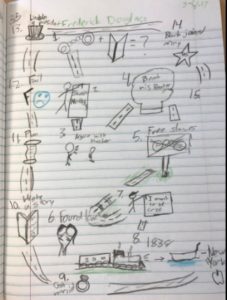 First, we used sketchnoting as a way to record our thinking during a read-aloud. Since I was in another teacher's classroom, I brought a stand-alone picture book to use, but you could also sketchnote during an ongoing chapter book read-aloud. We used Frederick Douglass: The Lion Who Wrote History by Walter Dean Myers. I find that biographies work particularly well with sketchnoting because many of them follow a sequential time line, so students don't have to worry about how to organize their sketchnotes on the page. A chronological pathway of words and images works well. I read the picture book aloud, pausing briefly every few pages, and the students sketchnoted in their reading notebooks.
Afterward, we gathered on the carpet to debrief the experience. Overwhelmingly, the students reported that they were much more engaged with the read-aloud than usual. Student after student talked about how their mind didn't drift away from the story like it usually does. A few students shared that they thought they could retell the whole story now after sketchnoting it. "It's like I remember the whole story!" one student exclaimed. Everyone agreed that sketchnoting was fun.
It seems the students had the same reaction I did when I first learned about sketchnoting.
Sketchnoting as Annotation
Another way to use sketchnoting in the classroom is as a method of annotation. Teachers frequently ask students to annotate the text as they read by jotting their thinking in the margins. Some teachers encourage students to use specific symbols: an exclamation point to show surprise, a question mark to indicate a question, and so on. We told students they could sketchnote in the margins as they read a nonfiction article. Students wrote words and drew quick images to represent their thinking in the margins. Some still wrote question marks and exclamation points, but we also saw drawings and thought bubbles and connecting arrows and icons.
We realized that by having the students sketchnote in the margins, it was easier for them to see their thinking as a whole at the end of the text. Students could look back over their sketchnotes and answer big questions:
What was the article mostly about?

Why do you think the author wrote this article?

How did your thinking change while reading this article?
Sketchnoting is a viable alternative to more traditional reading responses. For students who already think in pictures, it is a natural way to respond to text. Sketchnoting shows other students a new and different way to process information. I recommend trying it with your students. I bet you'll have some fun.