Books are something social—a writer speaking to a reader—so I think making the reading of a book the center of a social event, the meeting of a book club, is a brilliant idea.
—Yann Martel
An Invitation to Book Club
I opened my email and found a single-sentence message—
I had to share with you guys this picture that one of my students drew for me after we discussed the book together!
Attached was a sketch of a character from a manga book from one of Gretchen Schroeder's high school students. I checked the "To" field of the email and found that it had been sent to a group of contributors who discussed My Hero Academia, Volume 1 by Kohei Horikoshi last month.
You may remember an invitation last February to join the Choice Literacy Book Club and my admission that I've never been part of an "official" book club before. Each month since then, I've been reading along with the book club pick and gathering with contributors for a virtual discussion of the book.
It has become some of the most powerful and special professional learning of my career. I do not say this lightly, as I've had prime opportunities to engage in many elite professional learning experiences.
In May, Dana Murphy made a bold choice to select a manga book. It was a choice that pushed many of us out of our comfort zones . . . and if you listen in to the conversation, you will find that under the vulnerability there was gratitude.
At the beginning of the conversation, Christy Rush-Levine admitted that she struggled to follow the plot line and couldn't wait to discuss the book because she knew she would have a stronger understanding after our conversation. Throughout the discussion, David Pittman, an experienced manga reader, offered insights and explanations about the genre. 
Stella Villalba reminded us of the book's multimodal nature and the difficulties it causes for comprehension, and she slid us into the shoes of English learners who are working to comprehend a new text. Gretchen Schroeder, a high school AP teacher, admitted that it wasn't her jam, but her students noticed and admired her reading selection when they saw it on her desk. At the end of the discussion, we shared final thoughts. Cathy Mere referred to Christy's initial remarks and pondered, "Do our students feel the same way about coming to book club and sharing their struggles?"
We stopped recording, but the conversation kept flowing. I was overwhelmed by the gift of reading and discussing together. It is simple, yet profound. When humans talk about books together, their understandings grow. When you put educators together, the conversation flows from content to understandings to teaching. It is inevitable.
Even more remarkable is the way discussing books connects people. Because we meet in book club each month, I have new friends, new colleagues I trust, new connections from far away. This isn't an experience reserved for an elite few. It is something that is accessible to everyone.
Won't you join? This month Stella Villalba selected an important picture book, Hear My Voice/Escucha Mi Voz, compiled by Warren Binford. Don't make it more complicated than it needs to be. Grab a copy and share your thoughts. You can add to our book club Padlet or use the hashtag #choiceliteracybookclub in your favorite social media spaces. Reach out to others who are reading the book and get together virtually or in person and share your thoughts.
Be warned, though: It will change you. Before you know it, you'll be sending one-sentence emails to a group of people who were strangers not too long ago!
This week we look at fairy tales and multimodal writing—plus more, as always.
Shine on,
Ruth Ayres
Editor in Chief, Choice Literacy
---
Ruth Ayres is the editor in chief of the Choice Literacy site and the director of professional learning for The Lead Learners Consortium in northern Indiana. Ruth previously worked as a middle and high school language arts and science teacher and a K–12 instructional coach. She is the author of Enticing Hard-to-Reach Writers (Stenhouse, 2017) and other books for teachers of writers. When not writing professionally, Ruth collects stories of adoption, faith, and whimsy. You can follow her at Ruth Ayres Writes or @ruth_ayres on Twitter or Instagram.
---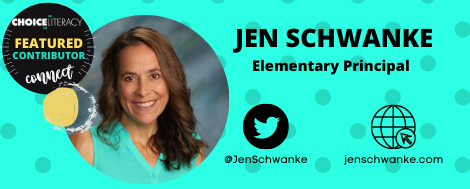 This month's Featured Contributor is Jen Schwanke. Jen has been an educator for more than 20 years, teaching or leading at all levels. She is the author of two books: You're the Principal! Now What? Strategies and Solutions for New School Leaders, and The Principal Reboot: 8 Ways to Revitalize Your School Leadership. She is an instructor in educational administration at Miami University and a doctoral student at The Ohio State University. She is a principal for the Dublin City School District in Dublin, Ohio. Follow Jen on Twitter @Jenschwanke or her website jenschwanke.com. Find all of Jen's articles and videos on the site by clicking here.

Join the Choice Literacy Book Club! Stella Villalba selected the June pick. It is Hear My Voice/Escucha Mi Voz, compiled by Warren Binford. Find out more in "the club." Grab a copy, and join the conversation using the hashtag #ChoiceLiteracyBookClub.
In May, we discussed the manga book My Hero Academia, Volume 1 by Kohei Horikoshi. Reading and discussing this book with colleagues was a powerful professional learning experience. Listen to the podcast!
Shari Frost finds she has to do required, on-demand writing for a new job, and in the process develops a new appreciation for how teachers struggle with rigid reading and writing programs. (This article was first published in 2018.)
Erin Ocon discovers that Worldwide Cinderella stories are a wonderful tool for building community and cultural awareness in her seventh-grade classroom and with English language learners. Erin describes how she uses a range of Cinderella picture books with students, and provides an extensive booklist for expanding your library. (This article was first published in 2012.)

New members-only content is added each week to the Choice Literacy website. If you're not yet a member, click here to explore membership options.
Mandy Robek takes a step back to relaunch a fairy tale study so students can engage in inquiry work in order to discover key characteristics of the genre.
Julie Johnson outlines the groundwork for creating multimodal fairy tales in writing workshop in the first part of her series on fairy tales with a twist.
In this second installment, Julie Johnson guides the process of creating multimodal fairy tales, as well as discusses producing the final product.
In a video, Ruth Ayres explains the way image, text, and sound work together to create meaningful writing. She helps us consider where the writing carries the most meaning, as well as how these modes work together.
Field Experience Course: Supporting Independent Reading, Choice, and Stamina. Learning to choose books and growing stamina are important steps in the development of independent readers. This field experience offers opportunities to see small-group instruction, a share session, minilessons, and team meetings that support independence in readers. (This course was created in 2020.)

How will we prepare to lead strong literacy initiatives next year? Nawal Qarooni Casiano makes a case for recharging and disconnecting to allow ourselves to be naturally thoughtful, literate individuals.
Principal Jen Schwanke offers encouragement for teachers considering an instructional coach position.
Jan Burkins and Kim Yarvis are inspired by a classic folktale to find the strength to clear away some of the news and hear again the comfort of the classroom. 
Virtual Coaching: Working with Individuals. Experienced literacy coaches led by Ruth Ayres share their strategies for adapting their one-on-one coaching techniques to remote environments. 
Quote It:
May your hands and hearts land on books that bring you the most precise comfort.
—Jan Burkins and Kim Yarvis
That's all for this week!