There is more to life than increasing its speed.
—Mahatma Gandhi
Validation=Fast Connection
My son Jordan is a speed demon. Not only does he drive at dangerous speeds, but he also Snaps about it in real time. We all have stories of things we did at age 18 that were not for the best, and a lot of us had to learn to make better choices the hard way.
Ten days before Jordan turned 18, he was pulled over by a state trooper who clocked him going 110 mph on a skinny, bumpy, hilly road. The officer insisted that Jordan call one of his parents to share the situation. Jordan called Andy. He explained the situation, and then the officer talked with Andy. We thought this was the hard lesson Jordan needed to experience and his speed demon days were over.
One week later he received another speeding ticket. 
Gasp.
It was still difficult for Jordan to recognize the heavy consequences of his choices. Insurance rates were going to skyrocket. Andy helped Jordan with the details of securing his own insurance policy. 
And then, Jordan got another speeding ticket. Three tickets in less than three months.
Jordan texted me:
horrible day
woke up late
got a speeding ticket
 I texted back:
Oh nooooooo!
That IS horrible.
 It reminds me that life is a series of events and sometimes the best response is compassion. Jordan doesn't need a lecture about responsibility. He doesn't need a snarky reminder about insurance rates. He doesn't need sarcasm about his SnapChat feed. 
He simply needs validation. Validation allows people to feel heard and understood. Recognizing someone's emotions and thoughts shows care and compassion. When we truly listen to another person and want to connect with them, we must acknowledge their point of view, even if we disagree.  
It's taken me a long time to understand and develop the practice of validation. I'm glad I've developed this response because it is one of the fastest ways to build connection with others. 
This week we look at encouraging independence in students—plus more, as always.
Shine on,
Ruth Ayres
Editor in Chief

Are you listening to readers? Ruth Ayres and Tammy Mulligan talk about the importance of listening when teaching readers in this podcast episode from August 2021, and Heather Fisher shares a powerful essay titled "What's the best that could happen?" 
How can teachers promote good independent reading choices for English language learners? Stella Villalba has suggestions.
Melanie Meehan finds that a simple process early in the year that gives teachers more control over the professional development plan builds excitement for new learning. 
Simon Sinek shares why it is so difficult to create an environment for people to work at their natural best.
Are you looking to engage with a community of instructional influencers? Join me on LinkedIn to continue conversations from the Big Fresh and connect with other educators who are just as smart and funny as you are.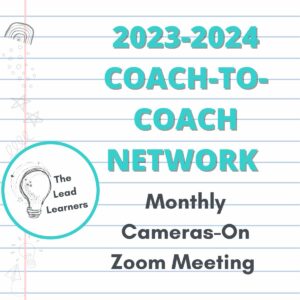 Are you an instructional coach? You won't want to miss being part of this supportive and inspiring network led by Ruth Ayres. Meet virtually once a month to keep your professional goals fresh and stay accountable for your next steps as a coach. Click here for more details and to register for free!

New members-only content is added each week to the Choice Literacy website. If you're not yet a member, click here to explore membership options.
Are you ready to ditch small-group instruction because it seems too difficult for students to work independently? Lisa Mazinas compiled a helpful chart to problem solve common classroom issues and support student independence. 
Jennifer Vincent scaffolds conversations to help students discuss their independent reading books in small groups…even when everyone is reading a different book! Download and print a copy of the guide to support students in their small-group conversations. 
In this encore video, Karen Terlecky confers with fifth grader Alex about making wise choices during independent reading time. 
In this encore video, Sean Moore demonstrates how he helps students focus their independent reading with preparation and then with discussion after reading.

New members-only content is added each week to the Choice Literacy website. If you're not yet a member, click here to explore membership options.
Matt Renwick delivers a powerful essay about the true test of leadership as he reflects on a sustained medical leave of absence. Matt reveals the importance of shared leadership and offers guidance to strengthen it in your school.
In this Picture It, Ruth Ayres encourages organizing a classroom observation for a group of literacy leaders. 
In this encore article, Clare Landrigan and Tammy Mulligan help school leaders figure out how to use their time wisely in the early days of building relationships. In the day-to-day triage of our schools and the sense of urgency that pushes us to always be accountable for every minute of the day, we need to keep the big picture in mind. 
Quote It:
July is a blind date with summer.
—Hal Borland
That's all for this week!