My son Jordan graduated high school last week. I was invited to present him his diploma because of my past service to the school board. I was going to decline the invitation, but Jordan caught wind of it and asked me to accept.  
I was surprised that he cared. 
On the evening of the ceremony, my husband and I were seated in the front row. When it was Jordan's turn, I slid onto the stage and presented his diploma. I held out my hand for a handshake, and in formal fashion, Jordan firmly shook my hand. 
Then he pulled me in for a hug. His smile was genuine, and he held me too tight for too long. For a moment formality was suspended as perseverance rose for everyone to see. 
Commencement signifies the beginning.
Sometimes it is hard to remember that as kids move through school, they are moving toward commencement—a beginning. Each chapter of a grade level is propelling them toward the beginning of a new season. 
This is not for the faint of heart. 
Teaching is not for the faint of heart. It takes courage to believe that we are moving toward a powerful beginning. It takes strength to be confident that learning matters. It takes unyielding hope that the daily grind will make a difference. 
This week we curated articles that highlight the powerful ways teachers uplift student voices—plus more, as always
Shine on,
Ruth Ayres
Editor in Chief

Jennifer Allen shares a few strategies for building the reading community beyond individual classrooms in your school. Book swaps, a shared staff novel, and family literacy breakfasts all reinforce the most important aspect of reading—it should be pleasurable and engrossing, no matter the age of the learner. This was first published in 2012.
Are you looking to engage with a community of instructional influencers? Join me on LinkedIn to continue conversations from the Big Fresh and connect with other educators who are just as smart and funny as you are.
Zak Cohen makes a case for leveraging ChatGPT in classrooms, claiming the new AI technology could be a boon to inquiry-based instruction if used in the right ways.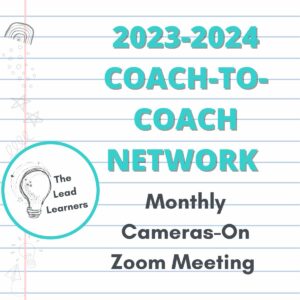 Are you an instructional coach? You won't want to miss being part of this supportive and inspiring network led by Ruth Ayres. Meet virtually once a month to keep your professional goals fresh and stay accountable for your next steps as a coach. Click here for more details and to register for free!

New members-only content is added each week to the Choice Literacy website. If you're not yet a member, click here to explore membership options.
Molly James helps us develop an essential point of view for uplifting choice in decision making for young writers and readers.
Suzy Kaback explores the importance of the way teachers use language and invite kids to use theirs. It is the key to knowing ourselves, tuning in to others, and understanding the larger world.
Have you tried one of our courses? Many are included with memberships, and they help corral our enormous media resource library. Understanding the social-emotional needs of students (and ourselves) allows for safe learning environments. Social-Emotional Learning in Workshop gives consideration to the needs of students in all grade levels.
In this encore video, Mandy Robek finds that kindergartner Mikey is lost in knowing how to use his time well during reading workshop. Her conference moves him from deflated to inspired.

New members-only content is added each week to the Choice Literacy website. If you're not yet a member, click here to explore membership options.
Gwen Blumberg joins the Boston Roller Derby for a series of skills classes and immediately makes connections to the way students must feel when learning the complexity of reading. She shares how the importance of learning something new (especially something we aren't good at) helps us to remember the importance of joy to learning. 
In this Picture It, Ruth Ayres shares a creative and effective way to acknowledge difficulties when rolling out new curriculum or initiatives.
In this encore article, Stephanie Affinito offers five picture books to end the year coaching strong. Each offers an opportunity for teachers to enjoy a book together, reflect on the year, and walk away with a book to share with their students. 
Quote It:
In early June the world of leaf and blade and flowers explodes, and every sunset is different.
—John Steinbeck
That's all for this week!