I found I could say things with color and shapes that I couldn't say any other way—things I had no words for.
—Georgia O'Keeffe

The Magic of Image
Last week our TV stopped working. Having one family television, this was noticeable. I suppose it is inaccurate to say it wasn't working. It did work—once it turned on.
Do you know the click and chimes a TV makes when it turns off? Well, when we turned on our TV, the on-click was followed by silence. The off-click and chimes sounded, followed by the on-click and silence. This click-silence-click-chimes-click-silence-click-chimes would repeat, and if you didn't go batty from the repetitive sequence, after about 21 (or 67) minutes, the screen would turn on. 
Needless to say, this put a kink in my morning yoga routine and Sam's afternoon YouTube habit and Andy's baseball games.
It was decided that the weekly Ayres Guys' Night would be dedicated to purchasing a new television. I'm not sure why I was surprised when they returned and Sam was giddy. 
"Dad and I had so much fun shopping," he informed me. "You won't believe the size of the TV."
He was right; I couldn't believe the size of the TV. It was like they had lost all common sense and could focus only on getting the biggest screen possible. I might have been a little snarky about my opinion.
"It wasn't the biggest, Mom," Sam defended. "We made sure it would fit on the stand."
I wanted to roll my eyes, but his upbeat energy was contagious. As they unpackaged and set up the new TV, the excitement increased. 
I was reminded that we are a visual society. Whether watching on a big screen or flipping the pages of a book, there is something magical about the meaning created with images. This week we curated articles about graphic novels—plus more, as always.
Shine on,
Ruth Ayres
Editor in Chief

Christy Rush-Levine makes a case for the robust nature of reading graphic novels. Included are two downloads: a classroom library permission slip and an initial reader's notebook entry form. This article was first published in 2021.
Shari Frost shares her favorite graphic novel adaptations for the middle grades. This article was first published in 2021.
Why turn a graphic novel into an audiobook? Jarrett J. Krosoczka shares his journey and the revelation about why it is important to make books accessible to as many readers as possible.  
Pixels of You is a YA graphic novel about AI and how people see each other in the world. Crystal Brunelle shares a review.
Are you looking to engage with a community of instructional influencers? Join me on LinkedIn to continue conversations from the Big Fresh and connect with other educators who are just as smart and funny as you are.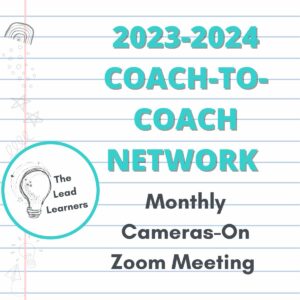 Are you an instructional coach? You won't want to miss being part of this supportive and inspiring network led by Ruth Ayres. Meet virtually once a month to keep your professional goals fresh and stay accountable for your next steps as a coach. Click here for more details and to register for free!

New members-only content is added each week to the Choice Literacy website. If you're not yet a member, click here to explore membership options.
Ruth Metcalfe tapped a plethora of resources to help her first-grade writers understand how to communicate meaning with illustrations.
 Melanie Meehan shares the immersion process of writing graphic novels with middle grade students. You won't want to miss the incredible student writing that shows the power of offering choice to young writers.
Joanne Emery supports students as readers and writers of graphic novels. Included is a list of resource books and websites, as well as students' favorite graphic novels. 
In this encore video, Sarah Thibault debriefs with her class after writing workshop. Students are creating their own comic books, after extensive preparation and multiple reading and writing activities.

New members-only content is added each week to the Choice Literacy website. If you're not yet a member, click here to explore membership options.
Leigh Anne Eck offers six journaling ideas for those who have always wanted to keep a journal but think they just don't have the time. Journaling is a healthy habit that leads to clarity and focus. Try one of these ideas today!
As the year winds down, what do you do with all of your meeting notes? In this encore article, Jennifer Allen discovers they can be a surprisingly useful tool for building common language and goals across grade-level teams. 
Are there cracks in your leadership style? Dr. Sharon Grossman identifies signs of broken leadership and offers solutions to repair it.
Quote It:
Let us all be the leaders we wish we had.
—Simon Sinek
That's all for this week!