In this world of online searching, skimming, and scanning, I want my students to experience the power of digging deeper into a subject. I want them all to read beyond facts and to understand that often, the more you know, the more you wonder.
I've found that using carefully curated text sets with students is one way to help them slow down, dig deeper, and see how reading a variety of books around a topic or issue gives us a richer understanding. Text sets help students read beyond facts. I've discovered many benefits to using text sets in this way.
A Text Set on Malala
Last year in fifth grade we read several texts about Malala Yousafzai. Malala is a young activist who was born in Pakistan. She fights for girls' rights and the right to an education. The text set included picture books, a poem, and a video.
Malala's Magic Pencil by Malala Yousafzai
For the Right to Learn: Malala Yousafzai's Story by Rebecca Langston-George
Free As a Bird: The Story of Malala by Lina Maslo
Malala: Activist for Girls' Education by Raphaële Frier and Aurélia Fronty
Malala, A Brave Girl from Pakistan; Iqbal, a Brave Boy from Pakistan by Jeannette Winter
"Books, Not Bullets" poem from Shaking Things Up: 14 Young Women Who Changed the World by Susan Hood
The Story of Malala Yousafza video by Fionnuala Sweeney
For two weeks, our minilesson work focused on these texts.  Each day I shared one text, giving students time to jot and talk about the learning.  Students had a large page on which to annotate their thinking each day as we read.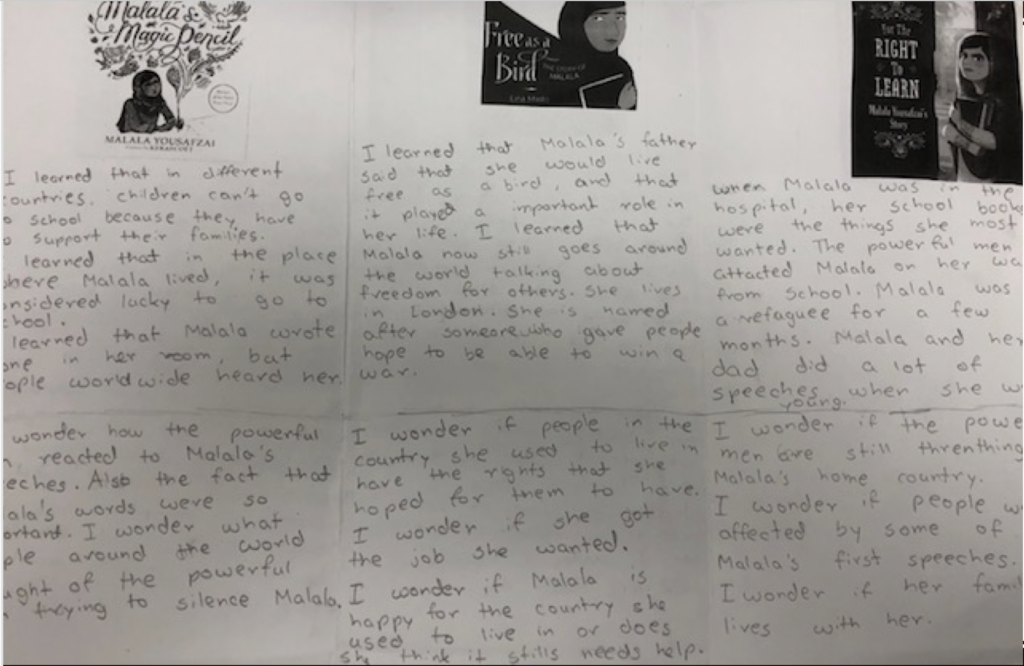 Each day we asked ourselves what new information we learned, what common ideas were shared, what was different, and what seemed most important. We also talked about questions we had after reading. Each day brought more depth to our conversation as we wondered why one fact was shared in two of the three books we read, how the title helped us think about the main idea, and the new information we learned.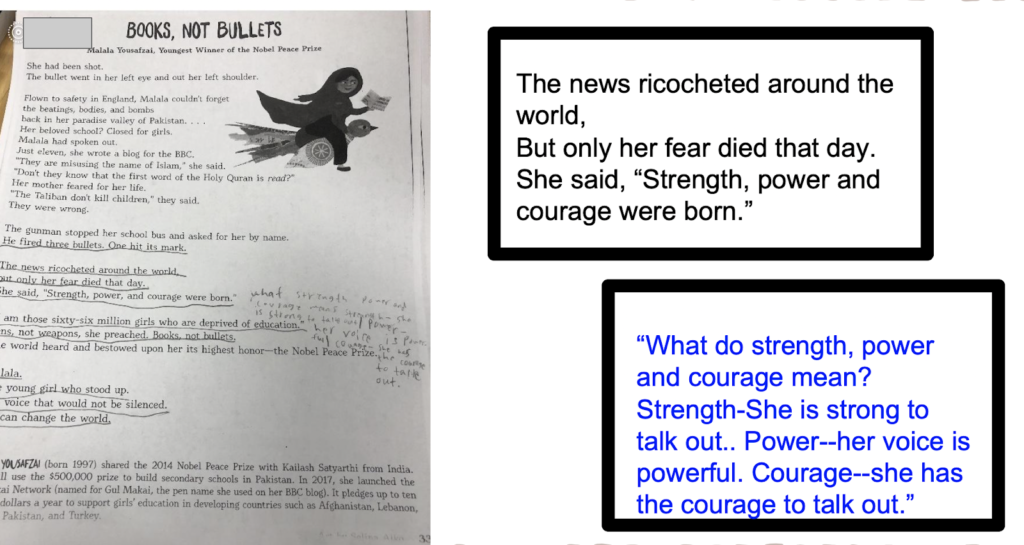 For example, the first two books that we read did not discuss in detail the day Malala was shot. Then on our fourth day, the book mentioned the shooting and gave some details of what happened. The students were glad to have that question answered but then wondered why the other books had skimmed over that event. This allowed us to discuss main idea and author's purpose and why each author chose to include or not include this upsetting yet important event of Malala's life.
On another day, I gave students copies of "Books, Not Bullets," a poem about Malala from the book Shaking Things Up: 14 Young Women Who Changed the World by Susan Hood. We had already read five other pieces about Malala, so as students annotated, they seemed to naturally synthesize what they had learned about her.
Looking at the specific words in this poem—strength, power, and courage—helped students dig deeper into what each of them meant now that they had learned so much about Malala. Talking about those words invited rich discussion, much more than just reviewing facts.
How to Focus for Text Set Work
Here are some possible minilessons and discussions for deepening understanding of multiple nonfiction books and other resources:
Consider main idea vs. topic.
Talk about how to determine the perspective and trustworthiness of each author.
Discuss  possible reasons some things were/were not included in each.
Notice and record facts and details that were included in each and every text.
What was most important?
Talk about ways the titles can help us understand the author's intent.
Often I use smaller text sets with only a few texts about a topic or issue. I also find that fiction books help us think about ideas in new ways, so I include those when I can. These are some of the text sets we've used:
Water
One Well: The Story of Water on Earth by Rochelle Strauss
A Cool Drink of Water by Barbara Kerley
A Drop Around the World by Barbara McKinney
All the Water in the World by George Ella Lyon
Immigrant and Refugee Experience
Stormy Seas: Stories of Young Boat Refugees by Mary Beth Leatherdale
Their Great Gift: Courage, Sacrifice and Hope in a New Land by John Coy
I'm New Here by Anne Sibley O'Brien
Two White Rabbits by Jairo Buitrago
The Arrival by Shaun Tan
Where Will I Live? by Rosemary McCarney
Ruth Bader Ginsburg
I Dissent: Ruth Bader Ginsburg Makes Her Mark by Debbie Levy
She Persisted: 13 American Women Who Changed the World by Chelsea Clinton
Ruth Bader Ginsburg:  The Case of R.B.G. vs. Inequality by Jonah Winter
I've found that when I share sets of texts with kids, they naturally have conversations that move beyond facts. The quality of classroom conversation is raised when students are able to move beyond facts in their learning. The whole process of research becomes richer when students begin to learn the power of reading across texts.