The purpose of pruning is to improve the quality of the roses, not to hurt the bush.
—Florence Littauer
[Now you can listen to the Big Fresh as a podcast.]
A Time to Cut Back
I have a plant that sits on the corner of my desk in my classroom. It has been with me since my first day of teaching 15 years ago. It has moved to three different classrooms and two different buildings, and it has survived it all.
I keep the plant in my classroom during the summer break and go in once a week to water it. This past summer was difficult. I may not have been as diligent in keeping a watering schedule. I may have neglected it, as I have neglected many personal areas in my life this past year.
As late July arrived and I began to set up my classroom, I noticed the plant was not doing well. Most of the stems were leafless, and what leaves it did have were limp and looked like wet tissue paper. I was afraid I had killed it, and I was devastated. Through all the changes in my teaching career, this plant had remained the one constant.
I had two choices: let it die or do something drastic. Because of our long history, I chose to do something drastic. I pulled off the dead leaves, cut back the stems, and added some fresh potting soil. It looked pretty silly—kind of like Medusa with green snakes crawling out of the pot. But I knew if I wanted to save it, I had to help it focus its energy on growing, and cutting it back was the only option.
For months, the plant just sat on the corner of my desk barely alive, yet I continued to water it. One day I noticed something green coming from one of the stems. As I looked closer, I also saw tiny tips of new leaves pushing their way up through the soil. I began to see new growth.
We all have our own set of challenges to face. We may have struggled to water and nourish ourselves. We may have neglected our own self-care until we have turned into a plant with limp, brown leaves and in need of pruning.
How do we nourish ourselves in times like these? How do we take care of ourselves when we are pulled in so many other directions? How do we continue to grow even when we neglect ourselves?
After seeing those new green leaves reaching for the light, I found an inner strength. Walking and eating better became my focus of energy and a way to nourish myself. I began to say no to things I didn't have the time for. I found time for unexpected creativity. Most importantly, I realized sometimes we have to give ourselves permission to cut back, to prune the busyness and responsibilities of our daily lives in order for new growth to happen.
This week we look at building community beyond the classroom—plus more, as always.
Shine on!
Leigh Anne Eck
Featured Contributor
---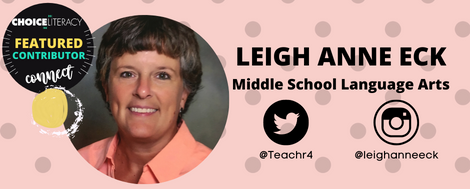 This month's featured contributor is Leigh Anne Eck. Leigh Anne  teaches sixth grade at George Rogers Clark Middle School in Vincennes, Indiana. She is passionate about connecting her students with books and helping teachers believe they are writers. She shares her reading, writing, and teaching life on her blog A Day in the Life and on Twitter @Teachr4.
---

Join the Choice Literacy Book Club! Leigh Anne Eck selected the young adult novel Enduring Freedom by Jawad Arash and Trent Reedy as our October read. Grab a copy, and join the conversation using the hashtag #ChoiceLiteracyBookClub. 
Ruth Ayres and Cathy Mere discuss this week's theme, building bridges, on the podcast. 
Katherine Sokolowski uses the Community Timeline Project to bring together students and older community members around history and writing. Includes a downloadable interview guide to help students record the interviewee's life story. (This article was first published in 2019.)
Email is a terrific way to communicate with parents—Trish Prentice has practical tips for keeping it simple and saving time when using email. (This article was first published in 2012.)
UPCOMING NEW COURSE! We are getting ready to release Stella Villalba's new course Honoring Our Students' Stories: Building an Intentional and Inclusive Learning Community.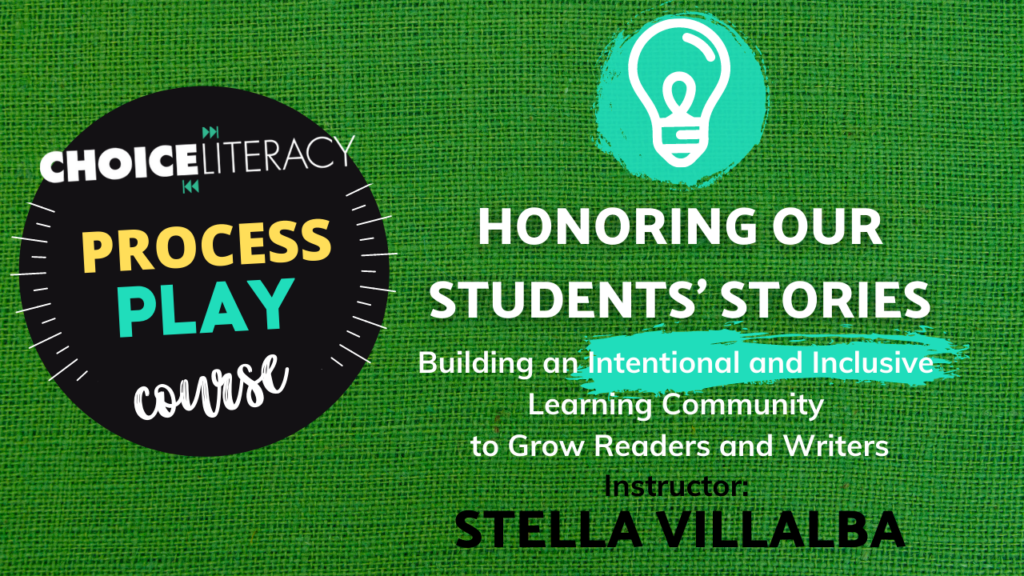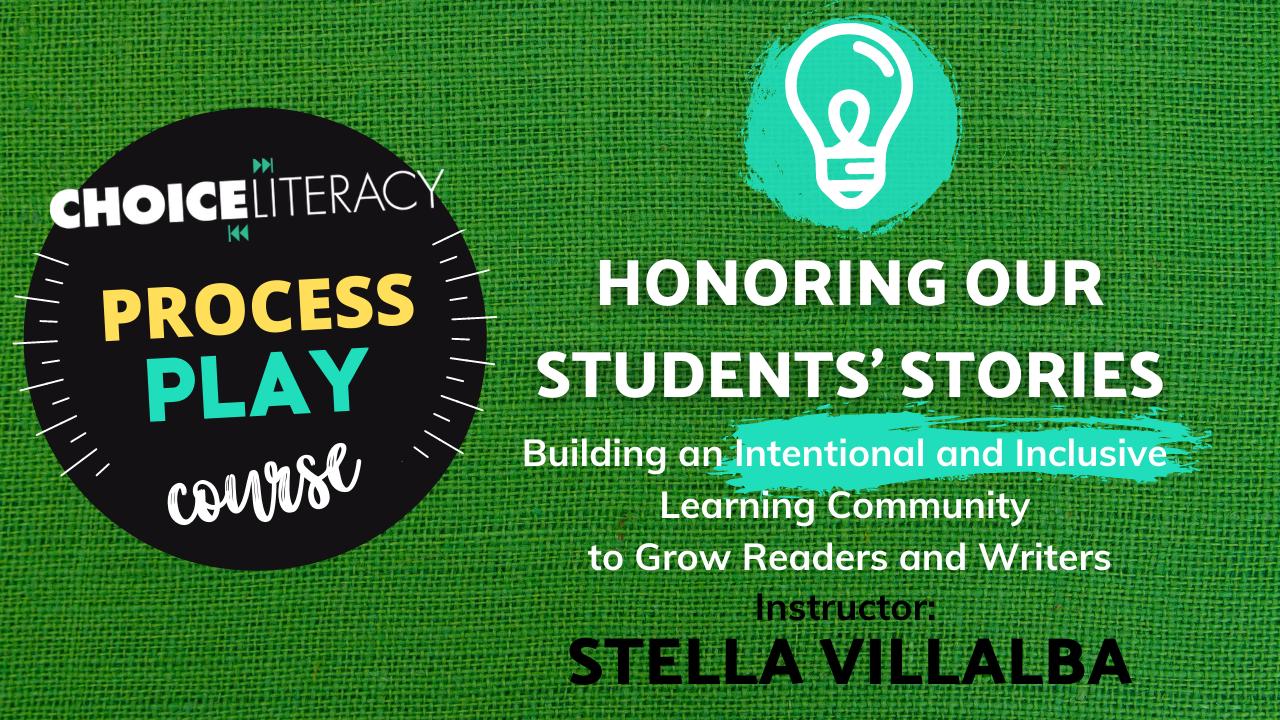 Stella Villalba teaches us how to discover, honor, and share student stories to create an inclusive learning community. With special attention to English learners, Stella walks educators through a process to intentionally honor the past and present of students to position all students to grow as readers and writers.

New members-only content is added each week to the Choice Literacy website. If you're not yet a member, click here to explore membership options.
Cathy Mere helps children take the first steps in growing a sustainable reading life that carries beyond the classroom walls. She offers ways to build bridges to the school and public libraries as an essential step.
Stella Villalba outlines three ways to cultivate a wider community for students. Teachers and students find comfort in knowing that a larger community is rooting for them.
In this encore video, Christy Rush-Levine confers with eighth grader Jaden. He is reading a book that mixes math with basketball, an activity he enjoys at home.
You can view dozens of articles and videos on connections between families and classrooms in the Family Relations section of the website.

The Deep Dive course Getting Organized for Literacy Coaching with Ruth Ayres is now available for free to Literacy Leader members. In this course, experienced literacy coaches unzip their bags to share what they carry into classrooms and open up their coaching notebooks to show you the pages and lessons they can't live without. You'll finish the course with sample calendars, templates, checklists, and insider tips for launching your coaching year with confidence and enthusiasm. The best time to get organized is now! (This course was created in 2019.)
Matt Renwick shares a classroom observation and his process for discerning what kind of feedback to give. By considering different coaching approaches, as well as their limits, Matt concludes that sometimes the best coaching is offering advice.
Don't forget our downloads! Bill Bass uses Google Forms as a tool for assessing the learning in professional learning communities (PLCs) and refining his role in supporting teachers. Included is a template for you to create your own Google Form.
In an encore Coaching Minute, Principal Lee Snider talks about how he deals with parent concerns.
Quote It:
What you do makes a difference, and you have to decide what kind of difference you want to make.
—Jane Goodall
That's all for this week!