Get it down. Take chances. It may be bad, but it's the only way you can do anything really good.
—William Faulkner
[Now you can listen to the Big Fresh as a podcast!]
Writing Connects Us
My dental hygienist is a writer. She's been cleaning my teeth for several years, and each June and December we chat about writing. Last summer I wrote a little note and tied a bow around two of the recent books that influenced me as a writer: Big Magic: How to Live a Creative Life by Elizabeth Gilbert and The Boy, the Mole, the Fox and the Horse by Charlie Mackesy.
A few days later Heidi sent me a text, and we met at the local coffee shop. During our conversation I asked, "Would you like to meet once a week and write in our notebooks? Instead of talking about writing, we'll write. We can share what we write, if you want."
"Sure," Heidi said. At the time we were two strangers in a coffee shop, but soon I would learn that Heidi is always quick to say yes to a new adventure.
We met in the park for many months. When the weather turned too cold to meet outside, we began checking in through text messages. Our routine is simple. We have a topic (repairs, mashed potatoes, or apples), and we set the timer for 10 minutes. We write until the timer stops. Sometimes we set it for another 10 minutes. Usually we pick another topic (hands, swimming, or headaches), and write for another 10 minutes.
If we want, we read our writing. We don't give writerly advice. We just say the things that strike us, the images that we imagine because of the way the words were stacked, and the things it makes us feel. Heidi crafts well. I like her stories.
When she wrote about her best friend and the way she took ice cold showers after swim practice to condition herself for visiting her grandma at a Wisconsin lake, I laughed and remembered the Monday lake days of my childhood. When she wrote about the way her stepdad sliced ice cream into slabs, I laughed and remembered the way my dad made the best chocolate shakes. And when she wrote about her mom's quick fade from Alzheimer's, I cried.
It doesn't take long for stories to connect people. Heidi and I meet for a half hour once a week, and write in our notebooks. In our rush of busy school days, let's not forget the power of sharing our writing.
This week we look at shared writing. Plus more as always—shine on!
Ruth Ayres
Editor, Choice Literacy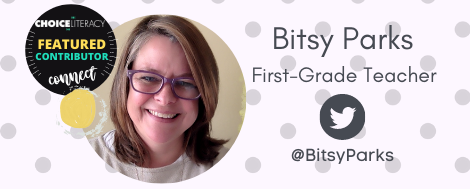 This month's Featured Contributor is Bitsy Parks. Bitsy has been an elementary school teacher for over 20 years. She is a first-grade teacher in Beaverton, Oregon, where she finds joy in nurturing young students to discover their reading and writing identities and build a foundation for a love of learning. Bitsy has degrees from Colorado College and Lewis and Clark College. She is an adjunct instructor at Lewis and Clark College in Portland, Oregon. You can find Bitsy on Twitter (@BitsyParks). This month you'll find her on the Big Fresh Podcast, taking over our Instagram feed, and offering Choice Literacy courses. Find all of Bitsy's articles and videos on the site by clicking here.

On the podcast, Tammy Mulligan discusses her thoughts about shared writing. Don't miss her articles on this topic linked below.
Join the Choice Literacy Book Club! Christy Rush-Levine selected an Own Voices middle-grade fantasy novel, The Barren Grounds by David A. Robertson, for the February read. Be involved by following the hashtag #ChoiceLiteracyBookClub. This week we shared a play list inspired by The Barren Grounds!
Shari Frost explains the power of shared writing in intermediate classrooms, especially for struggling learners. (This article was first published in 2013.)
Debbie Miller's wonderful essay is great to read when you're feeling rushed and want to hit the "pause button" to remind yourself what really matters in the classroom. First published in 2012, this is an article that is needed today.

New members-only content is added each week to the Choice Literacy website. If you're not yet a member, click here to explore membership options.
Bitsy Parks shares the ways in which class books help students work as readers and writers, as well as build a community.
Tammy Mulligan offers tips for creating shared writing texts online.
Read Tammy Mulligan's companion article about the way shared writing is her go-to strategy for teaching young learners online.
In a video, Hayley Whitaker confers with a kindergartner and shows him the connections between talking, drawing, and text.
In an encore video, Mandy Robek leads a shared writing session in kindergarten. The video was first published in 2015.
In a course, Bitsy Parks takes you into her primary classroom for a close-up look at how she organizes and then gradually releases the library to students over days, weeks, and months. She provides lesson tips, strategies, and templates to help you plan and make choices about when to introduce bins and browsing skills. You end the course with the information and resources needed to integrate instruction on how to use the library into your daily minilesson and conferring routines. Free to members.

Stella Villalba advises how professional development planning at a new site begins with lots of questions and observations.
In this Coaching Minute, Jen Court explains how she works side by side with teachers in this quick video.
Jennifer Gonzalez has wise advice on how to teach when everyone is scattered.
In a new course, Matt Renwick guides instructional leaders to implement and strengthen instructional literacy walks. Through literacy walks, leaders seek out promising practices, note and name them during formative visits, and lead coaching conversations with teachers. The outcome is not only school improvement, especially in literacy, but also a community of learners who engage in continuous improvement as a natural stance. Free to Literacy Leader members.
Quote It:
No one has a patent on the truth. Find yours.
—Debbie Miller,​​​ ​​​​Reading with Meaning
That's all for this week!