The more you practice, the better you get, the more freedom you have to create.
—Jocko Willink
[Now you can listen to the Big Fresh as a podcast!]
Practice with the Right Tool
Luna, my 10-month-old German shepherd, and I have been attending obedience class. In an effort to avoid embarrassment, we had a private session before the group class began. I was concerned with Luna's deep and incessant barking and needed direction on how to correct her. The strategies that were working when she was younger were not working as she moved into her "adolescent years." 
The trainer offered a tool. By using a small training collar, I was able to offer Luna correction. Quickly, she was a quiet dog, even when we walked past other dogs or a car zoomed by on the street next to the sidewalk. After a few more weeks, she hushed on command when the doorbell rang or a loud truck barreled down the road.
Now, eight weeks later, we no longer use the training collar daily to correct her barking. In fact, you might even believe that she's naturally a dog who doesn't bark. The members of our basic obedience class will attest that Luna is not a naturally passive dog. She is a reactive dog, and we are trusting that with consistent practice she will be a quiet dog in any situation.
Here's what it made me think: Using the right tool in practice allows for learning to stick.
It didn't matter how often I said "hush," Luna was not going to stop barking at the doorbell. Once I used the training collar, she figured it out in a few days. After a week of consistent practice, she responded to my verbal correction. Yet, when I take her to obedience class, we use the training collar. It's a different situation, and it takes a little more practice to transfer her learning. When my parents visit, I do not need the training collar, but if a stranger comes to the door, I snap it on.
This week we consider the way we can transfer learning to a variety of situations—plus more, as always.
Shine on!
Ruth Ayres
Editor in Chief, Choice Literacy
Ruth Ayres is the editor in chief of the Choice Literacy site and the director of professional learning for The Lead Learners Consortium in northern Indiana. Ruth previously worked as a middle and high school language arts and science teacher and as a K–12 instructional coach, and has written books, articles, and lots of blog posts. She is the author of Enticing Hard-to-Reach Writers (Stenhouse, 2017) and other books for teachers of writers. When not writing professionally, Ruth collects stories of adoption, faith, and whimsy. You can follow her at Ruth Ayres Writes or @ruth_ayres on Twitter or Instagram.
---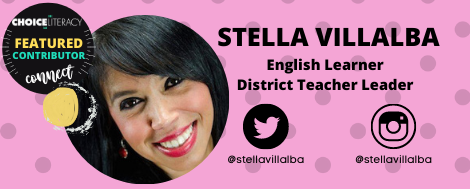 This month's Featured Contributor is Stella Villalba. Stella teaches English language learners and coaches teachers across the Dublin, Ohio, school district. She works to bridge understandings regarding teaching English language learners. Stella is a Lead Ambassador for NCTE. She is passionate about languages, literacy, and culture. You can keep up with Stella on Twitter @stellavillalba, Instagram @stellavillalba, or her blog, Listening and Learning: A Teaching and Coaching Life. This month you'll find her on the Big Fresh podcast and offering Choice Literacy courses. Find all of Stella's articles and videos on the site by clicking here.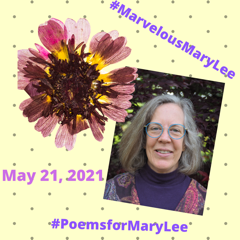 We wish Mary Lee Hahn, a longtime contributor and dear friend, happy retirement after 37 years of teaching! Please join the celebration! We are celebrating on all online spaces, so if you have a blog, a Facebook page, or a Twitter handle, feel free to post anywhere that is convenient. Or hop over to Mary Lee and Franki Sibberson's blog A Year of Reading and post a comment. We'll be using the hashtags #MarvelousMaryLee and #PoemsforMaryLee, so please tag anything (wherever you post) with these.
Mary Lee Hahn reminds herself (and us!) of the qualities we have that inspire trust in ourselves and our ability to teach well. Written in 2012, these words continue to be a gift to all of us, just like #MarvelousMaryLee!
Balancing small groups and conferences is essential for transferring learning from lessons and units, and it's one of the trickiest tasks for teachers. Dana Murphy explains how she works toward balance in her classroom, weighing everything from the timeline of the unit to the intensity of the minilesson. (This article was first published in 2020.)
Tara Barnett and Kate Mills give guidance and support for varying the structures and routines in literacy workshops. (This article was first published in 2020.)
On the podcast, Melanie Meehan discusses transfer of learning for writers. 
Join the Choice Literacy Book Club! Dana Murphy selected the May pick. It is My Hero Academia, Volume 1 by Kohei Horikoshi. This new manga book is popular in classrooms and a new reading experience for our book club. Grab a copy, and join the conversation using the hashtag #ChoiceLiteracyBookClub.

New members-only content is added each week to the Choice Literacy website. If you're not yet a member, click here to explore membership options.
In her high school writing workshop, Julie Cox noticed that students wrote eagerly, but struggled to give and accept feedback. To increase student ownership and trust, she started Writers' Club, and it affected transfer of learning in big ways!
Nawal Qarooni Casiano is inspired by her yoga practice to provide a guided reflection to consider if workshop practices are progressing to a transfer of learning.
Melanie Meehan shows how pictures offer ways to expand access to students as writers by providing scaffolds and inspiration.
In an encore video (2019), Dana Murphy shows how she leads her fifth graders with a kinesthetic reminder of workshop norms before beginning independent work.
Process Play Course: Elementary Contributor Course: In our 2020–2021 contributor course, we delve into offering choice even in the middle of pandemic teaching. Make sure to note Tammy Mulligan's session that explores offering choice in interactive read-aloud and offers support for students to transfer their learning.

Heather Fisher guides literacy leaders through a reflective exercise to reveal relationship strengths and gaps that will offer direction in how to strengthen key connections.
This new video about VUCA from EdWeek is a must-view for school leaders. You may not know what VUCA is, but you are living it, probably more than ever before. It is a way to describe and understand the increasingly complex environment that businesses, governments, and schools are operating in.
Deep Dive: Literacy Walks: Seek, Name, and Strengthen Promising Practices: Through the implementation of literacy walks, leaders seek out promising practices, note and name them during formative visits, and lead coaching conversations with teachers. The outcome is not only school improvement, especially in literacy, but also a community of learners who engage in continuous improvement as a natural stance toward our profession. Matt Renwick leads instructional leaders in implementing and strengthening instructional literacy walks. (This course was created in 2021.)
Quote It:
Dear Stress, I would like a divorce. Please understand it is not you, it is me.
—Thomas E. Rojo Aubrey
That's all for this week!