To appreciate the beauty of a snowflake, it is necessary to stand out in the cold.
—Aristotle
Appreciate the Beauty
As I write this, the world around me is cold and white. Snow piles on snow piles and muffles the usual weekday sounds. It is reminiscent of the winter days of my childhood. On the third straight day that school closed, in a way that can be attributed only to serendipity, I stumbled across a very old quote by Aristotle that was new to me.
To appreciate the beauty of a snowflake, it is necessary to stand out in the cold.
Every day you will find me outside. No matter what the weather's like, I have the gear for any that will come my way. I've been intentional about standing still and seeing what I see.
What I see is unexpected beauty. I've developed a new appreciation for my corner of the world that I used to dismiss as dull and deficient. I've challenged myself to attempt to name the color of the sky, noting that it is never the same color as the day before. Here, in the Midwest, the sky is alive and invents new colors.
I stand in the cold and sweep Aristotle's words through my mind. I look and find a snowflake. I take the time to see it and appreciate the beauty. It would be easy to miss; I could be too busy and overwhelmed by all that needs to be shoveled and cleared. Instead, I stand in the cold and appreciate the beauty around me.
It's something we can do in our classrooms as well. Stand and appreciate the beauty. This is easy to do when everything is going as planned and students are on task, but what about when we're feeling disappointed or frazzled?
Aristotle would tell us to stand out in the cold because there is beauty to appreciate.
This week we look at offering feedback to writers. This is not a new topic, and yet the content is fresh. It's because our contributors spend a lot of time in classrooms and schools. They stand among students who are learning and growing as writers, and they appreciate the beauty of the process. I'm sure you will find practical ideas to use to uplift your feedback to students and energize them as writers—plus more, as always!
Shine on!
Ruth Ayres
Editor in Chief
Ruth Ayres is the editor in chief of the Choice Literacy site and the director of professional learning for The Lead Learners Consortium in northern Indiana. Ruth previously worked as a middle and high school language arts and science teacher and a K-12 instructional coach. She is the author of Enticing Hard-to-Reach Writers (Stenhouse, 2017) and other books for teachers of writers. When not writing professionally, Ruth collects stories of adoption, faith, and whimsy. You can follow her at Ruth Ayres Writes or @ruth_ayres on Twitter or Instagram.
---
Featured Contributor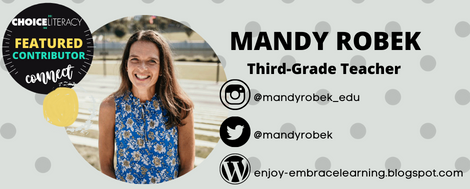 Mandy Robek has been teaching for over 20 years. She has taught kindergarten, first, and second grade, and currently teaches third grade, where she finds guiding readers and writers fascinating. Mandy has degrees from the State University of New York College at Buffalo and The Ohio State University. You can follow Mandy at her blog Enjoy and Embrace Learning, on Twitter @mandyrobek, and on Instagram @mandyrobek_edu.


Carly Ullmer assesses how she can give consistent and meaningful feedback to every one of her many middle school students at least once a week. (This article was first published in 2017.)
Ruth Ayres finds there can be a difference between questions in writing conferences that inspire an enthusiastic response and those that foster more reflection and independence. Download a question list to use during your writing conferences. (This article was first published in 2017.)
Mandy Robek shares a book talk about Unbound: The Life + Art of Judith Scott by Joyce Scott with Brie Spangler and Melissa Sweet. Don't miss this new picture book! Join the Choice Literacy Book Club and read it with us this month.
Listen in on the podcast as Ruth Ayres and Cathy Mere discuss this week's theme.
Matt Renwick is offering a free e-book in anticipation of the release of his new book, Leading Like a C.O.A.C.H. You can get the free e-book and subscribe to Matt's newsletter.
NOW AVAILABLE! Don't miss The Limits of Levels: Expanding Boundaries of How We Assess Young Readers with Cathy Mere. This course is free to Literacy Leader members and available to purchase.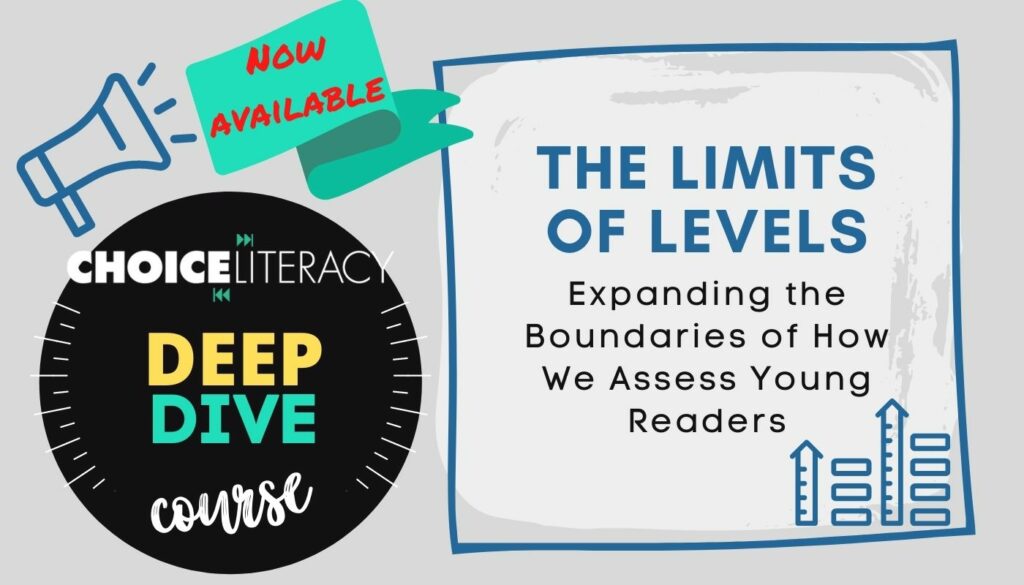 Knowing a child's reading level is an invaluable tool. A level can be a first step in assessing readers and planning instruction. But a level can also quickly become an anchor that limits thinking about where children are as readers and what might be next. Rely on levels too much, and you might miss gaps in reading skills and strategies necessary for continued growth. Cathy Mere shows how levels can help and hinder teachers, as well as alternatives for assessing needs and grouping students.

New members-only content is added each week to the Choice Literacy website. If you're not yet a member, click here to explore membership options.
Bitsy Parks shares a simple three-part conferring kit that will position anecdotal notes to guide instruction.
Josie Stewart and Hannah Tills ponder the importance of energizing writers with feedback. They offer tips to ensure feedback uplifts writers.
Don't forget our downloads! Mandy Robek shares how she has revised the records she keeps during writing conferences. Download a writing conference record.
In this video, Christy Rush-Levine shares her system for streamlining passing papers and offering a place for private feedback.
In this encore video, Dana Murphy confers with fifth grader Rebecca about her writing draft, and they discuss the heart of her story.

New members-only content is added each week to the Choice Literacy website. If you're not yet a member, click here to explore membership options.
Stella Villalba reflects on her journey as an instructional coach and offers advice to new coaches in a question-and-answer format.
In a Coaching Minute, Ruth Ayres shares how timing parts of an observation gives unique and meaningful data for reflective conversations.
In this encore article, Gwen Blumberg outlines the way sharing an asynchronous minilesson with teachers allowed her to share instructional insights in a relevant and useful way.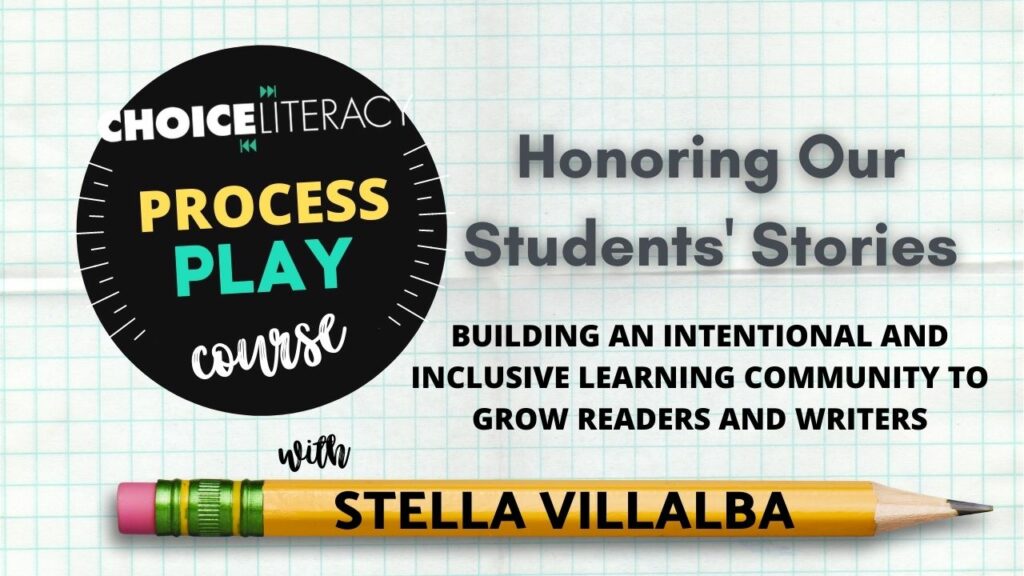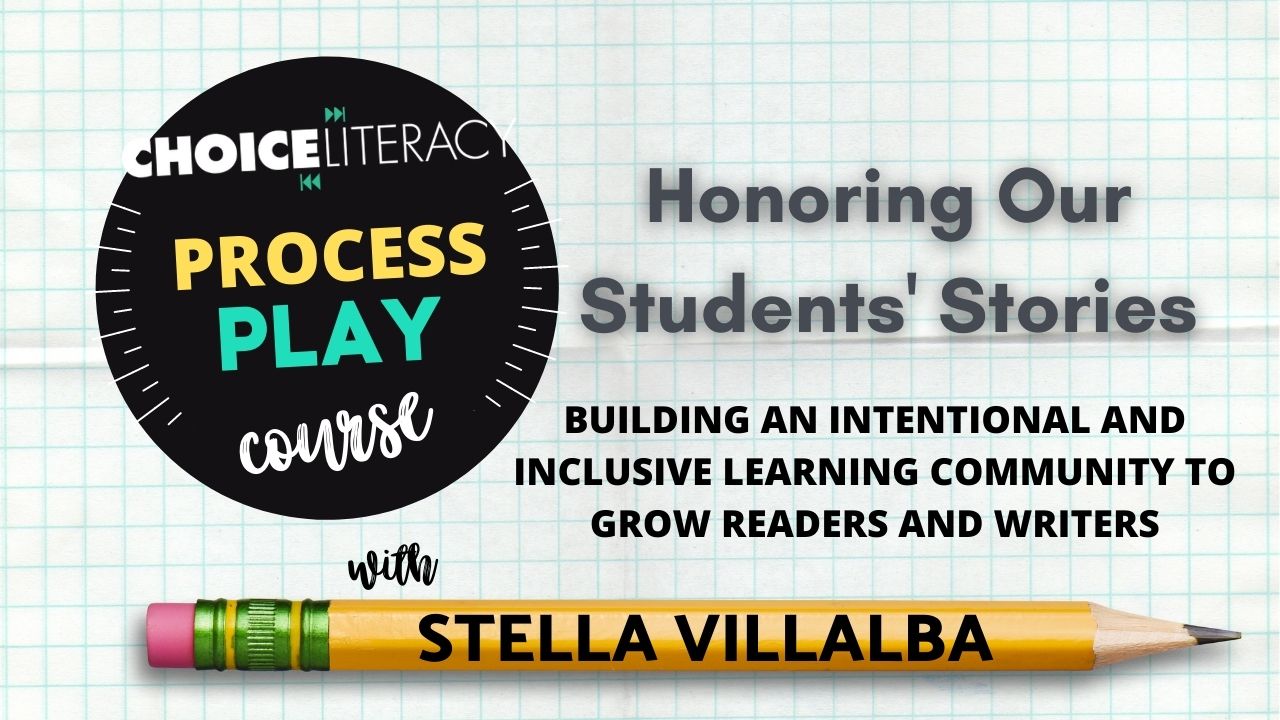 Stella Villalba teaches us how to discover, honor, and share student stories throughout the school year. With special attention to English learners, Stella walks educators through a process to intentionally honor the past and present of all students.
Quote It:
Communication is merely an exchange of information, but connection is an exchange of our humanity.
—Sean Stephenson
That's all for this week!