The Common Core Standards demand that the building of knowledge through reading text plays a fundamental role in those disciplines. In history and social studies, the analysis of primary and secondary documents is a core part of building knowledge. And in science, the analysis of reference materials, direct experimental result, debate obviously integrated with other data, but reading sufficiently complex text at the heart of it. To give you a sense of how different this is from what happens today, we have evidence that in kindergarten through 5th grade kids read informational text 7% of the time.
David Coleman
It's our job as leaders to be a step or page ahead of what is happening in our district. Even though we aren't fully operational using and assessing the Common Core Standards in our state, there are many things we can do to prepare for the inevitable transition. This link http://usny.nysed.gov/rttt/resources/bringing-the-common-core-to-life.html provides a transcript of David Coleman's presentation last spring that served as a conversation starter and the template for our conversations on the up-close-and-personal experience of making each of these shifts. These are the shifts we are exploring in this series:
Spending equal time on informational text and literary text
Building knowledge in disciplines of science, history and social studies through reading
Considering text complexity
Responding to text with evidence
Writing an argument based on evidence
Focusing attention on academic vocabulary
We'll focus this week on building disciplinary knowledge through reading.
What is the Shift?
Heather's seventh-grade daughter, Maya, recently brought home a thick history book with a chapter assigned for study. It was plain to see that she was struggling. Heather sat down next to her to look at how the Egypt chapter was organized. At one point Maya paused, looked confused, and asked, "Why are we suddenly reading about irrigation?" The subtopic had a page called "A Closer Look" inserted, which featured an anecdote about how irrigation affected the society.
In another case, Amanda's son, Jack, was assigned a research project in which he was asked to become an expert on a rainforest animal. Arriving home with a stack of Internet articles, he attempted to engage in the provided text. Sophisticated vocabulary and unfamiliar text structure proved to be too much of an obstacle for a seven-year old reader, and Amanda's support was required for comprehension and learning.
In our personal examples with our own children, we see how lack of experience with informational and discipline-specific text proves to be an obstacle for comprehension for learners of any age. We hear frustrations from teachers on the same topic. Whether it's a new math series or science texts or social studies, we are told "the kids can't read it," or "the kids read it, but don't understand it and instantly forget what they've read."
Background Knowledge and Strategies 
When do kids struggle with informational and discipline-specific text? They struggle when they lack the background knowledge necessary to engage with a text, and they struggle when they lack the strategies necessary to grapple with a text. Teachers who are able to specifically identify the background knowledge necessary for their students to enter into a text, and provide opportunities for engaging instruction to build that background knowledge, find that their students are better able to comprehend informational text. Comprehension is increased further when acquisition of background knowledge is coupled with explicit strategy instruction. Students who are explicitly taught how to think about informational text are given tools for increased comprehension. Here are some examples of how teachers might build background knowledge and explicitly teach a strategy (in this case, we chose "questioning" as our strategy) to increase comprehension using three types of content-specific texts: social studies, science, and math.
Math
In order to assess what background knowledge her students need, the teacher previews the text to identify the big ideas and essential questions, background needed to understand and engage students in the context (especially for rich problem-solving tasks), vocabulary necessary for comprehension, and level of scaffolding needed for reading (independent or instructional). Once necessary background knowledge has been identified, the teacher provides the instruction to make acquisition of this knowledge possible.
Math readers who have been instructed in the appropriate background knowledge will benefit further from explicit strategy instruction. Using the example of "Asking Questions" as a strategy, the teacher explicitly instructs students to ask themselves and others three important questions, which can help students in reading comprehension and problem solving:
1. What question am I trying to answer?
2. What do I need to answer the question?
3. Why does it make sense?
Social Studies
Whether the topic is geography, immigration, the Civil War or state history, a teacher will keep his students in mind as he skims upcoming content. He'll be pre-reading for events students may not know, vocabulary words that impact meaning, and cultural references. After identifying possible stumbling points for comprehension, the teacher provides explicit instruction. The teacher may say something like, "Good readers of our text, History Alive, ask their own questions as they read in order to come to a deeper understanding. In the past few lessons, I've modeled my own questions for you and we've done it together. Today I'm going to have you chunk the text and record your questions in your notebook."
Students then read and share out questions. Once they are comfortable with the process, they can begin to analyze their questions.
Over time, as students become more adept at asking their own questions, the teacher encourages students to ask deeper "thinking" questions. These often begin with how or why.
Science
What might a teacher identify in a science text to build students' knowledge? To begin, the structure of the text can help students organize their thinking. Is the introduction a description of the properties of water? It's important that readers note how a description section is different from a sequence of the water cycle. Compare and contrast, cause/effect and problem/solution have different organizers as well. Along with structure, she'll consider the vocabulary words and supports that play a key role in the understanding of the content. She'll also think of past experiences and experiments that will help provide a scaffold for what is being read.
Once a teacher has analyzed aspects of the science text structure, vocabulary and prior knowledge, how will she explicitly and engagingly teach students to ask the kind of questions that will deepen their knowledge of the discipline of science?
Some teachers we know use models like the double-entry journal. Students fold lined paper in half vertically and write "quote from text" on the left side and "questions I have" on the right.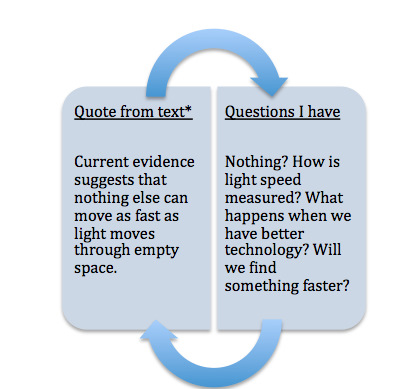 *Source for quote: Strategy Guide from The Speed of Light from the Seeds of Science/Roots of Reading series.
Interacting with the evidence from the text reinforces it. Asking their own related questions allows readers to make meaning at their levels, and provides an authentic informal assessment about students' comprehension.