We're in the midst of the holiday season here in the United States. Often when I visit schools or teacher blogs, or get a peek at other classrooms this time of year, I see themes such as "Christmas Around the World" or "Letters to Santa." When I see these topics being covered in classrooms, I often wonder if there are any international students with different languages, traditions, beliefs, and cultures in that classroom community.
Recent statistics show that there are more than five million Limited English Proficient (LEP) students in public schools in the United States. This statistic is an invitation to reconsider how we present holidays from around the world, and use this time to celebrate different cultures and traditions. Luckily the choices for texts and activities are nearly endless, and the possibilities for learning are many. I would like to share with you a few simple ideas for books, themes, and goals that build on children's natural curiosity about different cultures and eagerness to learn.
Focus on Similarities: Peace and Hope Themes
Even though my LEP students come from every corner of the world and bring with them many different traditions, I'm still able to find some things we all share in common. It is those similarities that we as educators can tap into and explore.
For example, the theme of peace is one that works well with any culture at this time of year. When I explore the theme of peace with students, I start out with a perfect mentor text for this occasion: The Peace Book
 by Todd Parr. The simple yet powerful message in this book makes it possible to discuss the topic of peace with students in different grades, from the very youngest to the most mature elementary students.
After several discussions of what peace means for each of us, we invite families to contribute their ideas.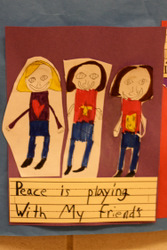 Together we create "The Peace Mural," which displays our ideas and concepts of peace. The final product stays for several weeks on our school wall. It reminds us that regardless of where we come from, who we pray to, or what we believe in, we all want peace. The mural gives each of us a clear understanding of what it means in our own culture.
Another wonderful and successful theme is to focus on wishes. The procedure I follow is very similar to the peace theme. I choose a mentor text that lends itself to powerful discussions. For this theme, I used the book Wish: Wishing Traditions Around the World
 by Roseanne Thong. In this book, the author introduces us to how families from around the world have their own traditions when it comes to making a wish.
For example, in China children throw red and gold scrolls at a banyan tree. In Guatemala, children fly huge kites to honor the dead and carry wishes. Books like this one help students gain more global knowledge. The message is a simple one: even though traditions might be different, people from around the world make wishes, and they all come from the heart.
Celebrate Differences: Holiday Traditions Beyond Christmas
Children are naturally fascinated by other holiday traditions and the roots of those celebrations. If we start teaching our students about respect and acceptance from an early age, then this new generation will develop an awareness of and respect for other cultures. This understanding is a crucial component of becoming a global citizen. Here is a list of books I recommend to begin the journey of learning about other holidays around the world.
Books on Diwali, the Hindu Festival of Lights
Lights for Gita
 by Rachna Gilmore and Alice Priestley
Gita is celebrating Diwali in her new home, far away from her beloved New Delhi. She realizes how much she misses her warm country while preparing for this celebration. As her family gets ready to celebrate their special Festival of Lights, an ice storm leaves the entire block without power. Her parents and best friend encourage Gita to light the diyas for the festival, creating an atmosphere filled with love, warm memories, and new beginnings.
Celebrate Diwali: With Sweets, Lights, and Fireworks
 by Deborah Heiligman
This is a fantastic work by the National Geographic team, with amazing photographs illustrating the festival. With striking images, facts, and historical notes, this book will be a wonderful resource in any classroom.
Books on Ramadan, the Ninth Month of the Islamic Calendar
The Last Night of Ramadan
 by Maissa Hamed
This is the first book from a series titled Enjoy Islam. These texts were created with the intention of educating and informing readers about traditions within the Muslim culture. The series focuses on the Holy Month of Ramadan and their inspiring traditions.
Celebrate Ramadan and Eid al-Fitr
 by Deborah Heiligman
This book is rich in photographs, accompanied by simple and clear text.
Under the Ramadan Moon
 by Sylvia Whitman
This picture book describes in a poetic way a family's activities during Ramadan. Using the phrase "under the Ramadan moon" repetitively, the author is able to teach readers about the holiday. For example, the text includes the lines "we hang bright lights under the Ramadan moon" and "we give to the poor under the Ramadan moon" to spell out specific Ramadan traditions.
Books on Eid, a Muslim Holiday Celebrating the End of Ramadan
The Best Eid Ever
 by Asma Mobin-Uddin
Aneesa is getting ready to celebrate Eid with her grandmother, but she can't hide her sadness from having her parents far away during this special time of the year. Aneesa and her grandmother go to pray, and it is at the prayer hall where she meets two refugee girls who won't be able to wear new dresses for this holiday. That's when Aneesa finds the true meaning of Eid, by helping other people.
Fasting and Dates: A Ramadan and Eid-ul-Fitr Story
 by Jonny Zucker
This book is part of a series called Festival Time!
. This particular book focuses on Ramadan and Eid, including dates and the significance of the fasting tradition.
It is my wish and hope that during the holiday season here in the United States, we remember what a wonderful opportunity this time is for helping students understand and appreciate other cultures and traditions. We live in a world that is constantly changing, advancing, and progressing. Let's use the power we have as teachers to not only acknowledge different traditions, but celebrate them.