How many of you have tried to lead a writing or reading share time with elementary students who'd rather chat with a friend about recess, or hide under the easel to confiscate the new markers, or play jingle bells with the Velcro on the new sneakers?
What about those middle school kids who've learned to text from their pockets and are having a completely different conversation with their classmates, while you are trying to encourage meaningful dialogue about writing?
Yep. Me too!
So what do we do to lift the level of the conversation and empower students to think and talk purposefully about their reading and writing?
I've always believed that it was important to begin and end my workshops or classes in a central location with all students. But because of the way students were seated, it wasn't always productive, and honestly . . . sometimes it was a big fat joke. Over the years with lots of trial and error, I've found that no matter the subject or the grade level, beginning and ending each class period in a circle — not just a central location or gathering place — lifts the level of the work students are doing and the conversation around that work.
Why Does the Circle Matter?
When students began to sit in a circle, my role transformed right before their eyes. I was no longer the leader, the bearer of all knowledge and keeper of the loaded questions and right answers. I became a co-collaborator, a facilitator, and an encourager. I sat in the circle with my students. I became one of them during our teaching and share time.
Sitting like this also shifted the expectations for students. When I said, "please gather on the rug" thousands of times and thousands of workshops before, I had no idea that many students got the message that this was a time to either be anonymous and let those dominant talkers do the work, or to let me do all the thinking and the talking — because that's my job right? I'm the teacher and that's what I'm supposed to do, right?
Not true! The circle sends a message of accountability and respect for every person in the room. No longer are there opportunities for hiding under the easel or sending secret text messages without anyone noticing. It's now an opportunity to teach conversational skills, and encourage meaningful dialogue about the writing and reading work we are doing.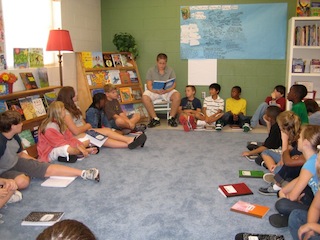 How to Start
Once we started sitting like this, a realization hit me square in the face. If I expected students to talk to each other about their reading and writing, I had to teach them how to have conversation. I'd never thought that I needed to be purposeful about teaching talk . . . good grief, my problem was to get them to stop talking (or so I believed). I've learned to slow down and not feel guilty for spending time teaching and practicing social skills. We can't expect students to grow to their academic potential if we don't teach them how to be social, ethical human beings who know how to listen, talk, and interact in meaningful ways with peers and adults.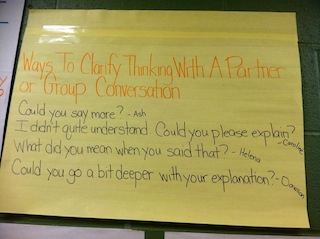 Now I know that intentionally teaching things like making eye contact, shifting your body to turn towards the speaker, paying attention to body language, and listening for entrances to add to the conversation. These skills have to be taught, practiced, and revisited over and over and over as we navigate through our writing and reading day after day, year after year.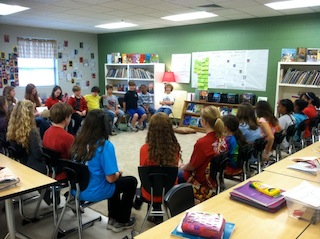 So what does this work look like in classrooms? This year, my sixth graders expressed the need to sit in chairs around the rug, because just sitting on the rug felt "too elementaryish" to them. We've had days of practice bringing these chairs to the rug in a quiet and timely manner. Yes, it was chaos at first, but because we took the time to practice, it's now a seamless habit and transition. I've also been in classrooms where the size of the room made it tricky to create space for an entire class to sit in a circle. Because I believe in this routine, this circle is that important to our work, I've sacrificed a teacher's desk, moved furniture, and somehow found space around the bolted-to-the-floor science table that took up a third of the room and made it work. It's that important. No excuses.
When you begin and end classes and workshops in this way, expect thoughtful, purposeful, amazing thinking and conversation to happen because it will! The conversation circle empowers students to be readers, writers, and thinkers who all have something smart to say. They will teach you something every single time you gather together.