In this two-part round-up series, Choice Literacy contributors share some of their new favorite tools for integrating technology into their literacy instruction.
A 20-year veteran teacher, author, and popular blogger at A Year of Reading, Franki Sibberson teaches fourth grade in Ohio and keeps up with her digital natives.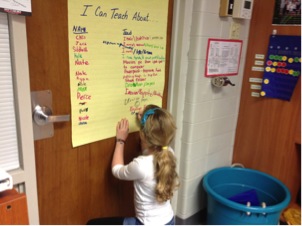 I am a strong believer in using the right tool for the message so there are lots of tools being used by digital writers in our classroom. Kids are becoming quite expert at some of the tools depending on the piece they are composing. I realized I was spending lots of time answering questions by saying, "Oh, talk to _____ about that. She knows how to do that."  So we started a chart in the classroom so writers could see who to go to for various tech tool help. As students realize they know something well enough to teach others, they add their name to the list, along with the skill(s) they are willing to teach others. This has become a great resource for everyone, and has created a roomful of writers who understand they can be experts in one tool and learners in another. It also helps me to focus on the teaching rather than on technology troubleshooting. It has really changed the climate of our writing workshop.
Elementary instructional coach Meghan Ohumukini has been a teacher both in the classroom and as a learning support specialist.  She is currently a school-based instructional coach in Lacey, Washington:
When a sixth-grade teacher asked me to help her get students writing and responding to each other online, I set out to find tools. We wanted sites that provided access without students logging in and/or having an account.
Padlet allows you to create a wall that participants can post on by simply double-clicking.  There are two different format possibilities:  one is a wall that you could post on anywhere, like a sticky note on a bulletin board, or you can have the students respond in list form like a blog.  As teachers we could approve and reject posts before students viewed them.  Walls are customized with "wallpaper," and files and pictures can be attached.
Possible uses for Padlet:
A center where students can respond to a question, a few students at a time.
Short-answer questions to check for understanding.
Having several walls created at once to allow for student choice. For example, a different wall for a different vocabulary word to use and reflect on.
Heather Rader is an instructional coach, the author of Side By Side
, and the Senior Editor at Choice Literacy:
My favorite online reading and writing teachers are my children. My strategy is to lean over their shoulders while they are on devices and say, "Tell me about that" Sixteen-year-old Jamin, for example, was reading a summary of The Odyssey
on Schmoop. Thanks to him I discovered guides to literature that "speak student." My favorite exploration was the "Why Should I Care?" section.
Maya, my middleschooler, is a buzzfeeder. http://www.buzzfeed.com I'll often ask her, "What's the buzzfeed today?" While I don't completely understand the fascination with the factoid collection site, I mentioned the idea to a teacher last week. He was talking about wanting to update his Civil War studies. I asked "What if students created a Civil War Buzzfeed with what they'd learned?" We were off and brainstorming:
Seven Most Influential People in the Civil War
Top Three Civil War Addresses
Ten Convincing Pictures to Support Emancipation
Forts That Were Important Settings in the Civil War
Four Things Most People Don't Know about the Civil War
Students chose the subtopic and created their own audio-visual buzzfeed to show what they'd learned and what interested them in the Civil War.
Katie DiCesare teaches first graders and has been leading the way for integrating technology in thoughtful and purposeful ways into reading and writing workshops for years:
The possibilities for digital reading, writing and sharing are endless.  When using tools for technology, I am reminded of the learning premise embraced by the Digital Learning Collaborative which states learning with technology should be embedded with sound instructional practice.  Reading this I am reminded that when I plan for technology, I am often thinking about how it can strengthen, support and extend the goals that I already have for my students. 
This year, I decided to take a new approach to one of my favorite tools: Symbaloo. Symbaloo is a site that allows you to customize bookmarks and links and access them from anywhere.  It works so well for primary students because it is so visual.  I can easily place familiar pictures and text on "tiles" that they can independently maneuver.  Having used Symbaloo for very general sites like places we can read or play math games has been useful, I took it a step further by creating a Symb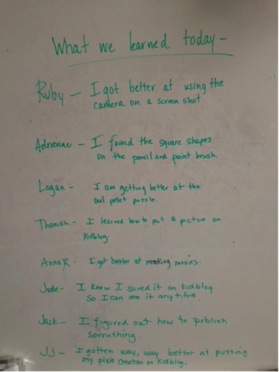 aloo with kid-friendly sites about specific topics. For example, to connect with what we were learning in science, I started searching for sites that would allow my students to think deeper about some of the information our local naturalist had presented to them about owls.  I also wanted to find sites that engaged and excited them.  Knowing how much they like to draw, I found a site where they could learn to draw an owl, listen to owl sounds, piece together the bones inside an owl pellet (something they were introduced to by our naturalist) and watch a video about a new kind of owl on National Geographic Kids.  After giving them time to explore these sites for a couple days, I then asked them to create and share their new learning digitally.  Many of them chose the blog, and some of them chose a digital creation software called Pixie that they could upload to the their blog. I think the most powerful part of their reading, creating, and sharing was the reflection about what they can do as digital creators.
As we finished up they came back thinking about their learning as digital creators and we compiled this list. I only had about half the class ready to respond with what they were learning but the range of their abilities were fascinating.  Ruby feels stronger using the little camera that comes up when taking a screen shot. Thanish has a better understanding for how to put a picture in Kidblog, and Jude realized that he can see whatever he publishes on Kidblog anytime. The kids have been blogging since November, but need time to practice, digest, and understand the possibilities that digital tools can offer them.