As a writer, I explore and examine mentor texts all the time for inspiration and understanding about how to improve my own craft. Most of my writing friends do the same, and we all have our own favorite authors whose books we read over and over, always noticing different craft moves, depending on the lenses we are reading with and the lessons we need. My favorite writers are not necessarily my friend Lynne's favorites. She has her mentors, and I have mine.
I have different criteria for my own mentor texts, but when I am working in classrooms, I have more specific considerations:
The mentor text has to contain craft moves that illustrate some of what we are teaching within the unit.
The mentor text has to be accessible to students, both in a relatable and a readable sense.
The mentor text should somehow reflect or include the different students in the room.
Rudine Sims Bishop speaks beautifully about the importance of windows, doors, and mirrors in all areas of our literacy instruction. She emphasizes that books have the power to include students and allow them to see themselves represented in and on the pages. Books also have the power to show students other cultures, celebrating and informing students and expanding their understanding and empathy for how others live. Mentor texts can teach students how to write better, and mentor texts can also teach students how to appreciate each other more.
Besides offering windows, doors, and mirrors into lives, mentor texts also come at various levels. Maybe some students need simpler text, whereas others benefit from more complexity and elaborate craft moves. Many of our writing units offer strong mentor text suggestions, and sometimes lessons even make explicit references to those books.
However, sometimes those books aren't the ones that are most engaging or relevant to the students in front of us. Maybe those books have the craft moves, but the characters or settings aren't relatable for our students. Maybe students would be more engaged by characters who look more like they do or have similar cultural backgrounds. Maybe the topics aren't interesting. And maybe some of the students are reading and writing at levels that are so different from the mentor text that they can't or don't want to access it. In an attempt to be more culturally responsive and inclusive in the books we provide for students as mentors, I created mentor text charts.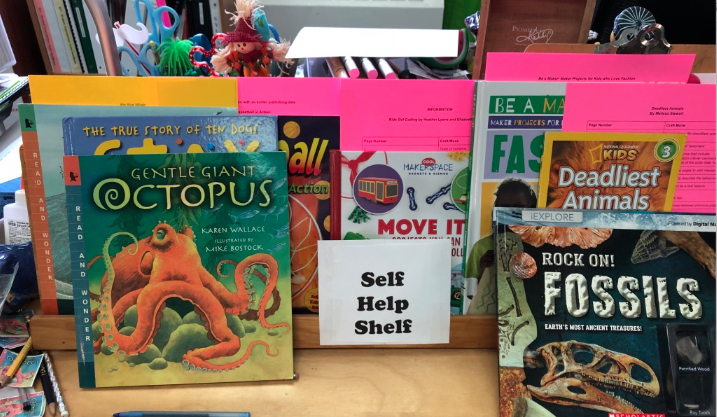 As you can see in the picture, these charts are tucked into the covers of the books, and students can decide what book they want to study for craft moves. For some students, especially students who love writing and experience success within it, these charts serve as instructional tools. Without direct instruction, some students can access and imitate the concepts just by having the concepts pointed out and demonstrated. For other students, these charts are inspiration for goal setting. Finally, accessing the charts offers plenty of opportunities for small-group and direct teaching.
Developing Craft Guides
One of the first books I created a chart for was Jabari Jumps by Gaia Cornwall. In this picture book, a child is facing the challenge of going off a diving board for the first time. It's a story many children can relate to and a setting many children recognize. Perhaps most importantly for the classroom's makeup, the main character in Jabari Jumps is a person of color.
Many picture books don't have page numbers, so I had to use a marker and write page numbers in the corners of the book. I have been asked how I decide on the first page; it doesn't really matter as long as the chart matches the page number. From there, I read the book closely, noting Cornwall's use of some of the craft moves I'd love to see in students' writing.
Through a quick lesson, I teach students how to use and learn from these tools. For example, maybe someone has been working on ways to include inner thinking in their stories. They could find inner thinking listed in the Craft Move column, and then turn to page 8. I emphasize the value of reading the entire book first, but quickly, but I also allow that not every book has to be read from cover to cover to appreciate and learn from the author's craft.
When students access the chart, they can make decisions about their goals as writers or be inspired by additional concepts they hadn't been considering but are thinking about as a result of seeing them in the chart.
Jabari Jumps by Gaia Cornwall
| | |
| --- | --- |
| Page Number | Craft Move |
| 1 | Use of dialogue as a hook |
| 2, 4 | Power of three |
| 4 | Use of action |
| 4 | Figurative language—simile |
| 4 | Sound effect |
| 4 | Action that shows caring |
| 8 | Inner thinking |
| 8 | Blending of action, thought, and dialogue |
| 14, 15, 16 | Using small details when the moment matters |
| 21, 23 | Font size |
| 26 | Use of dialogue as an ending |
| 26 | Ending relates to the beginning |
I went through a similar process with A Different Pond by Bao Phi. We have a few Southeast Asian refugees in our school, and this book features a main character who is Vietnamese, so I loved that our students could see themselves represented in a story on a classroom bookshelf. A Different Pond has many more advanced craft moves, but I homed in on the ones that we teach and emphasize in our curriculum. With the mentor chart tucked in its cover, it became another option for students to select as a mentor text for themselves during our narrative writing units.
A Different Pond by Bao Phi
Illustrated by Thi Bui
| | |
| --- | --- |
| Page Number | Craft Move |
| 1-2 | Establishment of characters and details |
| 4 | Use of similes |
| 7-8 | Blending of thoughts and talk |
| 7-8 | Establishment of setting |
| 10 | Establishment of setting through character action |
| 12 | Use of action to stretch important part |
| 13 | Blending of action and thought |
| 16 | Incorporation of backstory |
| 18 | Blending of action and description |
| 20 | Blending of action and inner thinking |
| 21 | Setting |
| 25 | Fast-forward |
| 26 | Final thought to end |
Depending on the composition and level of class, you might want to explore and include different resources and books. Unquestionably, it benefits all students to read about and experience other cultures, but it may be even more important to have mirrors for the students who sit in your classrooms. The following resources may provide specific titles that are representative and inclusive of all students.
Resources to Explore
School Library Journal Diversity Toolkit
Lee and Low—This publishing house is committed to publishing diverse books: https://www.leeandlow.com/
We Need Diverse Books—The nonprofit organization advocates for changes in the publishing industry to produce and promote literature that reflects and honors the lives of all young people.
Teaching Tolerance—The Teaching Tolerance program provides free resources for educators, promoting the development of children and youth to be active participants in a diverse democracy.
Social Justice Books—On this website, you'll see a guide and resource for selecting anti-bias children's books.
We Are Kidlit Collective—This organization creates materials and opportunities to recognize the humanity of indigenous and people of color in youth literature.
When we provide choices of mentor texts, we can differentiate across many domains, including current functioning levels, experiences, cultures, and interests. These mentor text charts provide not only this differentiation, but also the challenge of close reading, self-efficacy, and goal setting. Maybe with time and experience, students can participate in the creation of these charts as well. Yes, mentor text charts take some time to set up, but they are well worth the investment.