Reading should not be presented to children as a chore or duty. It should be offered to them as a precious gift.
—Kate DiCamillo
Be Creative with Reading Aloud
My son Sam has always loved books, but he doesn't always love to sit still. To read aloud during his rambunctious toddler years, we often stretched out on our backs and held the book above our heads. Sam would wiggle while paying close attention to the book. There was no need to wrestle with him in my lap so that we could enjoy a book.
As a preschooler, he kept a stack of books on a step in our home. He loved to climb the steps and then lounge like a worm while looking at his books. He giggled when we called him a book worm.
As he grew older, and we adopted more kids, we continued to adjust our read aloud routine to make it work for our family. Today we still find ourselves reading aloud every now and then, even though Sam is 16. And, just the other day, our daughter Hannah FaceTimed me from Marine Base Camp Pendleton to read aloud a passage from a book she is loving. Because we made adjustments to a traditional bedtime read aloud, we were able to create an experience that lasts even through young adulthood.
I'm excited about this week's newsletter because we offer creative adjustments to keep read aloud time in classrooms meaningful and powerful—plus more, as always.      
Shine on,
Ruth Ayres
Editor in Chief
---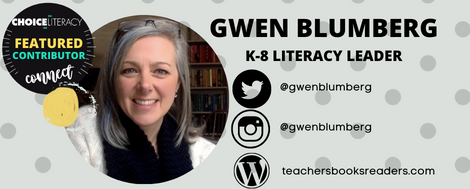 Gwen Blumberg is a literacy leader for a K—8 district in Greater Boston. She's a lifelong, avid reader who loves to share books with kids and listen to the stories they write and tell. She believes book and topic choice are essential ingredients for students to develop authentic reading and writing lives. Gwen shares her passion for children's literature by writing for the collaborative Teachers|Books|Readers blog. You can also find her sharing about all things literacy on Twitter and Instagram @gwenblumberg.

The Choice Literacy Book Club is reading When Stars Are Scattered by Victoria Jamieson and Omar Mohamed. Don't miss Gwen Blumberg's book talk. It is fantastic, and you'll want a copy of the book right now! Just click here.
Andrea Smith uses the Color-Symbol-Image thinking routine during read alouds to promote deeper reflection among students. This article was first published in 2017.
Mandy Robek finds that quick poetry read-alouds are a great way to transition between activities in her second-grade classroom and build a love of poems. This article was first published in 2017.

Jump in the Pool: Playing Around with Readers' Notebooks with Christy Rush-Levine is a new Process Play course that guides us to teach students how to create thoughtful and meaningful responses to text. This course is included with the Literacy Leadership and Literacy Team memberships and available to purchase for others.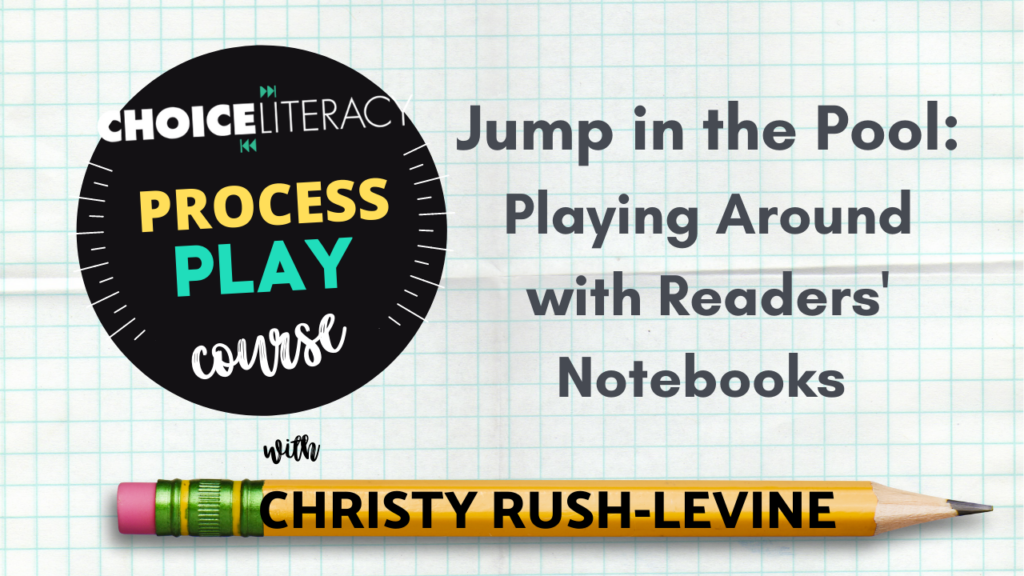 It isn't a secret that writing meaningful responses to text is important. The question is how to empower students to engage in creating substantive responses and deep analysis of text. Christy Rush-Levine cracks open her own notebook to guide us in creating thoughtful responses to text. By sharing over 20 of her own mentor entries, as well as inspiring texts, Christy adds a splash to reading response that no one can resist.

New members-only content is added each week to the Choice Literacy website. If you're not yet a member, click here to explore membership options.

New members-only content is added each week to the Choice Literacy website. If you're not yet a member, click here to explore membership options.
Matt Renwick uses five questions to lead a team through reviewing a literacy curriculum resource. Download the checklist to use during your own review process.
In this PD2Go, you can lead a session on response to read aloud. Tammy Mulligan enhances the quality of the class read aloud and student discussions with the use of a whole-class notebook, and Franki Sibberson shares how she integrates student choice and collaboration into reading response during daily read alouds.
Sara Gonser makes a case for the importance of reading aloud across grade levels.
Quote It:
Reading is an exercise in empathy; an exercise in walking in someone else's shoes for a while.
—Mallorie Blackman
That's all for this week!