My son recently attended a science fair at a local university as a requirement for the seventh grade. He did an experiment of his own design called "Where the Wild Winds Are: Testing Wind Speed at Different Elevations." With my husband's assistance he constructed an anenometer, which is a device to measure wind speed. Picture a two-foot-high propeller with four blades and small hemispheric cups to catch the wind and spin. Jamin has always loved weather. Although he did a great job collecting data, creating a three-paneled presentation board, and discussing his findings, I know that science goes far beyond the annual fair project.
I ask my students two questions at the beginning of the school year: What is science? and What does a scientist look like?
The results are always very telling. Here is a sampling of what students wrote:
"Science is when you do a project like a volcano with baking soda and vinegar."
"Science is when you find out about something from a spearmint or book." (Spearmint is a student spelling of experiment.).
"Science is at the end of the day."
"Science is the science fair in the spring. My mom always makes me do it."
Rarely did a student write, "Science is a question or curiosity about something you want to find out more about."
Most told me that scientists were men who wore glasses and white lab coats. They made concoctions and were sometimes evil. Every once in a while I'd have a young girl filled with moxie who would write, "I am a scientist."
Knowing that many of my students viewed science as something that happened once a year (like a carnival) and that science was relegated to grown-up men with pocket protectors helped me prepare for messing with their preconceived ideas about science heh . . . heh . . . heh (cue evil scientist laugh).
Mole Dominance?
Let's use a simple investigation to give context for our discussion. A palm-reader once told me that people tend to have more moles on their dominant hand and forearm than on their non-dominant side. Since I'm guessing most people reading this have forearms and moles, please play along. Without looking, how does right- or left-handedness affect mole density? I predicted that I'll have about the same number of moles on my left and right sides. I have some schema about moles, and think that pigmentation is an external body process, whereas hand dominance is an internal or brain-related process.
My procedure is going to be to count the moles on my left and right arms up to, but not including, my elbow.
My data:
Left arm = 28 moles. Right arm = 36 moles
Hmm . . . I ran into a couple of problems. To get consistent numbers I had to count five times, and I also had to define for myself what would qualify as a mole. Now that I'm looking at my data, I don't know whether that is "about the same" (only a difference of eight moles) or not. I want more information, and the way I could get it would be to have other left-handed and right-handed people do the experiment. My results do not support my hypothesis, and my conclusion is that there are errors in my design and I would like a bigger sampling.
Now compare our investigation in science to a reading experience from The Diamond of Darkhold (fourth book in the series City of Ember) by Jeanne DuPrau. I've been reading this to my son and daughter at night. We started by looking at the cover where a large blue diamond sits atop a gold collar or band. It reminded us of a light bulb, and we wondered, "What significance does the diamond hold?" Based on what Jamin and Maya already know about Ember and the picture, they think it's going to be an invention that will help the Emberites live a better life in Sparks. As we near the last section of the book, the diamond is destroyed by Doon (the main character) when he smashes it to scare off the wolves that were attacking his friend and fellow adventurer, Lina. They then stumble upon a roomful of diamonds. "I think they are supposed to alert a satellite," my son says (there has been mention of a green light that moves across the sky).
My daughter says,"I still think they are going to be used in an invention." We read on . . . Chapter 24 is next.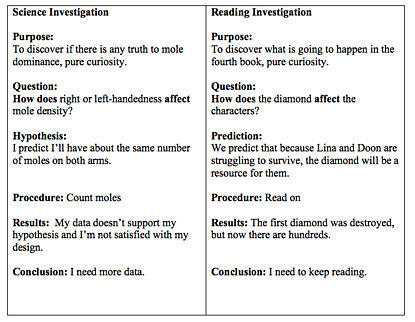 Readers Read Every Day and Scientists Inquire Every Day
Science is more than a table with skulls and soda pop cyclones. It is more than a science fair following directions from the internet and using up glue sticks on a poster board. Science is about inquiry, and natural opportunities to practice doing science arise every day. Even young students can begin to understand the connections between the disciplines and discover how problem solving in math is like the scientific method in science, which is like the inquiry process in reading.
1. Start small.
2. Investigate questions: How does _________ affect ___________?
3. Try an If/Then approach with the hypothesis: If __________ then __________, or simply finish the statement I predict . . .
4. Use a procedure.
5. Discuss the results. Show your data.
6. In conclusion, what happened? Was your hypothesis proved or disproved? Where are the possible errors? What's next?