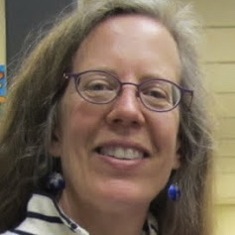 Mary Lee Hahn
View Recent Content View All Content
Mary Lee Hahn has been teaching fourth or fifth graders for more than twenty years. The best of all of those years were the times when she was able to spend two years with the same class in a loop of fourth and fifth grades.
"I love looping," she says. "I finally get to reap the rewards of my hard work with a class. In the second year, I get to see my students begin where we left off and continue the growth that I nurtured in the first year. We truly become a family in looping. We don't have to 'divorce' at the end of fourth grade and build new connections in fifth grade. We all know each other and what to expect. Looping forces me to keep growing as a professional."
Mary Lee has a bachelor's degree from the University of Denver in English and Elementary Education, and a master's degree from Ohio State University in children's literature. She is on the board of the Central Ohio Fly Fishers and is very involved in Casting for Recovery, a program for breast cancer survivors. Mary Lee is on the editorial board of Language Arts, NCTE's journal for elementary educators. She is the author of Reconsidering Read-Aloud (Stenhouse Publishers).
She and her colleague in the Dublin City Schools, Franki Sibberson, blog about their reading lives at A Year of Reading.
Choice Literacy Membership
---
Articles
Get full access to all Choice Literacy article content
Videos
Get full access to all Choice Literacy video content
Product Discounts
Receive member-only discounts on books, DVDs and more
---