Life is not testing you. She is rooting for you.
—Danielle LaPorte

Rooting for You
We all have seasons of life when it feels like there is one thing after another, and it is hard to find our footing. It seems that this has been the season that we have experienced collectively as educators. A season such as this can weigh heavily on our hearts and our shoulders.
I am not going to name all of the difficulties that rage around us. We've lived them; we know them. We know heartache and uncertainty. We know pressing on. Recently I heard a staggering Pew Research Center statistic that right now humans are filled with more anxiety than during any other era in history.
If you're like me, you wonder if there's any way to make a positive difference when it all feels shockingly overwhelming. Feeling helpless takes a toll, too.
When my daughter Hannah went to bootcamp, she was not at her finest. She had burned many relationships, and our connection was hanging on by threads. She said and did many hurtful things, and she admits that turning to the military was a desperate act of running away from responsibilities.
Andy picked up a card at the grocery store with a Superman emblem blazoned on the front and humorous words of encouragement on the inside. He wrote her a short note and signed it:
Rooting for you!
Love,
Dad
I lifted my eyebrow at him, questioning his positivity. He winked at me and said, "It never hurts to let someone know you believe the best in them."
He is right. It never hurts to let someone know that you believe the best in them. In times of darkness, it is this small act of rooting for them that can make a positive difference in the world.
This week we take a look at encouraging readers of all grade levels to go deeper in their synthesis and understanding of texts—plus more, as always.
Shine on,
Ruth Ayres
Editor in Chief
---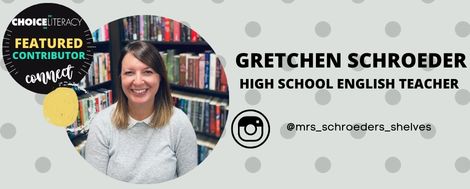 Gretchen Schroeder is a high school English teacher in rural Ohio, teaching everything from Advanced Placement Literature to a poetry workshop elective. Her passions include helping students find their voices through writing and introducing them to books they love. You can find her sharing books on Instagram @mrs_schroeders_shelves.

The Choice Literacy Book Club is reading The Tree in Me by Corinna Luyken. You'll definitely want to add this book to your summer reading list! Just click here.
Jennifer Schwanke finds teachers can get territorial about texts, "claiming" them for their grade level. She explores the ways rereading the same text can help students deepen their thinking rather than simply replicating the material. This article was first published in 2016.
Katie DiCesare shares ways to help beginning readers think deeply. This article was first published in 2015.

Jump in the Pool: Playing Around with Readers' Notebooks with Christy Rush-Levine is a new Process Play course that guides us to teach students how to create thoughtful and meaningful responses to text. This course is included with the Literacy Leadership and Literacy Team memberships and available to purchase for others.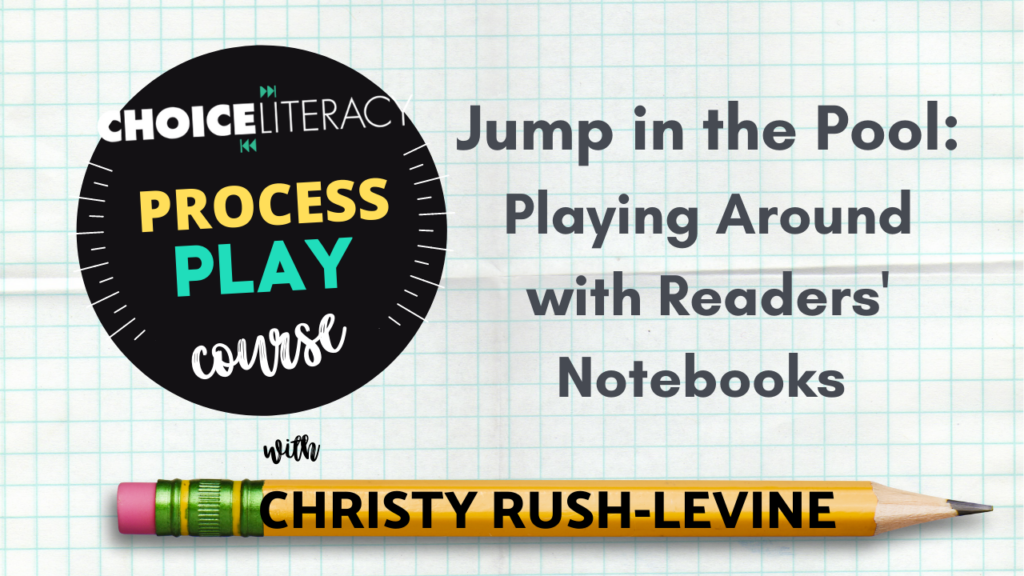 It isn't a secret that writing meaningful responses to text is important. The question is how to empower students to engage in creating substantive responses and deep analysis of text. Christy Rush-Levine cracks open her own notebook to guide us in creating thoughtful responses to text. By sharing over 20 of her own mentor entries, as well as inspiring texts, Christy adds a splash to reading response that no one can resist.

New members-only content is added each week to the Choice Literacy website. If you're not yet a member, click here to explore membership options.

New members-only content is added each week to the Choice Literacy website. If you're not yet a member, click here to explore membership options.
Matt Renwick has compiled a guide for new principals to follow to intentionally become effective literacy leaders.
Suzy Kaback shares a process to use transcripts as a coaching tool. Tips from her own experiences and several resource links will have you using this tool, too.
Katie Barr shares ways administrators must be ready to reprioritize and address the effects of loss, grief, and change that educators experience.
Quote It:
There are three essentials to leadership: humility, clarity and courage.
—Fuchan Yuan
That's all for this week!