You don't want to lose the things or people that leave imprints on your heart.
—Elly Swartz
Unanticipated Joy
At the end of the school year there are always pockets of time that need to be filled between assemblies, field trips, and testing. Having one such random chunk of time with students this spring, I was struggling to think of something engaging and fun to do when I remembered the old game where you start a story with a couple lines, fold the paper, and pass it along, with each person adding another line with only the previous line to go on. At the end there is usually a pretty silly story to enjoy.
I thought it might be fun to write a poem in this way, and at the last minute I came up with a twist. I printed the first lines of some of the most iconic poems of all time—"Shall I compare thee to a summer's day?" and "Two roads diverged in a yellow wood"—and had students build the poem from there. Afterward, we read the original poems, and then students carefully unfolded their papers and read aloud our new versions to compare the two. I thought that most of the poems would be silly, and some definitely were, but we were all blown away by how good so many of the new poems turned out to be! The results were surprising, and the activity that I was just planning as a time-filler became something that I won't soon forget. We agreed that Shakespeare, Frost, and the other poets would be proud of where we took their lines.
Some might say that these poems are classics and that you shouldn't mess with the perfection of William Carlos Williams or Emily Dickinson, but when we did, we ended up with something delightful and unexpected. As we move into the summer months that give us the space and time for reflection, I plan to think about the lessons and procedures that I have dubbed "classics," that I have set into stone because, as they say, why fix what isn't broken. Have I placed these on an untouchable pedestal? Or can I find ways to tweak or remix these old standbys? Although the unexpected can be a little scary, I was reminded that it can also bring about some unanticipated joy.
This week we share more booklists to keep your reading stacks full. We will have our annual summer publishing break and be back with new content on July 29.
Shine on,
Gretchen Schroeder
Featured Contributor
PS—Check out some of the "new" poems from Gretchen's students on our social media feeds.
---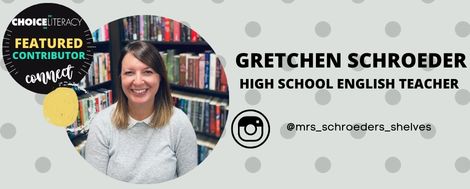 Gretchen Schroeder is a high school English teacher in rural Ohio, teaching everything from Advanced Placement Literature to a poetry workshop elective. Her passions include helping students find their voices through writing and introducing them to books they love. You can find her sharing books on Instagram @mrs_schroeders_shelves.

The Choice Literacy Book Club is reading The Tree in Me by Corinna Luyken. Don't miss Gretchen Schroeder's book talk. You'll definitely want to add this book to your summer reading list! Just click here.
Gigi McAllister uses picture books to strengthen her fourth-grade classroom community. This article was first published in 2015.
Ellie Gilbert shares an activity that is a terrific way to get to know your new students. Although Ellie works with high school students, this activity can be adapted for the younger grades. This article was first published in 2013.
It's Monday! What Are You Reading? is a weekly blog hop co-hosted by Jen Vincent at Teach Mentor Texts and Kellee Moye and Ricki Ginsberg from Unleashing Readers. It's a great way to share what you're reading and get recommendations. The invitation is wide open for you to join!


Jump in the Pool: Playing Around with Readers' Notebooks with Christy Rush-Levine is a new Process Play course that guides us to teach students how to create thoughtful and meaningful responses to text. This course is included with the Literacy Leadership and Literacy Team memberships and available to purchase for others.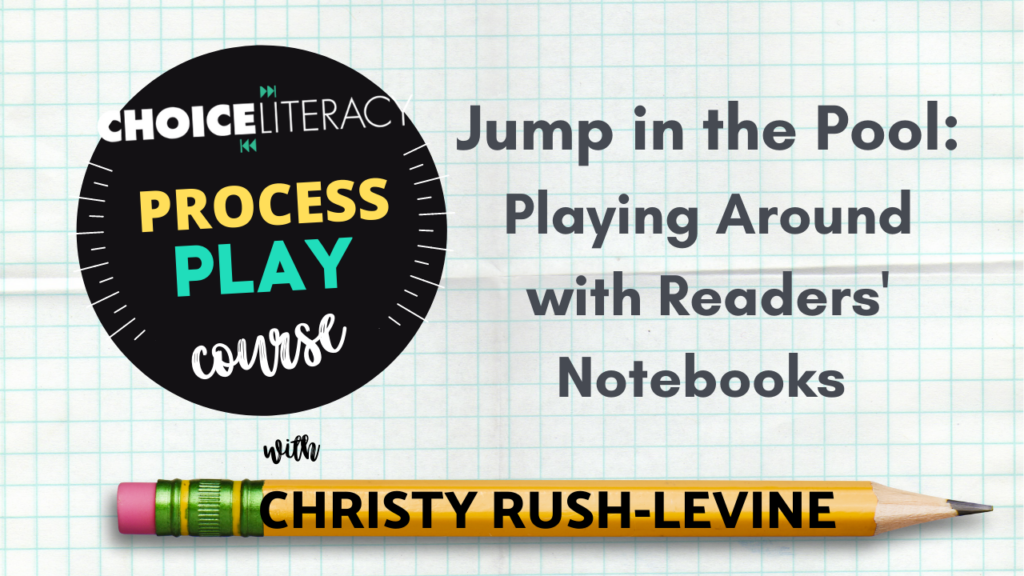 It isn't a secret that writing meaningful responses to text is important. The question is how to empower students to engage in creating substantive responses and deep analysis of text. Christy Rush-Levine cracks open her own notebook to guide us in creating thoughtful responses to text. By sharing over 20 of her own mentor entries, as well as inspiring texts, Christy adds a splash to reading response that no one can resist.

New members-only content is added each week to the Choice Literacy website. If you're not yet a member, click here to explore membership options.

New members-only content is added each week to the Choice Literacy website. If you're not yet a member, click here to explore membership options.
Jen Court shares how the staff book study of Ridiculously Amazing Schools by Tracey Smith and Jeff Waller transformed their ability as a staff to engage and build meaningful relationships.
Stephanie Affinito recommends five picture books to launch discussions about an instructional coach's role. This helps ensure success by giving all stakeholders an opportunity to define and understand the role of a coach.
In this encore article, Matt Renwick shares five business books every school leader should read.
Quote It:
Devote today to something so daring even you can't believe you're doing it.
—Oprah Winfrey
That's all for this week!