We read to know we are not alone.
—C.S. Lewis
Readers Need One Another
My mom was the librarian in my hometown. It's a small town, the kind where the library is the hub of the community. There was a library cat named Muffin, and eventually there was a computer bank on the back wall in the nonfiction section. These were both hotly debated issues.
I spent a lot of summer afternoons at the library. My brother and I would ride our bikes five miles from our home outside of town in to the library. We would play at the park, eat peanut butter and jelly sandwiches on the front porch of retired church members, and eventually settle with a book in a corner of the too-cold air-conditioned library.
My mom would run books across the road to Alice at the liquor store. Alice couldn't leave the store, so my mom would bring her books. My mom would check out books for those who were homebound or in the hospital or running short on time packing for vacation. She would select the brand-new books to have front and center when Barb arrived, because she knew Barb couldn't resist new books. (Who can?) She chatted about book titles and asked about aging parents or the T-ball game or a new recipe.
It seemed my mom knew about the lives of the whole town, and maybe books weren't the only reason people showed up in front of the big old-fashioned desk. What I didn't know then, but understand with hindsight, is that books are the catalyst for relationships.
Readers need one another.
Sometimes it's inevitable that we grow up to be like our moms. In this case, I"m pretty excited to be the one getting to curate newsletter issues that allow books to connect us. It's like standing around the library desk with dear friends and fellow book lovers and sharing titles. I hope you enjoy this second issue of booklists as much as I do.
Shine on,
Ruth Ayres
Editor in Chief
---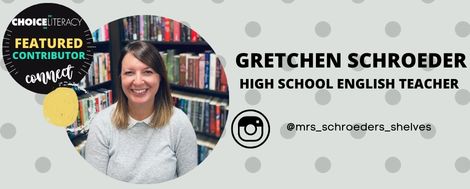 Gretchen Schroeder is a high school English teacher in rural Ohio, teaching everything from Advanced Placement Literature to a poetry workshop elective. Her passions include helping students find their voices through writing and introducing them to books they love. You can find her sharing books on Instagram @mrs_schroeders_shelves.

The Choice Literacy Book Club is reading The Tree in Me by Corinna Luyken. Don't miss Gretchen Schroeder's book talk. You'll definitely want to add this book to your summer reading list! Just click here.
If you don't follow the Choice Literacy Instagram feed, now is the time to join. Gretchen Schroeder will be taking over next week to offer a glimpse into her corner of the world.
Shari Frost explains why even if you're reading hundreds of children's and YA books a year, it's still essential to find room in your reading life for "grown-up" books. This article was first published in 2019.
Heather Rader worried at first about using children's books in professional development settings, but soon found that the right children's book can deepen conversations about challenging topics immensely. This article was first published in 2013.

Jump in the Pool: Playing Around with Readers' Notebooks with Christy Rush-Levine is a new Process Play course that guides us to teach students how to create thoughtful and meaningful responses to text. This course is included with the Literacy Leadership and Literacy Team memberships and available to purchase for others.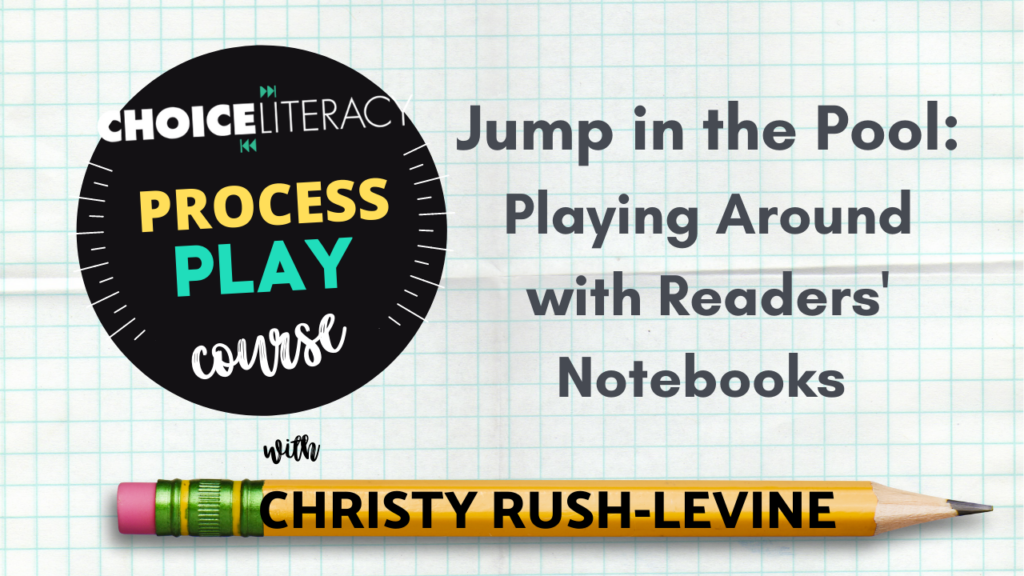 It isn't a secret that writing meaningful responses to text is important. The question is how to empower students to engage in creating substantive responses and deep analysis of text. Christy Rush-Levine cracks open her own notebook to guide us in creating thoughtful responses to text. By sharing over 20 of her own mentor entries, as well as inspiring texts, Christy adds a splash to reading response that no one can resist.

New members-only content is added each week to the Choice Literacy website. If you're not yet a member, click here to explore membership options.

New members-only content is added each week to the Choice Literacy website. If you're not yet a member, click here to explore membership options.
Jen Schwanke suggests five books that will enrich a leader's skills by solidifying their approach to the important work of evolving our instructional practices.
In this encore video, Kathy Provost and Heather Fisher share some criteria for selecting books for teachers to open doors and conversations.
Simona Umbro recommends 15 podcasts for educators.
Quote It:
Literacy is a bridge from misery to hope.
—Kofi Annan

That's all for this week!