Not long ago I was crafting an email and struggling with one particular sentence. Was it grammatically incorrect or just awkward and in need of revision? What's more important? I asked myself. Do I get the invitation out before the workday is over or do I fret about one gangly sentence? And so I sent the email. Five minutes later I got a call from an email recipient and colleague I'd never met.
"I'd love to take part in the opportunity described in the email," she said. "It sounds like it's perfect for me."
"Great," I said, "and thanks for calling right away."
"Sure. I was calling though because I'm an English teacher and there is a sentence that just needs to be fixed. I'm not even sure what's wrong with it, but it's extremely awkward. I had to reread it twice to get your meaning. You really ought to change it."
"Thanks," I gulped. "I'll see what I can do."
Although I was blushing from the chastisement on the other end of the line, I had empathy for Ms. Grammar. When I'm sitting in a class or a meeting and an error is made, I have to focus on not focusing on the mistake. For example, one teacher-leader I work with frequently uses the verb "elicit" but when she includes it in documents she writes it as "illicit" (which makes the phrase 'the teacher will illicit conversation' interesting); another friend uses effect when she means affect; a third colleague mispronounces many multisyllabic words like discombobulate which comes out as: discom 'bobble' you late.
I have my own issues. Admittedly I can't spell diarrhea or occasion without spellcheck or quickly recall when to use who vs. whom or lay vs. lie. Style guides and grammar girl blogs help me out, but I think many of us feel insecure about our hold, at times, on written and spoken English. That's important to keep in mind.
To Correct or Not to Correct?
A coach in another district once asked me if she should correct a collaborating teacher on her misspellings on the board.
"What are you coaching her on?" I asked.
"Mostly setting up rules and procedures," she replied.
"Do the errors get in the way of the kids' understanding of rules and procedures?" I asked.
"No," she said.
"Would you want her, early in your coaching relationship, to feel insecure about her spelling instead of focus on setting up rules and procedures?"
"Definitely not," she said.
"Then I'd say don't correct unless you are asked. You can correct it in your transcription if you are taking notes on what was written on the board, but wait until there is an invitation. There have been many great writers and teachers that are notoriously bad spellers. That's not the focus of your work."
A month later at a meeting, the coach thanked me for my advice and explained, "Now that we've built a relationship, she's admitted to me that she struggles as a speller, feels embarrassed about it, and wants to work on it. I suggested an electronic dictionary next to the board and she's going to try it. I think if I would have said something earlier she might never have opened up."
Independent Editors Need Scaffolding
While I might not correct a teacher's grammar or misspellings uninvited, it is my job to help students learn to edit. Notice that I didn't say it's my job to correct students' errors. No, it's my job to help them grow as independent editors through my teaching. One approach corrects a single paper, while the other approach has the potential to help every future paper.
A first year teacher I'll call Kendra stayed after writing class one day to talk to me. In tears, she shared how she didn't have a life anymore.
"I'm going home at six o'clock and then staying up late to correct papers!" She showed me her rolling cart packed with a stack of journals and file folders holding three different writing assignments.
I invited her to show me some of her fifth graders' work. I watched as she opened up a file folder and took out student writing marked up with her editing notes in purple pen.
"Are these going to be published?" I asked.
"No," she said. "Why?"
"It seems like they could be doing the editing themselves. It doesn't have to be perfect."
We talked for almost an hour that day. She explained how she didn't feel comfortable leaving the mistakes on the page. She thought parents would think she didn't have high expectations.
"If you don't feel balance in your own life with the ways things are, let me ask you this. Are the kids learning from all your editing?" I asked.
"No," she said. "That's the thing. They just keep making the same mistakes and I keep marking them."
Marginal Writing
We took one of her papers and I showed her how to use a technique I call "marginal writing." Marginal writing uses tallies in the margins to indicate to students that there is a convention error in that line that needs their attention to find and fix. It shifts the work of an editor to the student. Similar to "error analysis" in mathematics, the message to a learner is: there is an error here and you are capable of finding it, fixing it, and learning from your mistakes. This is what good writers do. Special thanks to my daughter, Maya, for letting me use a fifth-grade persuasive paper she wrote as a sample.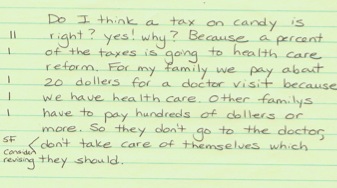 In the example above you can see there are a variety of convention errors, from missing capital letters in short sentences "Yes! Why?" to the misspellings of dollers (dollars), and an incorrect attempt at making family plural. While there is an error in almost every line, these convention errors do not prevent us from making meaning from this passage. You can also see that I've noted 'SF' which stands for sentence fluency to indicate to the writer to work on restructuring the sentence: So they don't go to the doctor, don't take care of themselves which they should. With a simple transition and rewording this sentence might be revised to say, When health care is so expensive, some families don't go to the doctor to get the care they need.
The point is, who should do this work? If I am scaffolding young writers to learn to be independent editors as they mature in their writing, I can't rescue them by making their corrections and asking them to recopy. I can give them small passages and feedback to "find and fix" some editing issues. The writer of this paper would catch some of these quickly, and others would require rereading and a bit of word study. A little struggle? A need for some perseverance?
Marginal writing feedback is most effective when applied in small doses. For a student who struggles with conventions, I might only tally the first few lines, leaving less than ten corrections for the student to make. With a writer in control of conventions, I might look at the whole piece. In effect, both students may have about the same amount of editing to do and it doesn't become overwhelming. I also encourage students to talk to each other. The "Ask 3, Then Me" principle works well here: ask three other students about the editing issue and if you can't find it or understand why it needs correction, then ask me.
Prioritizing a Focus
Wows and wonders are so important in feedback to writers. Writers need to hear what they are doing well with conventions. A wow might be, "I noticed the way you used all caps in SOMEONE to emphasize the voice. It helps me as the reader." Then choose one teaching point for your wonder with conventions. "I also noticed that with the verbs coming and staring you forgot to drop the 'e' and add the -ing, spelling them comeing and stareing. I've made a note to look at your verbs in your next pieces. You can add: drop 'e' and add 'ing' to your crafting notes."
When I met with Kendra two weeks later she said she was doing better, but still editing much of their writing with her purple pen. She'd looked at the standards and was feeling panicked about everything students had to know.
"What is expected of writers?" I asked.
She pulled out our writing plan with the conventions expectations for fifth graders. Capitalization rules, punctuation rules, mature spelling, paragraphing — it was all there.
"But where," I said, "does it say that students at standard are doing all this all the time on every paper? You are looking for evidence of these skills in their writing, but not all of them all the time."
Kendra took a breath and considered what she'd need to do to narrow her focus. Looking through student work, we had a list of these seven possible issues to focus on with her fifth graders:
lack of paragraphing
verb tense confusion
subject/verb agreement
fragments
run-on sentences
forgotten commas
incorrect punctuation of dialogue
We decided that forgotten commas were less worrisome than verb tense confusion, which was less prominent than run-on sentences. Kendra planned whole-group minilessons to draw attention to run-on sentences in writing, and then we discussed how she'd follow up with small groups and individual conferences.
"It's so much better to look at the work and pick one thing at a time, than to try to address all those standards in every paper as their editor," Kendra reflected.
Consider these questions:
What grammar insecurities do you have?
When is it appropriate to correct a colleague's misspelling or grammatical errors?
Who does the work of editing?
How do you/could you use marginal writing feedback instead of editing and having students recopy?
How do/might you use wows and wonders with conventions?
How do you prioritize a focus on conventions?