Talking with parents about their children's first weeks of school quickly divides the group into "very happy" and "not happy at all" camps. It's usually not disappointment with curriculum or unhealthy lunches or even unhappiness about class size — it's almost always about the child's relationship with his or her teacher. "I don't think my teacher likes me" or "My teacher thinks I'm a pain" are difficult responses to hear when questioning, "How was your day?" Parents who get early communication from the teacher that their child is a challenge worry that the teacher has made up their mind about what kind of kid they have. They wonder, What will happen the rest of the school year if they can't see the wonderful parts of my kid?
We can take a strengths-based or deficit-based look at students from the very start. The first few days and weeks of school, Heather voraciously wrote notes about what she noticed students doing well in the classroom. By the third week of school Heather had called every family and shared something she genuinely appreciated about their child.
True to her nature, fourth-grade teacher Jen Taft took that idea and tweaked it to make it an even better fit for her. She had wanted to improve communication with families and reach out more often with positive things to say, but it always seemed to be one of those things she never got around to, because she felt so uncomfortable doing it.
Added Accountability
By giving herself the requirement of contacting five families before she could leave at the end of each workday, it shifted from a "should do" to a "do now" task for Jen. It was the added layer of accountability that made it happen.
Jen took her class list and created a parent contact record to track each email, call, or conference she had throughout the school year. Then she added a key for P (positive) and C (concern), as well as the type of communication: VM (voicemail), M (message left), and S (spoke with). Each day after her obligatory Five Positive Connections, she recorded her progress. By the middle of the second week of school, she'd touched base with every family in some way.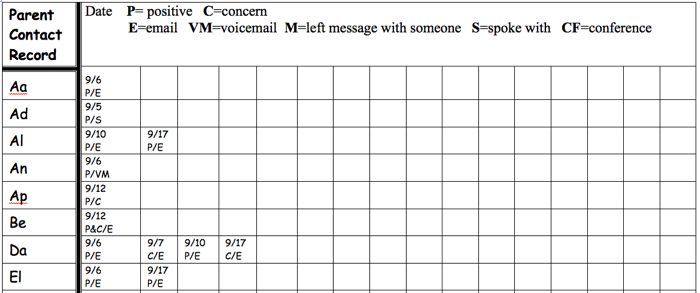 Due to unique circumstances, Heather one year didn't start with this practice right away in September, and instead picked it up after the class was reconfigured at Halloween time.  It's never too late to begin; it's a powerful practice any month of the year.
The Response
If a teacher cannot find something positive to say, then feedback is not what needs to come next. Additional teaching needs to come next.
Rick Stiggins
If you exchange the word "teaching" with "thinking" in the quote, you've got the philosophy behind positive noticing. Heather explained, "If I can't think of something positive right away, then the onus is on me to look and listen harder the next day."
Both Heather and Jen chuckle at the worry they encounter on the other end of the line from certain families. Sometimes a parent will say, "What did she do?" right away. Teachers get right to the point, "Adria did nothing wrong, in fact she did something really right today that I wanted to tell you." Even after hearing the compliment there are parents and grandparents who say, "And you are sure there isn't a problem?" Their experience of if a teacher is calling there must be bad news is being challenged — in a good way.
Heather's children Ahna, Maya and Jamin, and Jen's children Maggie and Charlie have grown up as students in the district and schools where their mothers worked. It was common to get positive feedback about the nice deeds or kind words that their children did and said. Those are the sorts of things that made their days. Don't all parents deserve to have their day made by hearing something wonderful about the most important people in their lives?
The response by families has been overwhelmingly enthusiastic. Jen hears back delighted comments like "Thank you for the updates on my son, I appreciate them" and "She is wonderful and we love her so much." An unexpected benefit is that parents will mention something more about their child that they might not have bothered to bring up otherwise. Strengths-based, steady conversation makes families feel like they are on the same team with teachers. We certainly learn so much more about our students.
While not all communication is solely positive, Jen feels like because she's already established a connection she's doing less "wait and see" and more "hey, by the way." After a concern contact, many children are returning to school the next day with a different outlook and attitude. The families know first and foremost that their child is cared for and respected, and therefore small corrections are easier to make.
After a particularly good day with a student who struggled to control his temper, Heather heard him say on the way to the buses: "I bet Mrs. Rader is going to call home tonight and tell my Dad what a great kid I am." His friend looked at him in surprise and responded, "She does that to you too?"