My students enjoy a variety of digital resources in their learning lives, and are exploring digital books and resources for reading workshop and independent reading at home. As we looked at a variety of resources on the web, my students realized that they were maturing into selective and even picky readers. Many of the digital books available on the web or through purchased software don't meet their critical expectations for high quality writing, unique illustrations, or authentic photography. I am pleased that they expect publishers to deliver quality texts, and I am impressed that my students will not settle for mediocre digital books. As a class, we set expectations for digital resources we would adopt for our classroom using the following questions:
Does the site provide well-written books with attractive and useful illustrations, info-graphics or photographs for a variety of readers?
Do we enjoy reading the digital books? Why?
Is the site easy to access and use as a reader and learner?
Is the cost reasonable? How will we fund the cost of the site?
My students have enjoyed exploring and critiquing new resources. Three current resources that meet or exceed my students' expectations for digital reading experiences are:
Tumblebooks is a rich resource for picture books with varying levels of support for developing readers. Working with a variety of publishers and authors, Tumblebooks offers an eye-catching and motivating site for students to read and discover many quality picture books. Students can view digital versions of published books that they might find in their classrooms, schools, or public libraries; these are books that everyone loves to read and share.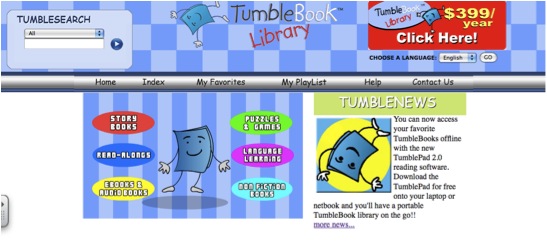 When students view books, they can listen to the story, following along with highlighted text as the book is read aloud. Students can also choose to turn off the audio component and manually interact with the digital book, reading and rereading picture books, chapter books, and nonfiction resources. The library offers a fair number of books, but my students hope that the digital library available at Tumblebooks.com will grow in the future. The only difficulty we've had is that we could not view Tumblebooks offerings on iPod Touches or iPhones.
For classroom teachers and librarians, a trial membership is available, and a reasonable school membership is also an option. This site might be a great way to spend Title 1 or related funds. It would also be a terrific project for a parent/teacher organization to support, since students can access the books at school and home.
Big Universe is another resource for picture books, with many genres for all ages and stages of readers. Working with a variety of publishers and authors, Big Universe offers rich literacy resources for students to read and discover fiction, poetry, and nonfiction texts. Just like Tumblebooks.com, students can view digital versions of published books that they might find on the shelves of their classroom, school, home or public library; these are books that children, teachers, and parents can read and share with computers, Smartboards, iTouches, iPhones, and iPads. When students and teachers view these books, they can select texts that match students' reading levels, interests or lesson topics.
This site does not have an audio component at this time. This is not a problem since books are available for even the youngest of readers, and the "Browse and Search" tool bar lets an adult help a student find independent or instructional level books. This site does not require flash capabilities, so this increases the variety of digital tools that can be used to read the books. This site also offers a great selection of titles for middle grade readers with their varied interests and abilities.
Here is a sneak peek at the Browsing Feature available on Big Universe: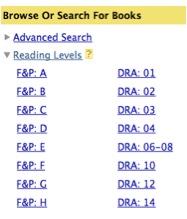 Another encouraging element of Big Universe is this resource's foundational beliefs and philosophy about reading and learning. I love the statement included on their information and mission page:
At Big Universe, our desire is to use children's books online as a way to connect the next generation – our children – and help them look past the differences between our various cultures and instead focus on our similarities, so we can come together to explore our big universe.
Journey North is a FREE and priceless opportunity for students to maximize science learning and on-line literacy resources in an increasingly digital world. Hosted and funded by the Annenberg Institute, teachers and students can use the Journey North website, matching the print and video resources to their grade levels, curriculum, and learning needs. Here is a summary of the program from the website's opening page:
Journey North engages students in a global study of wildlife migration and seasonal change. K-12 students share their own field observations with classmates across North America. They track the coming of spring through the migration patterns of monarch butterflies, robins, hummingbirds, whooping cranes, gray whales, bald eagles – and other birds and mammals; the budding of plants; changing sunlight; and other natural events. Find migration maps, pictures, standards-based lesson plans, activities and information to help students make local observations and fit them into a global context. Widely considered a best-practices model for education, Journey North is the nation's premiere "citizen science" project for children. The general public is welcome to participate.
Once a group or individual selects an area of study, students can conduct research, collect authentic data, and connect their research, data, and learning with classrooms across the globe. It is possible for students to use the resources without participating in the research component of the Journey North Project. This is where students can utilize the digitalbooks found on the site.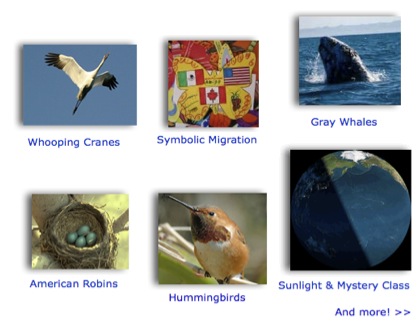 The web creators call the digital books "slideshows." The slideshows can be used just like other digital books on computers and Smartboards with ease. IPods, IPads, and IPhones can also be used to view the digital books. In addition to the digital reading, the books can be printed and used for classroom reading if technology is not available (and we all have those days when the district server is shut down for maintenance during prime learning hours).
Useful links within the site include:
Students can use Journey North's resources at school, home, and the library any time they wish. The site offers a wide range of topics, resources, video clips, interactive maps, and even a question/answer section where students submit questions and scientists and other professionals provide answers. This free resource provides unlimited opportunities for students to read and think like scientists working in our connected world.
Final Thoughts
My students' exploration of digital resources reminded me that effective readers need to review and select digital resources that enrich and expand their literacy lives. Learners need to realize that they do not need to settle for mediocre reading material just because it can be viewed from a computer, iTouch, or iPad. I am pleased that my students expect to use quality digital resources that provide students the experiences of choice and joy as they read.