I have always wanted to have a great class blog, one that parents check daily so they can see all the cool things that we are doing in class. This year I also wanted to add a class Facebook group and a class Twitter account to our arsenal.
My vision for the blog was that it would allow us to connect on a global level. Twitter is a tool that I saw as a way for my students to connect with classrooms and authors. Our private Facebook group would allow us to connect with the families of our students.
I was hoping that connecting my students to the world beyond the four walls in our classroom would help them grow as young learners.
Managing all of these things at the start of the school year was a disaster. I failed. Instead of doing one thing well, I did three things poorly. I was the person (not) writing the blog post, I was the person (not) tweeting, and I was the person (not) posting to our class Facebook group.
With the help of the instructional technology coach in my county, I decided to give control of the blog, Twitter account, and Facebook group over to my students. Handing over control was possible because of tech tools Easy Blogger Jr app and If This Then That.
My class blog is hosted by Blogger. The Easy Blogger Jr app connects to Blogger in a way that allows my students to easily snap a picture, write about it, and post it.
If This Then That has allowed me to link my class blog to our class Twitter account and private Facebook group. What this means is that when a student writes a blog post using Easy Blogger Jr on the iPad, the post gets tweeted to our class Twitter account and posted to our class Facebook group.
Bliss.
Each day we have a different assigned class blogger. Their job is to capture the day of learning. They can blog once, five times, or twenty times. It is totally up to them. Once they finish a post, they take it to our class editor. It's the editor's job to make sure the picture and text are appropriate, and that the text is grammatically correct.
My students are almost always excited to be the class blogger. They never know which parent is going to comment in our class Facebook group, what author might respond to one of our tweets, or what part of the world a comment on the blog might come from.
Nuts and Bolts
Step 1: Create a class blog using Blogger.
Step 2: Create a private class Facebook group.
Step 3: Create a class Twitter account.
Step 4: Create an If This Then That Account.
Now it's time to link these accounts together.
Step 5: Connect your blog to Twitter.
I've created a recipe on If This Then That—click here to access it.
Step 6: Connect your blog to your Facebook group.
Now that you have linked your blog to both your Facebook group and Twitter accounts, each time you write a blog post, a picture from that post and the first sentence or two will post to your Twitter account and your Facebook group.
My favorite part of this whole operation is giving my students control. This happens with the Easy Blogger Jr app.
Step 7: Download Easy Blogger Jr on your iPad.
Step 8: Link Easy Blogger Jr app to your blog and set up student accounts. I've created an image tutorial below. Start by opening up the Easy Blogger Jr app. This screen will appear.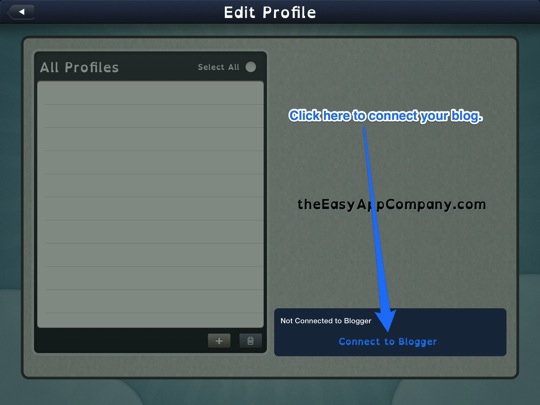 Next: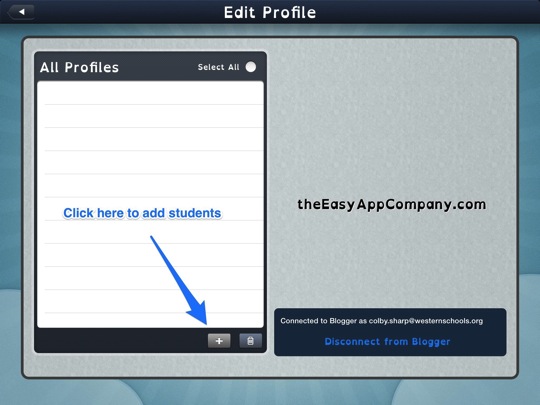 Next: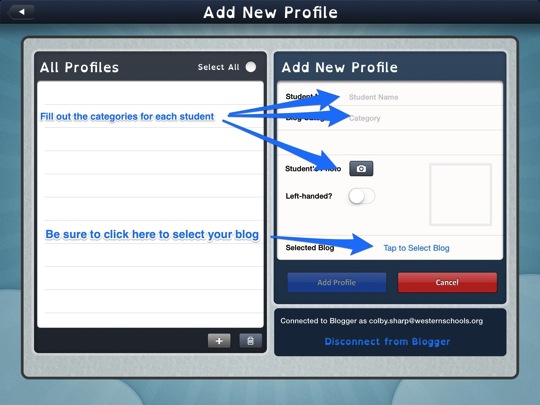 Next: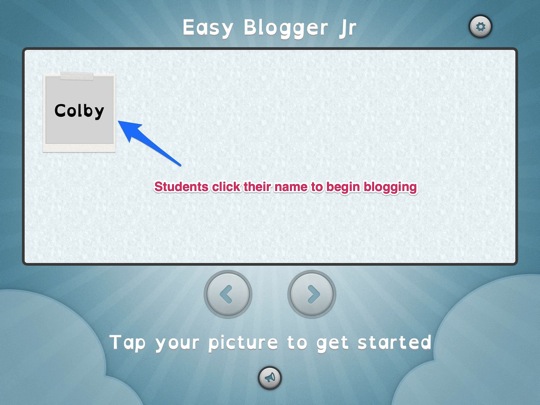 Next: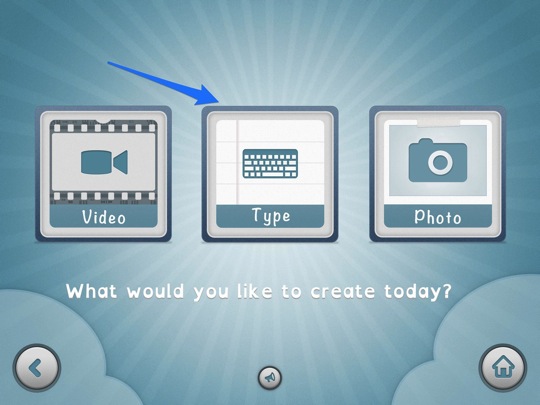 Next: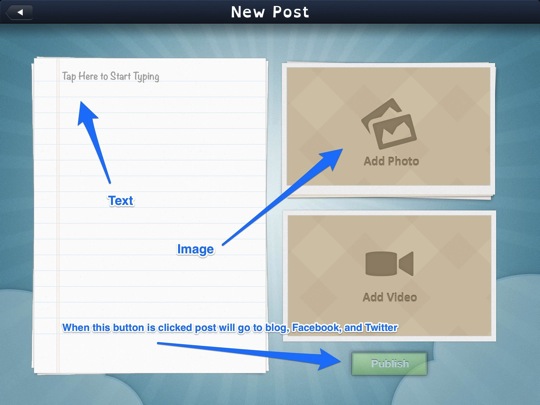 Voila! Not only are your students responsible for social media posting in your classroom, but you've also set up safe accounts that families can access. Let the learning begin.