I wouldn't consider myself a big television fan, but I am addicted to the Bravo and HGTV design shows. I also have a special spot in my heart for Ty Pennington and the Extreme Home Makeover design team. In all these shows, the teams start with a blank landscape, an overgrown yard, a dilapidated house . . . and a vision of what's to come. These teams never work just to design and fill a room, landscape and manicure a yard, or build and furnish a house. They do this work with the people in mind who will inhabit each space. As the designers begin to plan, build, paint, or garden, I imagine them to first have questions like these . . . Who are these people that will live in this house or work in this space and what are they like? What are their interests, their needs, and their passions? How can we make life better and happier and more productive for these people in their new home? I don't have a degree in architecture or interior design, and I'm certainly no Ty Pennington, but I am a teacher who has the opportunity and pleasure every year of creating the learning landscape for a group of students where the living and learning and writing inside those four walls will be wonderful.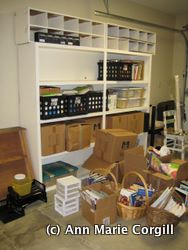 It's that time of year when many of us are headed to a classroom that's been packed away for the summer, thinking, "HOW am I going to get this room together and unpack all these boxes and move this furniture?!" and "How can I make this room beautiful and purposeful for the students?" It's a big job, and even if you've been teaching for many years — or if it's your first teaching job ever, setting up the classroom and preparing that learning landscape can sometimes be overwhelming.
This year I'll be teaching in middle school, (sixth grade language arts which is a BIG jump from first grade), so many of my belongings had to be sorted and then packed away in the garage before I could move "middleschoolish" things to my new classroom. My belongings, along with all the other books, furniture, and supplies in the new classroom were somehow going to all work together for those kids and for me, their teacher – but looking at these messes, I didn't have a clue how!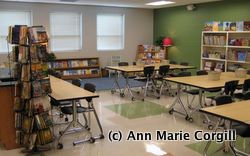 What I do know is that I can indirectly educate my students by means of classroom environment. The minute a student, a parent, a colleague, an administrator, or a visitor walks into our classroom, my beliefs about what students deserve should speak loudly. As I worked to setup the room a few weeks ago, I thought about the students who would inhabit the space before me. I thought about the following classroom components:
The Classroom Library
a rich and varied library with multiple authors, multiple copies, and multiple genres;
a classroom library that's organized with the student's interests, the curriculum, and the teaching in mind;
a classroom library that has the feel of a bookstore, showcasing featured books and authors periodically throughout the year; and
a classroom library that meets the reading and writing abilities and needs of all students.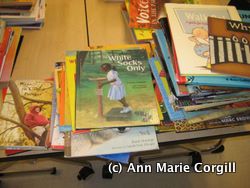 Coming from the primary grades, I will be building my middle school classroom library and learning lots of new titles and authors. I've chosen to organize both the picture books and novels alphabetically by title on the main bookshelf in the room for easy access. Poetry books line the shelves on the wall with the blue rug, since that will be one of our first writing studies of the year. Magazines and nonfiction will be housed in another separate section of the room. The library will certainly change and grow as I learn about my students and as I learn and fall in love with so many great middle school authors!
Classroom Seating Arrangements
As I'm thinking about where to place the tables and the rugs in the room, I want:
seating arrangements that facilitate the conversations about writing/reading and support the work of writers and readers;
opportunities to sit alongside me, their teacher as I confer with students about their writing and reading;
comfortable areas to gather when it's time to read a draft, share a published piece, or study the craft of a beloved author;
an environment that values community and exchange of ideas rather than isolation and self promotion; and
a room that isn't dominated by filing cabinets, large teacher desks, and improperly sized chairs and furniture.
The Classroom Storage Spaces Students Deserve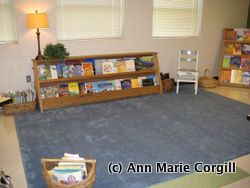 Classroom storage is always an issue — there is never enough available. Even so, our community still deserves:
storage of supplies that are well organized and clearly labeled;
storage that is strategically separated to avoid congestion and add balance to the room;
storage that eliminates clutter and matches the workspace; and
storage that anticipates accumulation, provides space for growth, and eliminates overflow.
Our middle school students have lockers located outside the classroom, but I've also chosen to create separate storage spaces strategically placed across the room for our class materials. I've found that this type of organization allows me to keep closer tabs on the work in the folders, notebooks, and trays. If I need a writers' notebooks from a class to study one night, I don't have to go searching in every student's stack of materials to find the notebooks, and I don't have to ask students to take time out of our day to locate the materials I need. It also makes for smooth and timely transitions from one lesson to the next, and with short class periods, we want to make every second count.
The Classroom Bulletin Boards and Wall Space
I design my classroom to include:
bulletin boards that begin only with a solid, consistent base color to avoid distraction;
bulletin boards and walls that only call attention to the child's work, writing, and art rather than the border, multiple colors, or design behind the work;
bulletin boards and walls that are free of "teacher made"/ "school supply store" posters, characters, or quotes; and
bulletin boards and wall space that are only filled with the work of the students and teaching that happens in the class.
The walls look pretty blah, huh? (Except for my pretty green accent wall!) I'm not spending money on commercial posters or school supply store decorations, and will leave the walls and bulletin boards blank until those sixth graders arrive and bring the room to life. It took me several years to realize that the classroom could be dripping with my artwork and my writing and my store bought stuff and not one child would care. No student ever told me how nice my work was or how great I painted in the lines. No student ever commented on my growth as a classroom decorator from beginning of year to the end.
It took me a few years to realize that children only become invested in their classroom when it is filled with their learning and their work. And boy, did that make things a lot easier for me! From then on, all I needed to do was anxiously wait for the children's work to go up the first month of school. At first it may seem kind of freaky to start the school year with nothing on the boards or walls, but that vision of what the room can become because of the students always puts me at ease, and it left space in my teaching life to do more important work – like plan the literacy curriculum.
The Teacher Area and Pathways for Room Navigation Students Deserve

I plan my teacher space and pathways to include:
a low profile teacher area that doesn't overtake the classroom space;
a teacher area that isn't always "off limits" to students during work time;
a teacher area that avoids sending "I'm more important than you" messages;
clear pathways to and from designated areas in the room;
a room that is free from extra furniture and equipment that isn't used and has no purpose; and
ways to move about the room without a claustrophobic feel or unnecessary congestion.
Class sizes are getting larger and larger, and rooms aren't getting any bigger, so it's important for teachers to use their spaces wisely. If a large part of the room is filled with a teacher desk, teacher chair, teacher filing cabinets, teacher corner . . . then there's little left for the students to move and work in comfortably. I'm not saying that teachers don't deserve space, because we certainly do. I'm saying that it's important to balance our space with the space our students need. I don't want to send the signal to my students that my needs and my work and my comfort is more important than theirs, and if my area takes up a quarter of the room, then that's exactly the message I'm sending. If I want my students to work together as a community and share the supplies and the workspace, then I should be willing to share my space and materials too.
Room Color, Lighting, and Decorative Touches
The lighting and decorative touches all contribute to:
a room that feels like a home rather than a hospital, institutional facility, or prison;
a room that is well lit, safe, and comfortable;
a room that honors the work and the learning that takes place;
a room that is clean, organized, and functional; and
a room that uses complementary colors and patterns to create a simplistic beauty and a sense of calm
It will be exciting (and sometimes unnerving) to see how the room changes before my eyes over the year. Student work, student interests, student conversations, student lives will shape and transform this room into a place filled with learning, growth, and celebration for the work we do.
Many thanks to Phyllis Faust and the Trussville City Schools for giving me a wonderful middle school home and place for learning and growth.