A walk in nature walks the soul back home.
—Mary Davis
Happiness Is Contagious
Andy (my husband) and I are becoming hikers. Rarely does a week go by without us hitting a trail. Our favorite companion is our three-year-old German shepherd, Luna.
Luna is a typical German shepherd, meaning she is high energy (and anxious), so hikes have been an excellent training opportunity. The trail gives her a chance to be fully present while exploring new smells and sounds. Over time she's developed the ability to walk past other hikers, dogs, and bikers without becoming scared. She rarely barks or becomes protective.
The reason Luna is our favorite companion for hikes is that she is so happy. Her positive energy begins when I get out my backpack. She perks up and spins in circles. She retrieves Andy's hiking shoes out of the closet. When she hears the word hike, she begins squeaking, a sound that is used only to show her excitement for a hike. She's the first one in the car, and her energetic vibe can barely be contained on the drive.
When we arrive, she hangs her head out the window and squeaks a greeting to the employee at the gate. She closes her eyes while the wind rushes over her head as we drive to a trailhead. She is peaceful until we park and the squeaks begin again. 
I snap on her leash. Andy adjusts his hiking poles. Luna rushes for the trail. There is an urgent determination, and her energy focuses on the trail. She propels us forward until she settles into the hike. Her tail wags and her nose sniffs. She is in her happy place. 
If you were to join us for a hike, you would likely comment on how happy our dog is. Other people on the trail constantly mention how happy our dog is. We often chuckle at how happy Luna is out on the trail. Luna's happiness increases the enjoyment of those around her. 
The same is true for us.  Our happiness helps increase the enjoyment of those around us. 
This week we look at the importance of shared experiences in our classrooms—plus more, as always! 
Shine on,
Ruth Ayres
Editor in Chief

Bitsy Parks shares the ways in which class books help students work as readers and writers, as well as build a community. This article was first published in 2021.
Jen Schwanke encourages leaders to consider how to give a daily boost of morale. This article was first published in 2021.
 Don't miss the Get Lit(erate) podcast with Stephanie Affinito about book-ish culture and books about books to celebrate National Book Lovers Day!
Are you looking to engage with a community of instructional influencers? Join me on LinkedIn to continue conversations from the Big Fresh and connect with other educators who are just as smart and funny as you are.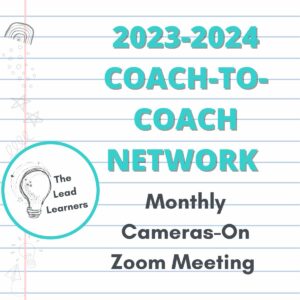 Are you an instructional coach? You won't want to miss being part of this supportive and inspiring network led by Ruth Ayres. Meet virtually once a month to keep your professional goals fresh and stay accountable for your next steps as a coach. Click here for more details and to register for free!

New members-only content is added each week to the Choice Literacy website. If you're not yet a member, click here to explore membership options.
Jen Court considers whether creating class books is a valuable use of time for today's young students. As she teases out this question, she realizes class books are a relevant and essential instructional strategy. 
Mandy Robek writes a powerful essay about giving her students more decision-making power in sharing their learning. In the release of letting go she found ease in the joy of learning.
In this QuickTake video, instructional coach Staci Revere reminds us of the importance of modeling our own reading lives for students, especially the parts where we struggle as readers. 
In this course, Stella Villalba teaches us how to discover, honor, and share student stories throughout the school year. With special attention to English learners, Stella walks educators through a process to intentionally honor the past and present of all students.

New members-only content is added each week to the Choice Literacy website. If you're not yet a member, click here to explore membership options.
Julie Cox shares the nitty-gritty on starting a teacher book club…and the powerful benefits of adults reading together. Take the time to organize one today! 
In this Coaching Minute, Jen Schwanke talks through the tricky work of making sure literacy specialists, coaches, and classroom teachers have the time and structure they need to collaborate well around students and data.
In this TEDx talk, Dr. Darria Long draws on years of experience as an ER physician and shares a straightforward framework to help us take back control when life gets too busy.
Daniel Leonard offers nine ways schools can honor teacher needs this year.
Quote It:
Live in each season as it passes: breathe the air, drink the drink, taste the fruit.
—Henry David Thoreau
That's all for this week!