I absolutely LOVE Choice Literacy! Of all the internet resources I use, this is the premier website for educators who focus their efforts on literacy.
—Michelle, Classic Classroom Member
The Right Idea When You Need It
It is not a surprise that this week's issue addresses classroom organization. It's that time of the year when classrooms are being arranged, shifted, and spruced up. What is refreshing about this issue is the perspective of the articles. 
They get to the why of the decisions we make about arranging a classroom. We don't need more photos of cute classrooms or one more article about teacher hacks. We need the ability to have the right resources to help us reflect and make intentional decisions about molding environments where student voices and choices are uplifted. 
This is what makes Choice Literacy special and why it's worth joining our community. It can be overwhelming trying to keep up with the latest ideas. Planning meaningful literacy instruction takes time. You want more than cute ideas. You want access to the right idea when you need it. Choice Literacy can save hours of scouring the web for tricks and scripts. 
With an organized multimedia library of articles, videos, and courses, you'll have the right resources to determine how to meet the unique needs of each student. We know educators want to stay fresh with literacy instruction but are so busy with students they don't always have the time. Each week Choice Literacy delivers the best K-12 literacy practices so that educators can be confident they are growing their students as readers and writers with choice in literacy.
Shine on,
Ruth Ayres
Editor in Chief

It's Shark Week! Don't miss these not so scary shark facts from the National Wildlife Federation blog. 
Heather Fisher explains why the smile file should be a tool in every coach's repertoire for building confidence and community among teachers.
Jessica DiBeneditto writes about how to create class values that build a community of care that centers students and their freedom within the classroom.
Are you looking to engage with a community of instructional influencers? Join me on LinkedIn to continue conversations from the Big Fresh and connect with other educators who are just as smart and funny as you are.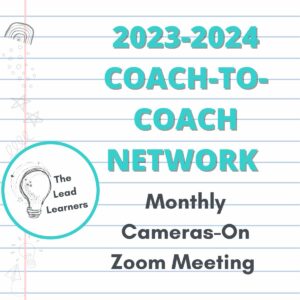 Are you an instructional coach? You won't want to miss being part of this supportive and inspiring network led by Ruth Ayres. Meet virtually once a month to keep your professional goals fresh and stay accountable for your next steps as a coach. Click here for more details and to register for free!

New members-only content is added each week to the Choice Literacy website. If you're not yet a member, click here to explore membership options.
When Julie Cox moves into a smaller classroom, she realizes that to make it a room where students learn and thrive, she needs to shift her mindset. Rather than simply putting things where they fit, she asks three questions to make intentional decisions that will support learning. 
Choice Numeracy | Jodie Bailey approaches setting up her math classroom as a blank space with an invitation for students to engage in establishing identity, creativity, and collaboration.
In this encore article, Dana Murphy guides reading specialists in setting up intervention rooms to welcome readers.
In this video, Tammy Mulligan shares a beginning-of-the-year routine where second graders create an identity frame. This becomes a place to highlight photographs of their learning each week throughout the school year.

New members-only content is added each week to the Choice Literacy website. If you're not yet a member, click here to explore membership options.
In this second installment of a two-part article, Stella Villalba gives more examples of how to sustain a vision for teaching and learning that is rooted in the strength of multilingual learners. It is essential that we reflect on our practices to learn, unlearn, and rethink what is essential for students. 
Lisa Mazinas offers a back-to-school coaching survey that taps the gift of time and space that summer provides. Download a copy of the survey to use when you return to school. 
Jonathan Winslow shares three ways to encourage teachers to reflect on their learning from a coaching cycle.
Quote It:
We do not learn from experience. We learn from reflecting on experience.
—John Dewey
That's all for this week!