Artists are people who have learned to live in doubt and do the work anyway.
—Julia Cameron
Overcoming Doubt
After hearing about the Chihuly Garden and Glass exhibit from one local after another, Jordan and I decided to take an adventure. We were in Seattle to get him settled into his new apartment and explore the city before he started commercial dive school. 
We walked into the exhibit, and I gasped at the Winter Brilliance display. The glass was formed into an elaborate icicle. It is a dramatic expression of winter, and it made my heart smile. I knew I would linger. 
I didn't know how Jordan would feel about lingering. He slid beside me, his eyes glued to the giant white glass beautifully formed to make us feel awed and said, "That's epic." 
I agreed. "I think I'm going to need some time to go slowly," I said. "You don't have to wait for me because I want to linger."
He nodded and said, "Sounds good." 
It turned out that he wanted to linger, too.  
There was a display of two wooden rowboats filled with glass sculptures. I found myself thinking about it in the days that followed. Before it became an exhibit, Chihuly stood on the shore of a river in Finland and experimented by tossing glass forms into the water. He was curious to see the interactions between the glass, water, and light. Local teenagers gathered the drifting glass in rowboats, which inspired the float boat exhibit.
I was completely absorbed in the beauty of colors, shapes, and textures. I took photos, but mostly I just stared. I found myself wondering, over and over, How did Dale Chihuly know the glass sculptures he created would be valued by others? 
As I continue to turn this question in my mind, I realize it's not the question I wanted to give space to in my thoughts. Instead, I wanted Chihuly to influence my courage in overcoming doubts.
Doubts can attack when we are teaching writers because it takes a lot of trust to believe nourishing choice and voice in students will make a difference. Sometimes it feels like a myth that students can enjoy writing and become more efficient in structure, grammar, and craft.
If you're looking for ways to help students do both—love to write and become more sophisticated writers—then this issue is just for you. This week we look at nourishing writers—plus more, as always!

Shine on,
Ruth Ayres
Editor in Chief
PS: If you want to see some of the photos from Chihuly's exhibit, make sure to join me on LinkedIn.

Tara Barnett and Kate Mills discuss the importance of rehearsal for writers on the podcast. This episode was released in March 2022.
In this QuickTake video, Ruth Ayres shares different ways writers can enter a writing project. This video was first published in 2022.
Eric Baerren shares a new way to look at teaching writers with inspiration from Troy Hicks to learn to love artificial intelligence. 
Kass Minor shares a reflective process to help learning stick and resources for sustainable movement-making in schools.
Are you looking to engage with a community of instructional influencers? Join me on LinkedIn to continue conversations from the Big Fresh and connect with other educators who are just as smart and funny as you are.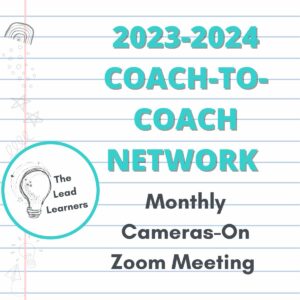 Are you an instructional coach? You won't want to miss being part of this supportive and inspiring network led by Ruth Ayres. Meet virtually once a month to keep your professional goals fresh and stay accountable for your next steps as a coach. Click here for more details and to register for free!

New members-only content is added each week to the Choice Literacy website. If you're not yet a member, click here to explore membership options.
Students often question how long a piece of writing needs to be. Gretchen Schroeder shares a strategy that changed the focus of writing projects from length to meaning. 
Becca Burk reflects on creating a classroom where everyone wants to write. She offers timely advice for creating a community of writers. 
In this video, Bitsy Parks teaches her first graders early in the year how to read like writers, highlighting examples from favorite mentor texts. 
In this encore article, Julie Cox noticed that students wrote eagerly, but struggled to give and accept feedback. To increase student ownership and trust, she started Writers' Club, and it affected transfer of learning in big ways!

New members-only content is added each week to the Choice Literacy website. If you're not yet a member, click here to explore membership options.
Stephanie Affinito reminds us that effective coaching is built on strong relationships. Try this challenge to see if you know your colleagues as well as you hope you do.
In this Coaching Minute, curriculum director Inga Omondi spends a lot of time in meetings. To make connections, remember next steps, and stay organized, she keeps a journal with all of her meeting notes.
Paul Emerich France shares six mindset shifts to make teaching sustainable. Incremental changes in educators' thinking can create big shifts in sustainability.
Quote It:
We do not learn from experience. We learn from reflecting on experience.
—John Dewey
That's all for this week!